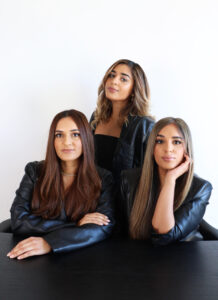 Earlier this month, popular TikTok beauty influencer Mikayla Nogueira (8.2M followers) raved about CTZN Cosmetics, resulting in the brand's sales spiking, ultimately crashing its website. The hype was centered around the brand's 25-shade nude lipstick collection, which launched in 2019 by Aleena, Aleezeh, and Naseeha Khan, three sisters who set out to redefine the experience of searching for the perfect nude for underrepresented demographics. Since its debut, sales have increased 300 percent from 2019 to 2020, and are up 250 percent from 2020 to September 2021. The brand is available DTC, at Nordstrom, and within JCPenney retail stores and JCP.com via the retailer's partnership with ThriteenLune.com. Here, CEW Beauty News spoke with the Khan sisters about promoting an inclusive makeup experience, key marketing strategies, and what we can expect to see next from the brand.
Beauty News: What was the inspiration for CTZN Cosmetics?
Aleena Khan: My sisters and I were born in Los Angeles, raised in Dubai and are ethnically Pakistani. As South Asians we rarely felt represented by the beauty industry and were sensitive to the fact that no one ever looked like us in mainstream campaigns, nor was it easy to find the right shades for our complexions and undertones. The 'middle' brown skin tone was often represented by a Latina model, but rarely did we see Middle Eastern or South Asian women or men even when a brand was clearly trying to be more inclusive. We realized our demographics were simply overlooked, repeatedly, meanwhile we were supporting the beauty industry with our passionate sales and word of mouth.
BN: What white space did you identify in the market for your brand?
AK: As we started to focus our attention on underrepresentation in the beauty industry, we realized the industry was still defining 'inclusive' as just women of color, meanwhile makeup consumers truly span across all genders, sexualities, age groups and beyond. Our aim became clear and simple: to create a makeup brand that empowers all citizens of the world to feel seen. We made sure our packaging was neutral, with simple use of black and white to not impose a limiting consumer persona on the brand, and decided to launch the beauty industry's widest nude lip collection with 25 shades for all skin tones and lip tones.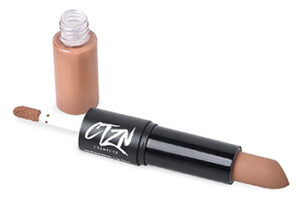 BN: What was the process like for designing the 25 shades?
Naseeha Khan: We started with a survey for 200 respondents across the globe, asking them what their favorite existing nude lip product was, along with what they would tweak about the shade and formulation. We then conducted intimate focus groups, market research in beauty department stores, and spent hours and hours on YouTube and social media, dissecting blogger and makeup artist reviews for existing nude lip products, ensuring we were collecting feedback from bloggers with varied races and undertones.
BN: How are you helping consumers identify their perfect match?
NK: Since launch, we made sure to create many tools to help our CTZNs find their perfect match, from our shade matching quiz online, to a virtual-try on feature on each product page, to offering a custom experience via Instagram DMs where someone can send us a no-makeup selfie and get a recommendation of their perfect NUDIVERSAL Lip Duo and LIPSTROKE liner combination.
BN: Talk about the moment you realized your brand was taking off or resonating among consumers?
AK: After being on the market for only 4 months, we won a distinguished award, being recognized for having the Best Neutral Lipstick – that credibility was beyond meaningful for us. It was even more special to us that we won in the category Best Neutral Lipstick for Dark Skin Tone, because our passion for providing solutions to people of all complexions who have struggled to feel seen by the beauty industry is the entire reason we started this brand.
BN: What are some key strategies you are using to market the brand and build awareness?
AK: One of our key strategies is gifting our products and developing relationships with makeup artists. We believe their loyalty and interest in products is the ultimate credibility. When a makeup artist, one who works with every brand and product in the beauty industry, chooses to use our shades on their client, that is the ultimate stamp of approval. As professionals, they know the importance of using quality products, which affirms the work we put into developing our formulas. Additionally, we understand that when something is gifted, there is no guarantee or obligation to use or post about a brand, so when they choose it, you know they genuinely love the product.
Another key strategy for us is building a personal connection with our CTZN community. At the moment, especially as a startup brand, our unique edge is how personable and authentic our brand is – the three of us still manage the Instagram account and post everything ourselves. We offer custom shade-matching recommendations via Instagram DM (you just have to send us a no-makeup selfie) and in the past we've offered live Zoom matching sessions when stores were closed at the start of the pandemic, and now that testers are unavailable to consumers.
BN: What can we expect to see next from the brand in 2021 and beyond?
NK: Expect some color. We're also going to be launching our first-ever collaboration with an influencer, along with a give-back initiative that hits close to home for us, that we will announce in the coming months.