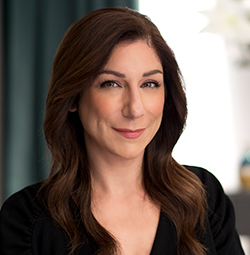 Ten years ago, while working on a photoshoot, makeup artist and beauty educator Terri Bryant started noticing she couldn't perform the usual techniques that made applying makeup so easy. Five years later, she was diagnosed with Parkinson's Disease.
"Makeup artistry requires a high level of precision and fine motor skills. Drawing a straight line of eyeliner across the lid and defining symmetrical brows are just a few examples of techniques that most makeup users find challenging and time consuming," she explained. "My experience with Parkinson's has allowed me to actually feel where traditional tools and products can fall short in achieving results."
In February, with the help of her husband and two entrepreneurs, she debuted her cosmetics brand, Guide Beauty, a collection of universally-designed products created to guide a user's hand to achieve precision-level artistry. "We developed our tools with input from industrial and mechanical engineers who leveraged our research and observations of a wide range of user demographics, including individuals with physical limitations," said Terri.
The development phase included numerous reworks and explorations, which took more than two and a half years, more than 200 test users, 39 eyeliner submissions, and 100-plus wand iterations with similar statistics for other tools and formulas.
"We expected the challenge of time when taking on a project of this magnitude; moving quickly was not an option," said Terri. "White space innovation is a bit of a blank canvas. When you're innovating there's no clear design road map. It's an incredibly hands-on, iterative process. Getting around setbacks takes time, and you have to be open to learning, tweaking and adjusting as you test internally and across a broad range of users."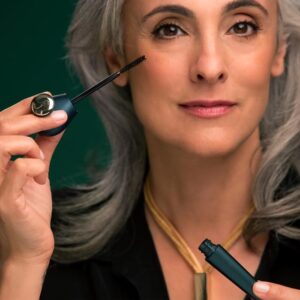 The final lineup includes a mascara and brow gel ($26 each), both of which feature a guide ring meant to be placed between the user's index and middle fingers to steady the applicator; a long-wear eyeliner ($24) in an easy open and close jar; and a duo set ($50) featuring the eyeliner alongside a soft and flexible precision tip applicator that is designed with a see-through window for easy visibility and is curved to follow the natural eye shape. All of the products feature clean formulations and are PETA and vegan certified.
"Our target consumer is the individual who is seeking easier precision application, appreciates beautiful and thoughtfully designed products, as well as luxurious, clean and ethically produced formulas," she explained. "The principles of universal design allow for our products to span a wide range of user demographics including those with physical limitations, novice makeup users, intermediate makeup users looking to achieve more advanced artistry techniques and advanced makeup users desiring enhanced ease and speed of use."
Since launch, the brand has seen continuous double digit increases in sales month to month, which Terri credits to early brand exposure from influential outlets and social media.
"Our products have a very unique look but are intuitive once placed in the hand of the user. Therefore, our outreach was focused on demonstrating the products through social media, video tutorials and influencers. Additionally, we specifically target publications and channels that appreciate our brand principles of innovation, artistry and community," she said.
Terri said the most rewarding aspect of her business is seeing how the products are making a difference for those struggling with their makeup. Her advice for someone looking to launch a brand: "Focus on the mission and what brought you there. There are going to be bumps and bruises along the way. Surrounding yourself with a group of caring and passionate individuals with diverse mindsets, temperaments, and experience will help you weather the storms."