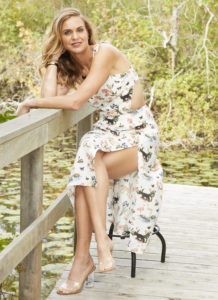 HoliFrog hasn't officially launched but the brand is already predicting first-year sales to be upwards of $1 million. Developed by Emily Parr, owner of boutique PR agency, Poke PR, and her business partner, Majeed Hemmat, the duo self-funded the business with an investment of $410,000 with the hopes of disrupting the skin care industry with their line of multi-functional face washes. Inspired by the permeability of frog skin, HoliFrog aims to deliver bioactive ingredients during face washing, when pores are more open for optimum skin health. The brand is set to launch with four skus on Net à Porter, Dermstore, Space NK and The Detox Market on September 17, as well as its own website. Here, Beauty News spoke to Emily to learn more about the brand's innovation, marketing strategy and expansion plans.
Beauty News: Describe the brand's point of difference.
Emily Parr: While there are so many cleansers on the market, we felt that no one was "hero-ing" the category. There is so much innovation coming out of the serum, cream and mask categories but we found that cleansers were supremely overlooked and under-thought. The majority of them are water and surfactants with a few key ingredients sprinkled in for good measure. We imagined a world where cleansers could deliver that fresh canvas but do so by also flooding the skin with nutrient dense formulas.
BN: What kind of considerations went into R&D and packaging?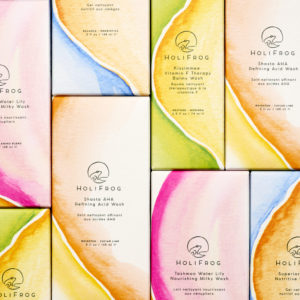 EP: The formulas were inspired by active skin care categories, such as serums and rich creams. We flooded the washes with antioxidants, vitamins, gentle exfoliants, non-fragrant plant oils and extracts, as well as cell-communicating and skin-identical ingredients. Another huge point of difference is that HoliFrog washes contain a mild range of gentle surfactants to cleanse skin without over-stripping the moisture barrier. Tashmoo Water Lily Nourishing Milky Wash ($38) contains the least with 3%, Shasta AHA Refining Acid Wash ($34) has 3.4%, Kissimmee Vitamin F Therapy Balmy Wash ($42) has 5%, and Superior Omega Nutritive Gel Wash ($36) contains the most, with 8%. They're all formulated at an optimal pH balance, counterbalancing surfactants and exfoliants with rich, nourishing oils to keep your skin in check. Every single ingredient in our formulas has a function and purpose, selected for having the most beneficial role in our skin's health.
In terms of the packaging, we custom molded our bottle. Beyond simply having a shape unique to us, we were able to choose the form of recyclable plastic used. The products are formulated and the majority of the components are made in the U.S. We were very excited to find a bottle manufacturer in Miami and a printer that could apply our artwork to the bottles in Ohio.
BN: Are there plans to launch additional skus?
EP: We have three additional washes in development for 2020 before we progress into new skin care categories. There will be a total of seven distinct washes with different textures and targets, so users can choose a wash depending on specific needs.
BN: Who is your target audience?
EP: When we conceptualized the formulas and packaging, I had younger generations in mind but also my 61-year-old mother who constantly complains about how brands don't care about her and her friends anymore. We formulated the washes for all skin types (and they're very concentrated, which can train young skin but also really target more mature skin).
In terms of the aesthetic, my primary focus group became the members of the workout studio, AKT on the Upper East Side. I wanted to appeal to the moms who are on the cutting edge of wellness and fashion. There are a couple of Gen Z micro-influencers I shared the packaging progression with. It was important to me that the look felt luxe but tasteful and still "cool" enough for the younger crowd to Instagram. And by cool, I especially fresh.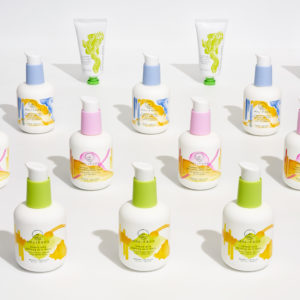 BN: Talk about the brand's marketing/communications plans.
EP: As the owner of a boutique PR agency that specializes in growth stage founder-led beauty brands, we plan to exhaust my relationships and utilize launch strategies that I have deployed for my clients before venturing into paid opportunities. Print magazines were sent the full line in June, so they could familiarize themselves with the brand in advance, given their long lead times. Approximately 200 influencers will receive the You Are Holi Set just prior to the launch, so that they can unbox at their leisure and hopefully be inspired to share in their own way. We will host a launch party (for editors, influencers and industry tastemakers) on September 17th at the Edition Times Square's outdoor terrace, which embodies the fanciful garden of a "HoliLand." The products will be merchandised amongst the brand's artwork and alongside lush plant-life to awaken this idea of "froggystyle"; the packaging artist (@dirty_eraser) will be in attendance and on hand to doodle (paint or draw) anything our guests' wildly desire!
BN: Are there plans for future category expansions?
EP: We will move into new categories in a natural progression with our sights on two sets of antioxidant rich exfoliating pads next.