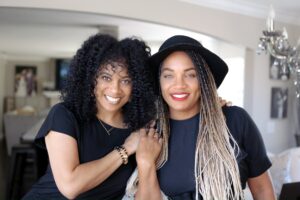 Dreamgirls salon owners, Tonya Thompson and Sharie Wilson, were not planning on launching their new hair care line at the height of the coronavirus pandemic; however, the sisters quickly realized the timing was right, as more women were seeking at-home hair care solutions as a result of salon closures. Their timing, in fact, helped the business boom.
"On March 20, we held a three-day long pre-order launch that brought in $30,000 in sales," said Tonya. "We officially launched our products at the very beginning of May and were excited to have brought in $75,000 in sales within the first month. We've increased sales every month and ended August close to $200,000. These numbers do not include sales for salons. We continue to sell out of products and increase sales from month to month."
In 2006, the duo opened their first salon in Los Angeles with the goal of helping women fix hair damage and lack of growth. In 2008 they followed up their success with an additional location in Sacramento. Known for having "magic hair-growing hands" and debunking the myth that Black women can't have long, healthy hair, the key to their clients' wow-factor results is the Dreamgirls 5-Step Healthy Hair Care System product line, which had been used in their two salons for years before being available to consumers this past March.
"We created our product line due to the high demand of women in different states across the nation wishing to join our Healthy Hair Care Program," explained Sharie. "We wanted to provide women with access to the same products and steps we use at our salons so that they could achieve amazing results at home. We are amazed and thankful for the immense support, in addition to meeting a clear need when it comes to at home hair care and maintenance for women across the globe."
Here, CEW Beauty News spoke to the co-founders to learn about their marketing plans, how the brand was impacted by the Black Lives Matter movement, and safety measures put into place for their re-opened salons.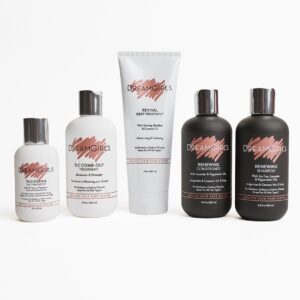 CEW Beauty News: How many skus are available? Are there any new launches in the works?
Tonya Thompson: We currently have five products available within our Healthy Hair Care System Starter Kits ($125), which includes our TLC Comb-Out Treatment to help women prevent breakage when detangling their hair; Renewing Shampoo and Conditioner which are designed to give an intense scalp and hair cleanse to restore moisture; Revival Deep Treatment which is meant to promote growth, elasticity, strength and hydration; and, our True Essence Oil that aims to stimulate follicles to promote growth in thinning areas and bald spots.
We are currently working on a new deep moisture shampoo and conditioner, in addition to a line of products for our clients with curly hair that we're hoping to launch at the end of the year. Our products can be purchased on our website at www.dghair.com or at our salon locations.
BN: How are you raising brand awareness?
Sharie Wilson: We're very active on social media. We make sure to engage with our audience by commenting and answering any questions pertaining to hair care and our products. Our support team answers hundreds of messages a day across all four of DreamGirls' social media accounts. We also love to jump on Instagram Live to chat with our customers in real time, get their feedback, and answer any questions they may have in a personal way. Our approach is to be very clear and transparent to all of our followers so that they can decide which of our products and services are best for their hair needs.
BN: How has your business been impacted by current events?
TT: Since we launched our product line at the beginning of the pandemic, our sales increased as a result of salon closures that left many women seeking guidance on how to care for their hair at home. In regard to BLM, we've had thousands of customers support our female-founded, family-operated and Black-owned business and we are so grateful for the outpour of support for our small but growing brand.
This is not the first time we have seen support from the community in regard to racial divide. Back in 2018, a hate note filled with racial slurs was left at our Sacramento salon that threatened to harm our staff and business. When the local community found out, it gained national attention with news stations across the U.S. in addition to immediate conversations and support from the community in response.
BN: What do your salons look like now? What kind of safety measures have you put in place?
SW: As a result of the pandemic and those taking advantage of peaceful BLM protests by looting, we have added security cameras. We recently renovated our Sacramento salon so that each stylist has a larger space to work in similar, to our spacious Los Angeles salon location.
Now that our salons are back open, we make sure to sanitize the styling stations after each client and don't allow any visitors to attend appointments. We take each client's temperature at the door, require face masks, and also supply sanitizers to ensure that our clients and staff remain healthy and comfortable. We also have clear practitioners for each station at our Sacramento salon.
BN: What has been your biggest challenges?
TT: Our biggest challenge has been keeping up with the demand for products. We're in the process of implementing new solutions that will help us improve our production to continue meeting the needs of our amazing customers.
BN: What has been your biggest achievement?
SW: Our biggest achievement since launching was when we exceeded product sales and blew away our initial expectations. We continue to expand month over month and are just getting started!
BN: Who is funding the brand?
TT: The brand is self-funded by the both of us. Our brand is owned by minority women, and we've always fully owned the business ventures we've taken on. We started our product line with a small amount of funds and held a successful pre-sale that helped us purchase our first run of inventory. We continue to grow, but we never know what the future holds in terms of expanding our brand ownership.
BN: What advice do you have for entrepreneurs looking to start a business?
SW: Just do it! Follow your gut. Don't let anyone tell you that you can't do something or scare you away. Sometimes you can think your way out of doing something, so don't put too much thought into getting started. Go for it, because nine out of 10 times you will surprise yourself on what you're capable of.