After walking through the oral care aisle of drugstores, Shaun Neff felt the section needed an overhaul.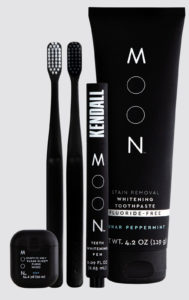 "The aisle was a sea of sameness, clinical and had nothing that looked beautiful and I realized it was the most disruptive category," explained Shaun, who is Co-Owner of Beach House Group, a beauty brand incubator which partners with celebs to launch products. "No one had a conversation around oral care through a beauty lens."
In April 2019 Shawn launched Moon, with the idea of reimagining oral care into a beauty experience by elevating packaging to feature counter-worthy aesthetics, including a luxurious jet-black exterior with a velvet-like finish. All the formulas incorporate clean, trendy ingredients not commonly seen in oral care such as black tea, cranberry extract and dead sea salt. It was also critical to price items affordably for accessibility – items in the collection include fluoride-free toothpastes ($8), flossers ($5) and a 2-pack of soft bristle toothbrushes ($7).
To help build buzz around the brand, he recruited Kendall Jenner, who he met five years ago while creating a beanie collaboration with her and her sister, Kylie. She became a stakeholder in Moon and collaborated with Shawn to develop her own product within the line, Kendall Jenner Teeth Whitening Pen ($20), featuring an antioxidant blend of lavender oil, strawberry extract and honeysuckle flower.
"Kendall and her network have been a core pillar of the Moon brand awareness growth strategy," said Shaun. "As a stakeholder in the brand, Kendall has done an exceptional job advocating for Moon in the digital and social space.  In addition, we're working with a broad network of brand advocates in the beauty, health and wellness, and lifestyle categories to not only drive awareness, but to also tell an honest and authentic product story.  We believe our products are best-in-class, and that message is much more powerful when coming from the category experts and real users of Moon."
The self-funded brand launched exclusively to Ulta Beauty and sold more than 200,000 units in under three months. Due to its success, Moon now available in over 900 doors at Ulta Beauty stores nationwide and Ulta.com, with plans to bring new Moon products to the retailer in the fourth quarter. In late July, the brand expanded to nearly 1,800 Target stores nationwide and is eyeing other large and specialty retailers in the U.S.  Moon also has plans to launch internationally in the near future and unveil new product offerings starting this fall and into the holiday, along with a number of new whitening products in early 2020.