When beauty industry veteran, Courtney Baber, and Nancy Pellegrino, MN, NP, RN realized the white space for luxurious, medical-grade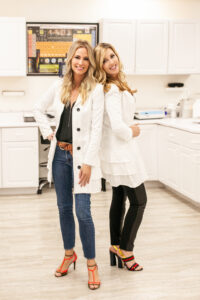 skin care, the duo, who have been friends for more than a decade, decided to combine forces and launch their own skin care brand, The Route.
"Nancy is a top aesthetic nurse in Newport Beach, CA and runs NP Aesthetics Inc.," explained Courtney. "I was struggling with my skin so she introduced me to the medical grade products she carries in her office. I've been in the beauty industry for over 30 years, and had access to all the top prestige brands, but nothing really transformed my skin like [what she had in her office.]  My four-year retainer at Urban Decay had run out since the brand was purchased by L'Oréal and I was ready to do something else. We both saw a white space to bridge the gap between medical grade skin care and luxury beauty with products that looked beautiful, were efficacious and gave immediate gratification."
Noting that there was already several medical and doctor-led brands on the market, The Route is differentiated by its approach to ingredients, packaging and accessibility.
"In our pursuit of developing products we learned that it is very expensive to use ingredients at their most clinically tested efficacious levels, so it is an easy way brands cut costs in development, but we wanted the products to do what we said they were going to do," said Courtney. "That's why we got such early traction. People got excited about the immediate results and long-term benefits of these robust ingredients, and how gorgeous the white and gold sleek packaging looked on their counters."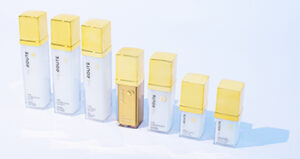 The current five-piece lineup includes two moisturizers for $90: The Everything Day, which features firming and brightening peptides, as well as blue light and environmental protection; and The Everything Night, which features anti-aging peptides and nighttime targeted high-potency actives such as melatonin and ceramide. There is also a retinoid serum, The Golden Rule, $85, which features real gold and is designed to improve the appearance of fine lines, wrinkles and skin's overall texture, as well as The Party Peel, $65, featuring gentle acids enhanced by an oxygen delivery system that bubbles on contact with the goal of exfoliation without visible peeling in most users. The line is rounded out with a skin calming primer, The Girlfriend, $50, which uses photoluminescent diamond powder with the goal of filtering light to diminish the appearance of shadows, wrinkles, pigmentation and discoloration. Two eye creams, The Sunny Eyes and The Night Night Eyes, are expected to roll out July 20, priced at $65. All of the products are designed to work with the body's natural circadian clock, delivering actives at the time of day or night the skin will utilize it best.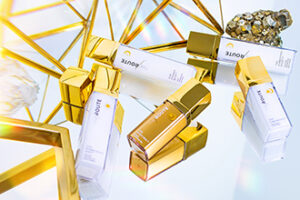 "Products like these in medical offices would cost two or three times what we are offering, but we wanted to be competitive in a prestige retail market and bring medical grade skin care to everyone, and not just people going into an aesthetic office. That's also why we chose Ulta Beauty; they have the biggest footprint when it comes to selling prestige beauty," said Courtney.
Although it was a difficult blow for the brand when Ulta Beauty had to close all of its stores as a result of the COVID-19 pandemic, Courtney noted that The Route achieved a tremendous amount of business on its own website during March, April and May, during which time sales doubled compared to previous months. "We readjusted our marketing plan to talk about #selfcarentine and our peel emerged as a hero product during that time, as it gives an immediate lift and glow, which we all need with video calls all day," she said.
As a nurse-founded brand, The Route highlighted a nurse every month on its blog but increased the coverage to recognize nurses on the frontlines every week. Additionally, to give back to the nursing community, the brand developed the Nurse Powered Network providing nurses a 30 percent off discount on their purchases as well as networking opportunities. "We've already signed up several hundred nurses into the program and as word of mouth spreads, I think we will have thousands of nurses using The Route and being our brand ambassadors," she said. Furthermore, following the Black Lives Matter movement, the brand donated funds to the National Black Nurses Association and Black Nurses Rock, both of which help further opportunities of Black people entering the nursing profession.
Currently, The Route is self-funded. "We were getting ready to start fundraising right before COVID-19 hit but we had to pull it back because it was a weird time to have conversations like that. We're leaning on friends and family right now, which is scary, but you have to believe in your mission and keep going during unprecedented times like this," she said.
In addition to Ulta Beauty and DTC, The Route is carried in select aesthetic nurse's offices in California, with the hopes of rolling out to more as they begin to reopen. Courtney revealed, "We have some exciting retail partners on the horizon, one is on T.V., which is an exciting vehicle to get the word out."