Care/of, a wellness startup founded by Craig Elbert and Akash Shah, plans to leverage its personalization technology to expand into beauty.
Currently, hundreds of thousands of people receive monthly personalized supplements from Care/of based on answers to an online quiz about diet, lifestyle and health goals. The recommendations are based on scientific research tailored to each consumers' needs. Eventually, the founders saw fertile opportunity to add skin and hair products to their roster of products. Since Care/of launched in 2016, more than 5.5 million people have taken the quiz, with 74 percent indicating that skin and hair health is important to them.
"We're always listening to our customers and how they're thinking about their health, and we started hearing them say they think of their skin and hair health as a huge part of their overall well being. We talked to hundreds of people to understand what their needs and pain points were. Over and over people told us they felt in the dark about what beauty supplements they really need, whether they're effective, and what effectiveness should even look like," said Brittany Shaw, Care/of's Director of New Products.
Launching online this week is a line supplements, powders and pills featuring collagen, superberries, keratin, ceramides and shatavari (an Auyervedic adaptogenic herb) that will be curated specifically to each customer to target beauty needs such as dry skin, dull hair and weak nails.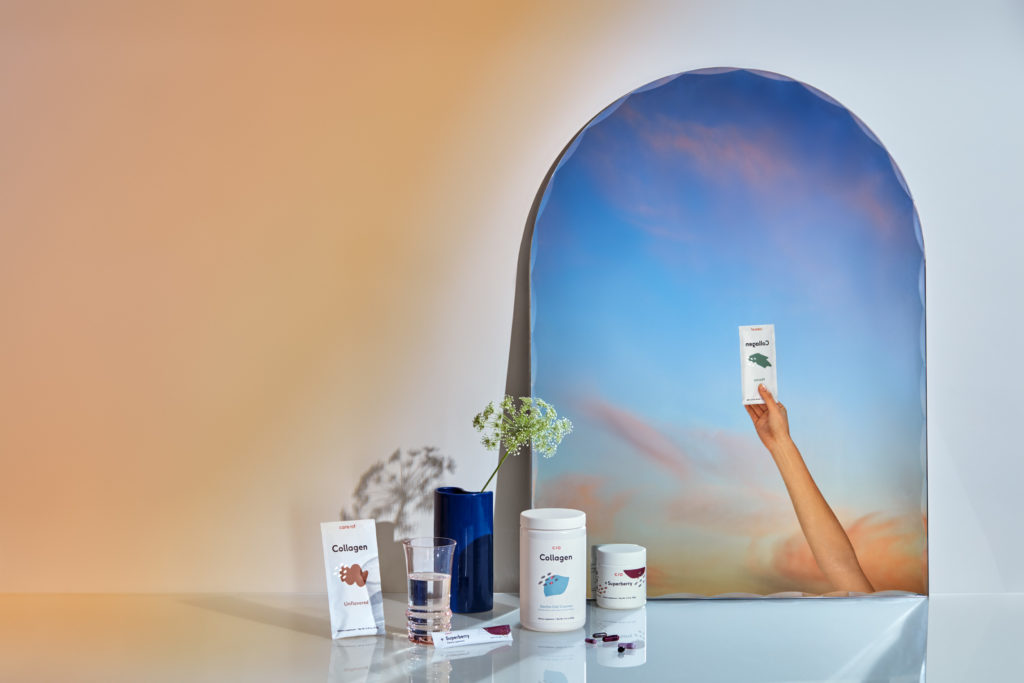 The range seeks to help cut through consumer confusion and comes with daily reminders to stay on track and acknowledge milestones. An app is available to help build a daily routine.
Prices range from $9 per month for shatavari, to $32 for a 15-serving tub. The collagen comes in four flavors: unflavored, matcha, vanilla oat creamer and lemon passion fruit.
Timing could be fortuitous. Euromonitor pegs the U.S. beauty market supplement market, which included vitamin packs, capsules, tonics and probiotic/prebiotic pills, at $90 million. But that number is going to mushroom as more American consumers join the "beauty from within" movement. Euromonitor reports the U.S. compound annual growth rate of ingestible beauty is 25 percent versus a global average of 3.6 percent.
"In our research, we found that a lot of people were already aware that things like sleep, hormones, and stress can affect appearance," said Brittany. "Part of what's driving the beauty from within movement is that customers are looking for ingredients to target root causes, as well as their appearance, since research shows the most effective way to improve skin and hair health is with a combination of ingredients that do both."