Aside from a smattering of branded beauty stores dotting urban areas with a high population of Asian residents, finding a curated assortment of Japanese beauty products can be difficult, if not flat-out impossible. But a new online digital marketplace, Shiko Beauty, looks to target prestige U.S. consumers with nine hand-picked J-Beauty skin care brands, some from famous Japanese dermatologists, to address a range of skin care concerns, from acne to wrinkles to maskne.
Shiko Beauty hails from Mitsui & Co, one of the largest and most diverse Japanese companies in the world, with annual sales exceeding $96 billion. The conglomerate's role has traditionally been "very far upstream" in the supply chain, with holdings in metals, minerals, energy, renewable resources, and biological agriculture, according to Jim Berkrot, VP of Marketing for Shiko Beauty. Mitsui's long history (it's 75 years old) includes pioneering formula innovations for some of the world's most influential Japanese skin care brands. But the launch of Shiko Beauty looks to change all that by connecting Mitsui with the consumer in a way it never has before. Possibilities include providing Mitsui with consumer insights gleaned from Shiko's skin care quiz to fueling innovation and growth for future raw material customers in the U.S.
The timing appears to be ripe to tap into the U.S. prestige beauty consumer, who experts say is tired of aspiring to unreachable beauty standards and perfection. By definition, J-Beauty sees one's imperfections as what makes them beautiful; its celebration of flaws is what distinguishes it from other beauty cultures and routines.
"Mitsui wanted to have reach into the U.S. beauty market, and consumers are now craving Japanese products because of their texture, high quality, performance, and efficacy. Shiko Beauty offers what the U.S. prestige beauty consumer is looking for," said Jim. "Many of the products people use every day have been touched by Mitsui in some way, shape, or form. But our edict is to get closer to the consumer. And what better way to do that than through holistic wellness and wellbeing."
Shiko Beauty leverages nine luxury beauty brands, each of which meet a variety of consumers' needs, with price points beginning at $20 for a face mask and going to $200. All items sold on the platform are formulated, manufactured, and filled in Japan. Merchandise is stored in warehouses on the East Coast and then shipped directly to consumers.
"We are very, very conscious of the brands we select. We also evaluate all the products before we accept them to go on our website, to be sure they're the highest quality and that they're relevant to and compliment the other brands on our website so we can offer a broader offering to our consumers," Jim said, adding that all of the brands are established in Japan.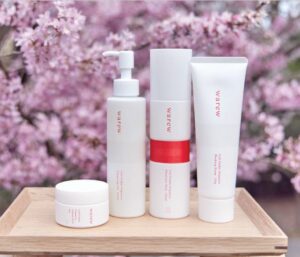 Brands include Warew, the site's most natural option, which offers skin care solutions utilizing organically-sourced ingredients. There's also Finggy, founded by world-renowned skin care professional Dr. Reijiro Ishii, that looks to tap into the power of natural products utilizing a fungus fermentation process. Demand for facial oils is met with Lala Vie, which fuses botanical beauty oil and highly functional ingredients to clean and moisturize skin. Another dermatologist and anti-aging skin care expert, Dr. Masato Hiki, created Dr. Medion, which follows carboxytherapy skin care technology. Then there's Dassai Beauty, which offers a facial mask formulated with the finest quality sake.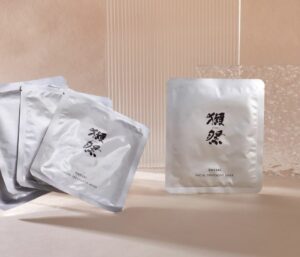 The advent of skin care's surge throughout the pandemic influenced Shiko Beauty to not only sell product, but to learn about consumers' skin care needs. For instance, Inmask Salon targets skin that sits under protective masks, with patches that can be placed on the chin to alleviate maskne. None of the brands sold on Shiko Beauty have been repackaged or reformulated for the American market. All are authentically Japanese.
"The only thing we did was relabel items for compliance reasons in order to sell in the U.S.," said Jim.
On the business to consumer front, Shiko will pluck data insights to identify white space and new product opportunities. On the business to business front the platform looks to grow Mitsui's U.S. reach.
"Mitsui USA will approach beauty brands directly or contract manufacturers here in the United States and offer them raw materials that are from Japan. Fermented raw materials, like sake lees, contains feriluc acid, alpha omega acids, and wonderful ingredients to hydrate the skin. So we will utilize the platform not only to improve and expand on what products we're going to offer, but also at the very basic level of what new raw materials we can create and develop with our manufacturing partners in Japan to satisfy consumer needs here in the U.S.," Jim said.
On August 10 the company is hosting an event unveiling Shiko Beauty to editors and influencers, who the company hopes will promote the platform to their consumer audiences.