As demand for greener products grows, beauty brands are responding with market innovations that aim to address environmental concerns, such as the carbon footprint of their business and the waste associated with disposing of product packaging. Here, CEW Beauty News takes a look at what has debuted this month with sustainability as a priority.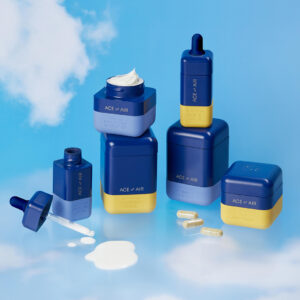 Ace of Air's Beauty and Wellness Brand
Launched on January 28, Ace of Air is a new beauty and wellness brand designed to be entirely circular with its products, packaging and practices. The brand debuted with 8 skus, $35-$85, including moisturizers, serums and supplements powered by antioxidants and superfoods. To reduce single-use packaging, product containers are designed to be reused up to 100 times and may also be returned for continuous cycling. To incentivize consumers to send back their reusable shipping and product containers, the brand will gift consumers Planet Points for each good environmental deed. Consumers can then choose to gift their Planet Points to one of the three charities that Ace of Air supports: Ocean Conservancy, Peconic Land Trust, and 5 Gyres. The brand has also partnered with UPS to incorporate carbon-neutral shipping into its business model.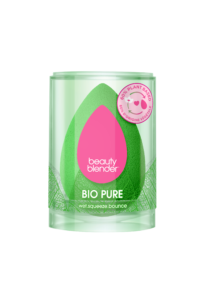 Beautyblender's Bio Pure Makeup Sponge
Beautyblender's new sponge is made from its proprietary BioPlush foam made from a 60 percent plant base of renewable sugarcane. While Bio Pure is not biodegradable, the foam can be recycled, and the company will be rolling out a recycling program to consumers next month. In addition to upcycling sugarcane waste for the sponge, the canister is made with PCR technology using recycled resins. Over the next 3 years, all Beautyblender items that can be made with PCR will transition to this new material. The company hopes to save over 3,400 pounds/1.58M grams of virgin plastic in the next year by making new products with PCR. BioPure will retail for $20.
Dove's Refillable Deodorant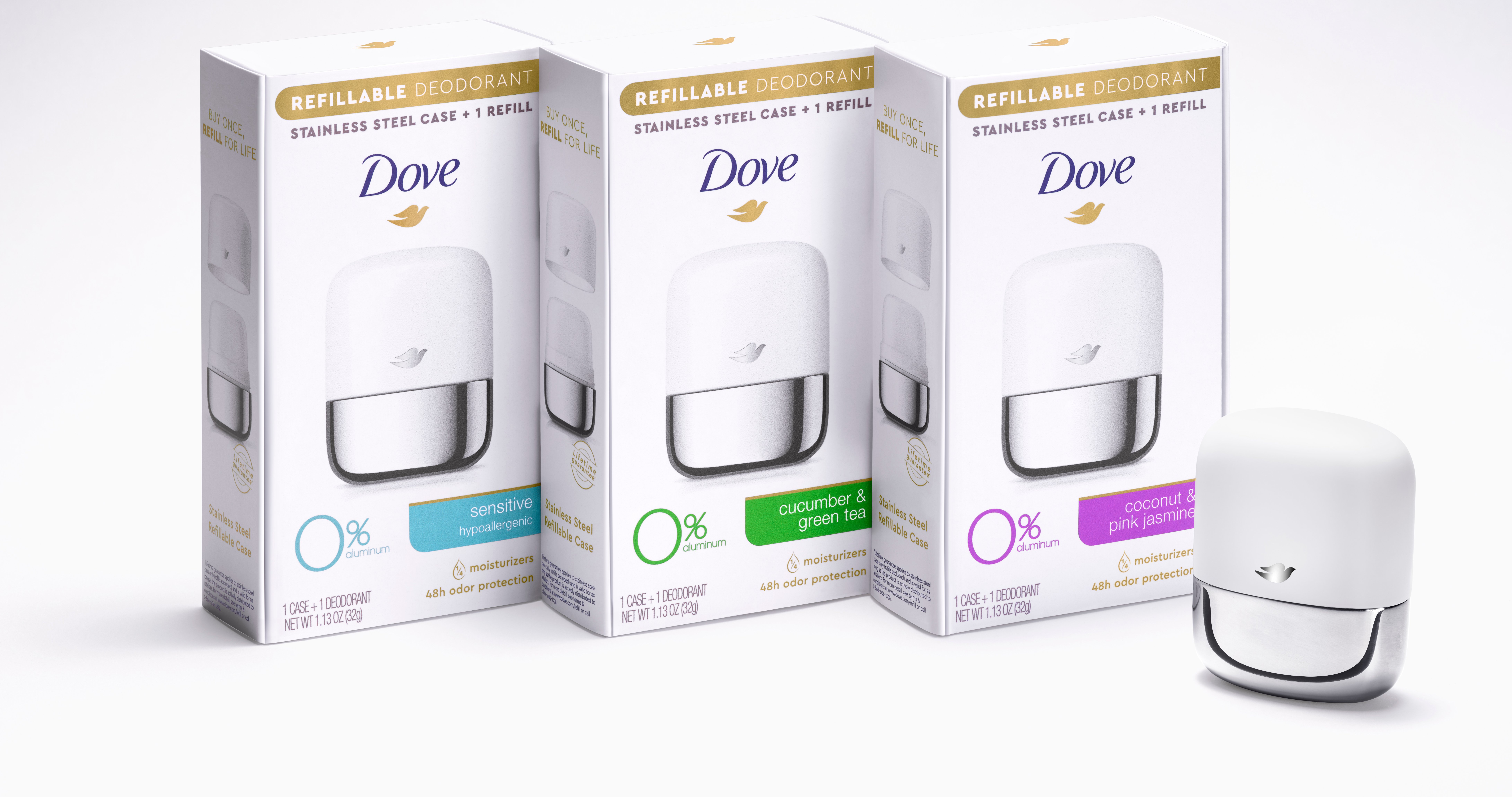 Dove has launched a refillable deodorant, part of the brand's ongoing sustainability initiatives that look to reduce the use of virgin plastic by more than 20,500 tons per year – enough to circle Earth 2.7 times. Packaged in a stainless-steel case and backed by a lifetime guarantee, the deodorant is offered in three variants, Cucumber & Green Tea; Coconut & Pink Jasmine; and Sensitive. Items are available this month on Target.com and Walmart.com; in February items will enter Target and Walmart stores; and in March they will be sold on Amazon. A starter kit sells for $14.99, which includes a stainless-steel case and one deodorant refill. Refill kits cost $9.99 for two deodorant refills.
Tula's Balancing Act Purifying & pH Balancing Toner Pads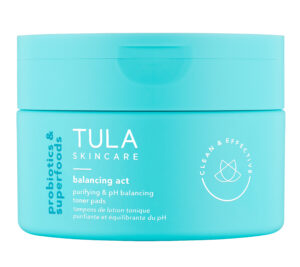 This month, Tula launched its Balancing Act Purifying & pH Balancing Toner Pads ($36) made from biodegradable bamboo fibers. Refill pods are available so consumers can replace just the pads, instead of buying a new container. The toner is designed to instantly lift impurities and tighten the look of pores while balancing the skin's natural pH after cleansing. The brand is also increasing its commitment to sustainability with two new partnerships: TerraCycle, where consumers can send in Tula Skincare jars, tubes and blister packs to be recycled, and Cloverly, which give customers the opportunity to opt-in for carbon-neutral shipping at checkout for a small additional fee.
Everist's Zero Waste Hair Care Line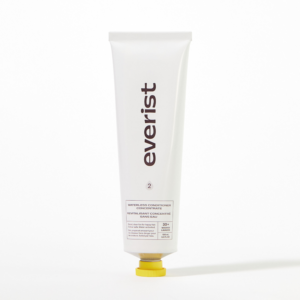 With the goal of making zero-waste, high-performance products, Everist has launched hair paste/waterless concentrates for shampoos and conditioners that are activated with water. Waterless formulas contain biodegradable ingredients such as coconut-derived cleansers, aloe vera peppermint, amla and rosemary oils, among other clean ingredients. Packaging features infinitely-recyclable aluminum and the brand participates in a closed-loop CapBack program, providing customers the option to return its plastic caps. Everist has committed to become Climate Neutral Certified to ensure rigorous third-party standards are maintained. The products are priced at $24 per tube.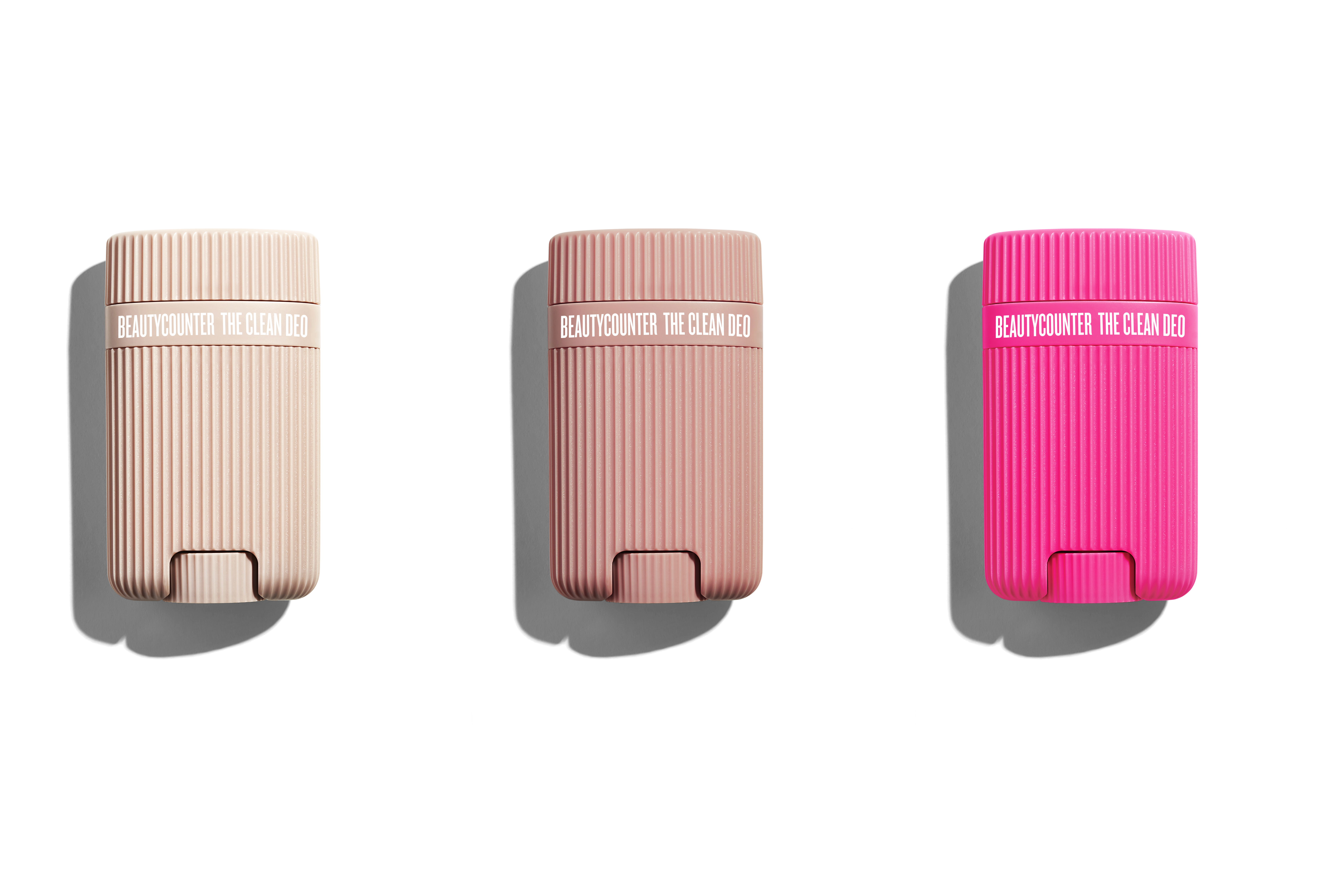 Beautycounter's Refillable Deodorant
This month, Beautycounter debuted its first refillable product, The Clean Deo, designed to neutralize odor, absorb sweat and smooth skin. Available in three scents, Fresh Coconut, Clean Rose and Soft Lavender, the deodorant is formulated with naturally derived fragrances. By making The Clean Deo refillable, the brand said it has cut the product's s water, fossil fuel, and greenhouse gas emissions by an estimated 47 percent while helping minimize waste in landfills. Each costs $28, and $18 for a refill.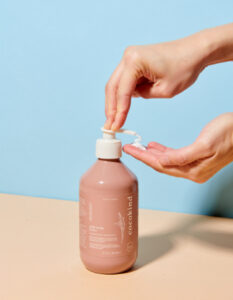 Cocokind's Sake Body Lotion
On January 26, Cocokind launched its Sake Body Lotion ($16), designed to moisturize and exfoliate skin utilizing brightening enzymes, prebiotics and fatty acids. The lotion is the second body expansion product outside of its traditional skin care collection and will be the first in the brand's lineup to be housed in plastic found in, or inevitably bound to hit, the ocean.
Mob Beauty's Cosmetics Line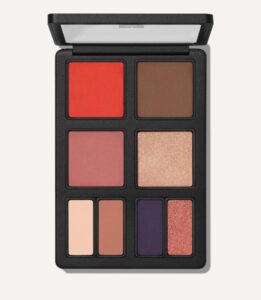 With the mission of redefining standards in the beauty industry, Mob Beauty debuted its line of color cosmetics on January 21 with a packaging system that uses post-consumer recycled materials that are 100 percent customizable and refillable, eliminating the need for consumers to buy its compacts and pallets packaging more than once. Additionally, the outer packaging is designed to be recycled or home composted. Noting that dark plastic is unable to be seen during the sorting process during recycling, the brand has included a resin in its lipstick parts, which helps the infrared sensor identify the material. Mob Beauty includes a wide range of shades of cream lipstick, lip balm, eyeshadow, bronzer, highlighter and blush along with black cake liner. Pricing ranges from $18 to $25 with one-time-buy refillable palettes starting at $30.