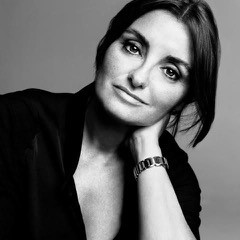 Jeanine Lobell, a beauty exec and makeup artist who is not particularly tech savvy— "I'm the woman who sits on the couch and screams at my kids to turn on the TV because I have three remotes"— has predicated her next beauty venture almost entirely on tech.
The Stila founder (who sold her brand to Estée Lauder in 1999) is poised to unveil Neen in February, an 11-product cosmetic offering designed to work across all skin tones.
With Neen, Jeanine aims to use the idea of video tutorials to define the brand, reach shoppers, and generate sales while at the same time minimizing waste and overconsumption, particularly now that in-store makeovers seem to be a thing of the past.
"I loved the idea of people doing their own makeup and learning from their peers," said Jeanine. "I was mesmerized by video tutorials. Makeup has changed so much.  There used to be so many rules, 'Don't wear this color if you have this or that.' But now, it's more of a 'whatever' state of mind. I wanted to give people a look at a product and see if they like it."
Jeanine, together with CEO and co-founder Ryan Pakter, who formerly ran a software company, devised cards with QR codes that get sent to consumers as part of a subscription service. Each card includes photos of five models wearing different makeup looks, and samples of the items worn by models accompany each card. A user swipes the QR code with her phone, which opens to one of the five video tutorials. Users can follow along to duplicate the look, stop the tutorial with a voice command option, and open a split-screen to watch and record themselves. They can post the finished look on social media.
"A big part of how people experience makeup is watching tutorials on their phones," said Ryan. "Through this app, customers can take selfies, download photos, edit videos, and post on social. We wanted to create a platform that matches what people want to do and what would be most convenient for them. If they are following along with a tutorial, they don't have to put their brush down to hit pause or touch a screen with fingers that have makeup on them. They can use a voice command to pause, reverse, or forward. Everything is integrated to make it a convenient journey for the consumer."
The cards cost between $10 and$12 a month, depending on length of a subscription; each contains enough sample products for at least two uses. If a shopper decides they like a product, a link directs them to weareneen.com to buy a full-sized version, which costs $20. Product arrives in a small silicone compact (no hinge, no mirror) which can be refilled with the next color, a big step, Jeanine said, towards sustainability.
Jeanine added that five new videos will be introduced every month, although the previous content will continue to live in the app and can be searched and discovered.
"If someone stumbles across our purple eyeshadow, they can go back and watch the tutorial. They don't go away."
Models are of all genders and skin tones, and Jeannine said the brand welcomes new submissions. Part of the videos include some insight into the model, such as a cause they support, a passion they have.
"We want them to tell a story of what they're into so it resonates with the viewers," she said.
Neen is also focusing on a specific way of marketing to customers.
"We want to create an emotional connection with them, so they feel like they're getting texts from a friend, and they feel connected to us," she said. For example, customer service emails will be signed by Dot, Jeannine's family dog.
"People use the same words all the time now such as inclusivity, diversity, clean, green," she said. "I don't want to just hire someone who represents diversity, I want to hear what they're really about. We want to be mindful about the whole experience."