Johnson & Johnson-owned skin care brand, Exuviance, has undergone a full rebrand, including a new logo, website and packaging to reinforce its positioning as a spa-inspired skin care brand powered by science.
The brand was first born in 1998 in Scandanavia. In 2003, Ulta Beauty began selling the brand as they focused more on prestige skin care—at the time they only sold three prestige brands,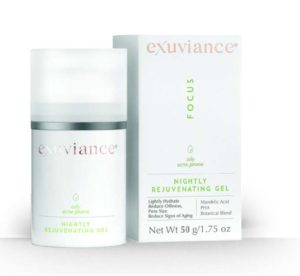 including Exuviance. This month, Exuviance enters Ulta Beauty and will also be sold on Exuviance.com. The new lineup includes 52 SKUs, up from 47, and has been divided into 10 collections, with the newest collection being Advanced Series.
To support the relaunch, Exuviance partnered with Ulta to host more than 200 in-store launch events, alongside an influencer and advertising campaign featuring both female and male models representing a diverse age range from 21 years old to 70 years old.
In parallel with the relaunch are two new products, Wrinkle Smooth Topical Peptide and Lift Volumizing Concentrate. Part of the Advanced Series collection, the new launches are inspired by med-spa procedures with non-invasive, clinically-developed technologies for at-home use. As a "no-tox" alternative, the Wrinkle Smooth Topical Peptide uses a scientifically advanced neuropeptide to smooth the appearance of frown lines, while the Lift Volumizing Concentrate addresses smile lines with three different forms of hyaluronic acid to plump with no needles required.