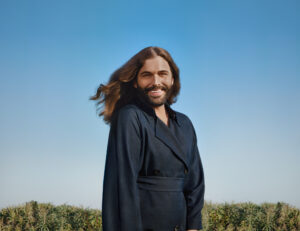 Jonathan Van Ness, one of the makeover gurus from the TV program "Queer Eye," is launching his own hair care line called JVN. With its tag line, "come as you are," the launched August 31 on JVNhair.com, Sephora.com; on September 17 it will enter Sephora stores. Similar to  its founder, the brand champions inclusivity, accessibility, sustainability and efficacy. JVN's parent company, Amyris, is also home to beauty brands Biossance and Pipette Baby.
The JVN range features 10 products across four groups, designed for all ages, genders, hair lengths and textures. The four collections include: Nurture Collection, for hair that needs self-care; Embody Collection, formulated to volumize; Undamage Collection, to strengthen hair; and Complete Collection, which includes treatment and styling items.
Every product in the collection boasts hemisqualane, which helps to nourish, reduce frizz and preserve color. Staying true to its parent company's mission, the brand took a sustainable approach to ingredients, formulations and packaging, opting for recyclable materials such as aluminum and glass, and has committed to become 100 percent plastic-free by 2025.
Beauty News caught up with founder Jonathan Van Ness and Vice President, General Manager for JVN, Teresa Lo, to learn more about the timing of the brand, its recent full-page ad in The New York Times, the impetus to include hero ingredient hemisqualane, and more.
BeautyNews: Congratulations on the new line. Why was now the time to create your own line?
Jonathan Van Ness: I've been obsessed with hair since I was little—it's always been a medium that spoke to me—and from a young age I was interested in ingredients. My mom would take me to the mall and I'd literally go into a store and start reading the backs of bottles. Before I started "Queer Eye," I was a hairdresser for 12 years and was always trying different products and looking at the ingredients. I felt like there was a white space for clean formulas that aren't super expensive, because that's just not accessible for most people.
I've been working with Biossance for two years now and loved Amyris' mission to create efficacious formulas while prioritizing sustainability. We felt that together we had the ability to make a collection that catered to tomorrow's consumer by championing efficacy, sustainability and inclusivity. I'm thrilled that we're on this journey together and I'm so excited for people to try the line.
BN: What was the thinking behind The New York Times ad?
JVN: With JVN, we want people to shed any preconceived notion that your hair has to look a specific way. I don't want people to feel like their hair has to look a certain way because of their gender, their age, or anything. It's like 'you are beautiful the way you are!' I think the 'hair revolution' is people feeling empowered by their own sense of beauty and embracing it. Feeling good about myself makes me happy, and I want everyone to feel the same.
BN: Which item do you see as the hero product in the line?
JVN: I love the Nurture Deep Moisture Mask, featuring camellia seed oil to hydrate and rice protein to add shine and strengthen. A lot of people are afraid of masks because they can weigh hair down, but this one leaves your hair soft and shiny without ever feeling greasy.
But my accidental favorite is the Embody Daily Volumizing Shampoo and Conditioner. Traditionally, a lot of volumizing products can have alcohol in them, making hair feel dry or crunchy. Our formulas have all of these delicious ingredients such as caffeine, to stimulate your scalp and follicles, and bamboo extract, which is rich in natural silica to add volume and shine. Your hair is just so bouncy and looks so healthy. I'm obsessed.
BN: Hemisqualane is an interesting ingredient for hair care. Tell me about the idea behind including it in the formulations.
JVN: We love hemisqualane. Amyris, our parent company, creates its own sustainable, sugarcane-derived squalane and hemisqualane, which translates to half of a squalane molecule. It's a moisturizing molecule that replaces silicones in our formulas. There are many immediate benefits, like hydration, shine and smoothing frizz, but there are also long-term hair health benefits as well which makes it so powerful as an ingredient. Because it's so small, it's able to penetrate the hair shaft instead of just coating it, and it doesn't cause any environmental harm. It's also great across all hair types because it's moisturizing enough for all hair types, but so lightweight that it won't weigh down fine hair. It's in every JVN product.
BN: How long has JVN been in the works?
JVN: About a year and a half, but honestly I've been dreaming about creating it forever.
BN: Can you share a bit about how the new range came to be?
JVN: As a hairdresser, I was always seeing the same three concerns from my clients: dry hair, damage or lack of strength, and volume, so those needs influenced our product families. And then the Complete collection is three stylers/treatments for all hair types. The products can be mixed and matched across lines, we love that—it's about developing a routine that works for you and your hair that isn't overwhelming. We created the essentials—great shampoos and conditioners and select treatments and stylers that we felt were universal.
BN: What was the idea behind the packaging and its multiple colors?
JVN: I love a jewel tone. Obviously, sustainability is really important to me and is a pillar of the brand, so we prioritized using glass and aluminum, which is infinitely recyclable. The only traces of plastic are in our pumps and closures, and they're up to 95 percent PCR. We're working on that and have a goal of being plastic-free by 2025.
BN: What's next for the brand? 
Teresa Lo: So many exciting projects in the works. We have new innovative products in the pipeline and plans to expand internationally. We also have so much more content that we plan to develop with Jonathan, since he has such incredible knowledge about hair that we want to share.
BN: How have you integrated social media into your marketing strategy?
TL: Social media is an integral part of our marketing strategy. Jonathan has a loyal and engaged following on social media and it's a great place for us to show behind-the-scenes moments, share first looks into projects, and to engage and gather feedback from the community. There are so many unique social platforms that each serve unique audiences today; social allows us to expand our reach exponentially, especially in markets where we might not be present yet.
BN: Do you have plans to expand to more retail?
TL: We are eyeing other markets globally, but are starting with the U.S. and Canada for the launch.