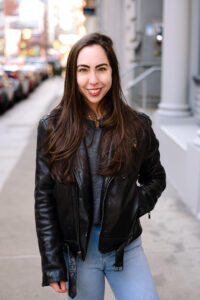 It's been nine months since makeup legend Bobbi Brown introduced Jones Road, her second beauty venture since stepping down from her eponymous brand, owned by The Estée Lauder Cos, in 2016. Since its launch, the brand's assortment of clean makeup and skin care products has consistently exceeded monthly projections, and often experiences a 10,000-person waiting list for its hero SKU, Miracle Balm ($38). Here, CEW Beauty News spoke to Ariel Gold, General Manager, Jones Road Beauty, about the challenges of launching during the pandemic, impactful marketing strategies, sustainability practices and what else to expect from the brand this year.
Beauty News: What is the brand's point of difference?
Ariel Gold: Bobbi has always said, 'The world doesn't need more beauty products, just better products.' We've built Jones Road upon that idea: an edited indispensable collection of clean, high-grade formulations designed for all ages, skin types and skin tones. The brand has universal appeal, and that's not a performative statement. This message of inclusivity remains consistent across all of our channels on social media and our website where we feature women who are diverse in both age and ethnicity.
BN: How did the brand manage this past year?
AG: Jones Road launched on October 26, 2020, in the middle of the pandemic, and just a few days before the presidential election, so it was definitely launched into a very noisy time in the news cycle. Yet, the launch was a surreal success. Bobbi's return to cosmetics was huge news and she is so beloved by both the press and her very loyal customer base so everyone was very excited about Jones Road.  What's amazing though is now, nine months beyond the launch, interest in the brand – from consumers, press, partners – continues to grow. We attribute it to the brand's philosophy and the products themselves which are so relevant right now. Jones Road is built upon the idea that you don't need a lot of makeup to look and feel good. It's the ultimate no makeup, makeup. During a time when we were all learning to live with less, that simple, clean message felt especially appropriate during the pandemic.  We've also made some very intentional business decisions this year, such as leveraging our DTC channel to stay close to customers and quickly responding to what they want. Bobbi is listening and talking to customers in real time on Instagram and DM so we've never been closer to our consumer, and that's really paying off. Bobbi is also creating so much great service content through IG lives, how-to makeup tutorials, and some behind-the-scenes content, which is resonating with fans and building our customer following.
In terms of challenges, if anything, launching Jones Road during the pandemic only made us more focused because we simply had no other option.  We all quickly learned that we could do anything from anywhere.  The team was able to work remotely or in small shifts at the office, while continuing to collaborate with all of our external partners easily.
BN: Talk about marketing and building brand awareness. What strategies have worked best?
AG: We've focused on three key marketing strategies that have served us well.  First, we are intentional with our marketing calendar. We launched with a very targeted assortment to see what resonated most strongly with our community and built out the remainder of the 2021 calendar using that data. As for influencers, we've been leveraging our different organic influencer communities, from Jones Road superfans to makeup artists, and building unique campaigns specifically around those audiences. For example, we recently launched eyebrow pencils in five shades and we heavily targeted the makeup artist community with the full set of pencils who would want all the shades in their kits. And of course there's education. Bobbi has always been about educating women on how to look beautiful and feel confident so we've really focused on educating the customer through content on our social channels and on justBOBBI.com. We've also set up ways for customers to interact directly with us to get answers to their questions.  For example, when we launched our face pencils in 25 shades, customers had the ability to email us a picture of themselves and within 48 hours, a makeup artist would contact them directly and help them find their correct shade.
BN: Can you share some of the brand's sustainability practices? 
AG: Jones Road's code of clean beauty means that all products adhere to standards even more stringent than those set by the European Union and are made without 2,700 potentially toxic ingredients, including parabens, phthalates, sulfates, PEGs, cyclic silicones, BPA, and EDTA. All of our outer packaging is 100 percent recyclable. In addition, we limit unnecessary waste during the shipping process. For example, we use only recyclable boxes and paper inside to protect the product and we don't over package anything with plastics and bubble wraps. Our packaging reflects the same values as the brand – clean, simple and minimalist.
BN: What upcoming launches are you excited for this month?
AG: On July 27, we launched Sunkissed, our newest shade of Miracle Balm, which is a multi-purpose balm for eyes, lips and cheeks, and the hero product in the Joes Road collection. Miracle Balm is the truest example of Bobbi's 'no makeup makeup' philosophy: a versatile, easy-to-use, subtle, clean formula to complement, not cover up. Since we launched last October, Miracle Balm has consistently been our best-selling product and at times, has had a waitlist 10,000 deep. The consumer demand for Miracle Balm has been amazing. Miracle Balm is now available in five shades (Au Natural, Dusty Rose, Tawny, Bronze and Sunkissed). Next month, we'll add Magic Hour which will be our sixth shade.
BN: What else can we expect to see from the brand in 2021?
AG: We are launching new products every four to six weeks, and we're constantly adding new shades to our existing SKUs. We're also remaining flexible about what we'll add into the collection. We already have a host of product ideas in the pipeline, but we also really like to listen to our consumers who tell us what they love every day. If they tell us they want something, we want to be able to respond and deliver on it quickly.