Brother and sister team, Shiva and Kayvon Tavakoli, are staying in the family business of tending to tresses with new hair care line, Joon, that blends their Persian descent with modern chemistry.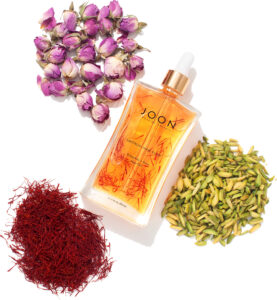 Joon, which means "my dear" or "my life" in Farsi, has a luxury positioning that utilizes spices from their grandmother's kitchen—their grandfather was a spice exporter in Iran—with science from their father's hair care laboratory. Their father, Frank Tavakoli, immigrated to the U.S. from Iran when he was 17 years old, and in 1986 founded Houston, Texas-based, 130-unit salon chain, TGF, as well as a line of hair care products. (In 2005 Frank sold the chain to Regis Corp. for an undisclosed amount.)
Because of their deep roots in the salon world, Shiva and Kayvon have worked closely with hairstylists for years, many of whom are first- or second-generation immigrants, and wanted to create a line that blended their heritage into formulas.
Joon uses saffron, pistachio and rose, ingredients which have been used in Persian homes for centuries in DIY recipes. It targets those seeking good-for-you formulas that work for all hair types and textures. Formulas are color safe, cruelty free and 100 percent vegan.
There are three items in the line. First, there's Joon Saffron Hair Elixir, designed to help restore hair, boost bounce, shine and all-around hair health. The oil also offers heat protection and protects against UV rays with saffron flower, pistachio seed oil, rose oil and argan oil. It retails for $50 for 3.11 oz.
Joon also offers a Saffron Rose Shampoo and Conditioner, both designed to restore, hydrate and smooth hair. Each features saffron flower, rose oil, pistachio oil and pomegranate essence, along with a proprietary blend of proteins, panthenol and vitamin E. Each retails for $28 for 10 oz.
The line is sold on the company's website, QVC.com, and in salons select Sephora stores in Southeast Asia.
The duo have been creating ways of giving back to their salon professional peers, who were hit hard by COVID-19. One initiative is to donate proceeds of a baseball cap they designed, where money will go to The Professional Beauty Association's COVID Relief Fund. They are also donating monthly to Color of Change, an initiative that supports the Black Lives Matter movement.
In the fall, Joon will launch Saffron Sachets to help with trial; two sachets will cost $5.