CEW Beauty News has compiled a list of beauty launches for June, and how communication plans have been developed to reflect the current social climate. 
Nails.INC Plant Power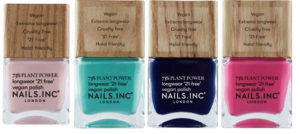 Waitlist worthy: The brand's new nail collection, Plant Power, boasts it is the first 21-free, plant-based nail polish that excludes formaldehyde, acetone and parabens along with 18 other derived ingredients. The high-shine formula is also 100 percent vegan, cruelty free and halal friendly, and made from 73 percent bio-sourced ingredients. The formula is UV reactive to boost glossiness and designed to extend wear for up to 10 days. The packaging features recyclable and sustainable components, including the bottle, which is made with venetian glass and topped off with a Forest Stewardship Council certified beech wooden cap. The collection is available in 11 shades and a high-shine top coat.
Marketing plan: "Clean beauty has become a very important part of consumers' lives," said Thea Green, founder of Nails.INC: "With at-home manicures on the rise and shoppers more actively reading digital content, we are focusing our strategies on digital platforms that are native to our audience. Additionally, we are actively exploring partnerships with experts to highlight our innovation and create digestible, easy-to-follow content that is relevant to our customers' needs and ever-changing lifestyles. Nails.INC also stands with the fight against systemic racism, and as such, will be donating 100 percent of U.S. proceeds from NailsInc.com in the month of June to Black Lives Matter."
Availability: Sephora.com in June; Sephora in-store in August
Price: $10 color, $11 topcoat
BeautyBio Cyro Roller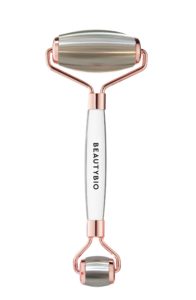 Waitlist worthy: A cooling and contouring stainless steel, dual-ended Cryo roller that is designed to calm inflamed skin, soothe minor body aches, flush out excess fluid, and de-puff under-eye bags. "Prior to launch, our team has secretly been rolling our handcrafted roller across pinched shoulders during Zoom calls, rolling to relieve screen-overload headaches and using them as the final step to seal in skincare, contour cheekbones and tighten pores at the end of an at-home facial," said Jamie O'Banion, CEO and co-founder.
Marketing plan: "As we all navigate a new normal amidst a state of uncertainty globally, there has been an incredible surge in time invested in self-care, stress relief and new WFH routines. The launch of our new clinical-grade stainless steel Cryo Skin Icing roller couldn't have come at a more acute time of need than now," said Jamie. "Our marketing content and message will center around the stress-relieving, anti-inflammatory benefits of age-old skin icing, reinvented in an innovative, new format that allows everyone access to consistent, professional results without leaving your own space. It was really incredible seeing our team come together to create final assets in our current environment when talent could not be booked. One of our team members from our PD department is the beautiful face behind the tool. I'm incredibly proud of the way our team has pivoted and remained fluid during this time. Our influencer community, UGC and results from our clinical imagery will lead out during this campaign, focusing on benefit and empowerment. Our current state as a country is a chapter, it's not the book. We've got this, together."
Availability: June 16 on Nordstrom.com and in stores
Price: $85
HoliFrog Sunapee Sacred-C Brightening Powder Wash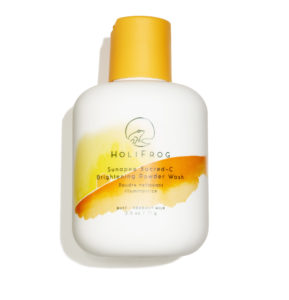 Waitlist worthy: Sunapee Sacred-C Brightening Powder Wash is the final (6th) face wash in the brand's "Situational Cleansing" lineup, designed to exfoliate and hydrate sensitive skin. The product draws its exfoliating properties from mineral rich powders such as bentonite and kaolin clays, enzymes such as bromelain and papain, plus antioxidant-rich powders such as blueberry seed, raspberry seed, green tea and chamomile powders. The powder wash also includes hydration from coconut milk, aloe vera and hyaluronic acid.
Marketing plan: "This launch was originally slated for May, but the hopeful side of us thought that maybe the world would re-normalize by mid-June," explained Emily Parr, Co-Founder of HoliFrog. "When that was no longer looking to be the case, we wanted to bring a bright spot to our customers' days by not further delaying the launch of our brightening wash. Our micro-influencer seeding will carry on, same as with launches pre-COVID, albeit by doing the shipping from our teams' homes. And for press, we will be hosting a Cooking Demo with East Sunny founder, Tatiana Boncompagni, via Zoom to celebrate HoliFrog's final product in the cleansing category. Recipes include Vitamin C Salad and C-C-C Cookie." Additionally, in light of the Black Lives Matter movement, the brand will be donating a portion of the proceeds from Sunapee to Color of Change. "There is a darkness in the world that's rightfully rumbling for change. We want to be on the bright side of that change. And while we are committed to being a part of a reimagined future, we will continue to reinvent cleansers and beyond," said Emily.
Availability: June 10 at Dermstore.com and HoliFrog.com
Price: $44
BeautyStat Universal C Eye Perfector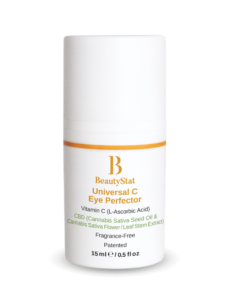 Waitlist worthy: Formulated with a combination of patented 5% pure stable Vitamin C (L-Ascorbic acid) and CBD (Cannabis Sativa Seed Oil and Cannabis Sativa Flower/Leaf Stem Extract), the eye cream is designed to prevent and reverse signs of aging, while also brightening, firming, hydrating, and calming eye skin. The product is also infused with hyaluronic acid to aid in plumping and hydrating, as well as Pure EGCG, the most active component of green tea, at its optimum level, to help defend against free radicals and pollution. The formula features a weightless texture designed to glide on with no pull on the delicate eye area.
Marketing plan: "Through animation and infographics, we will be showing how the synergy of both our pure, patented, stable vitamin C and CBD work synergistically to comprehensively address all eye area concerns. Our plan includes targeting eye cream users via social media with a focus on Instagram and TikTok, as well as email marketing, giveaways, influencer marketing and media relations," said Ron Robinson, Founder & CEO. The brand will also be donating to various causes that work to promote equal rights and prevent social and criminal injustices
Availability: June 5 on www.BeautyStat.com and www.Amazon.com
Price: $65
Aquis Lisse D'Air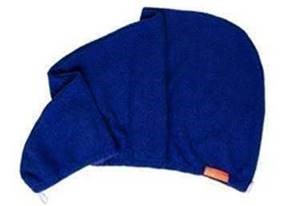 Waitlist worthy: The AQUIS Lisse D'Air is a compact, 23% lighter hair drying turban that dries hair 50% faster, without friction or heat and offers a snugger fit with breathable stretch fabric. The AQUIS Lisse D'Air is launching in a classic blue, meant to exude serenity and focus and comes in a reusable TSA approved travel-pouch.
Marketing plan: "There is a lot happening in our world right now that deserves our attention and as a brand, we are being mindful of the need for limited distractions that our community deserves during this crucial dialogue," said Jess Mount, Sr. Director, Omnichannel Marketing. "Not only are we monitoring the conversation, but we are joining the narrative and reimagining our marketing launch plan for the Lisse D'Air turban to ensure that we are elevating the voices and stories that need to be heard. It is our top priority to continue to listen and support our community, including our AQUIS consumers, influencer and industry partners. AQUIS will also be donating 10% of all revenue to multiple Black rights organizations for the next four weeks, during the launch of the Lisse D'Air turban."
Availability: June 1 at Aquis.com
Price: $32
WLDKAT Cupuacu + Mango Butter Lip Balm, WLDKAT Don't Trip Tincture

Waitlist worthy: WLDKAT's Cupuacu + Mango Butter Lip Balm features 50MG of broad-spectrum CBD, cupuacu butter, and mango butter and aims to help soften the appearance of lines as well as heal and protect lips. "The lip balms are a natural extension of the first round of WLDKAT products, as they are focused on hydration and overall benefits to the lips. The shade 'Headband' is especially fun since it bridges skincare with color due to the pH adjusting effect it has," explained Amy Zunzunegui, WLKDAT Founder & CEO. The second launch, Don't Trip, is a small batch, 1:1 ratio full spectrum hemp CBD-CBG oil crafted using Sour Space Candy (a high CBD strain) and The White (a high CBG strain), designed to be used sublingually. "It was our goal to help people de-stress in some small way. 2020 has challenged each of us and pushed our stress to unimaginable levels, our hope is that Don't Trip can help ease some of that. We partnered with a small farm in Vermont to create a small batch of CBD + CBG, two cannabinoids reputed to help with inflammation and carry anti-oxidants," said Amy.
Marketing plan: "At WLDKAT, our commitment to representation and diversity in beauty is a core pillar of our brand, and at the forefront of each of our initiatives. We are proud to share that 100 percent of our proceeds from June 1 – June 7 will be donated to Black Lives Matter," she shared.
Availability: June 16 on WLDKAT.com
Price: $18 (Lip Balm) and $65 (Don't Trip Tincture)
Curlogoy Acne Body Wash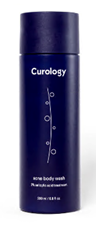 Waitlist worthy: The acne body wash by Curology is a dermatologist-designed body wash that has been formulated with 2% salicylic acid to treat and prevent acne, while washing off regular dirt and grime.
Marketing plan: "With the pandemic keeping many in their homes, marketing plans are focused on creating engaging and uplifting virtual experiences that tie the product back to home experiences," said AJ Brustein, VP of Brand Marketing at Curology. "Understanding that many are also feeling anxious and under stress, digital content is focused on interactive channels like IG Stories and Live. Curology is partnering with several brands and notable fitness influencers, including Olympic gymnast Nastia Liukin, to share how the body wash is an important part of a (Work-out From Home) fitness skincare routine. Curology also stands in solidarity with Black Lives Matter, donating to the NAACP, ACLU, and the Minnesota Freedom Fund."
Availability: June 15 exclusively at curology.com
Price: Not sold individually, Curology customers can update their subscription to include the acne body wash for an additional $18.