As the new General Manager of Premium Skincare at Crown Laboratories, June Risser is charged with leading the global business unit that includes clinical skin care brand StriVectin, and sunless tanning brand Vita Liberata. Prior to Crown, June was General Manager at Galderma Laboratories, where she led the dermatologist-recommended skin care brands Cetaphil and Differin in the U.S. Here, she talks to CEW Beauty News about the return to trust and science in skin care since the pandemic, the role that premium brands play in therapeutic categories, and finding a higher purpose in selling skin care.
Products that make a meaningful difference in people's lives are what drive June Risser to achieve success. As the recently appointed General Manager of Premium Skincare at Crown Laboratories, June oversees the global business unit that includes clinical skin care brand StriVectin, and sunless tanning brand Vita Liberata, in addition to serving on Crown Laboratories' Executive Leadership Team.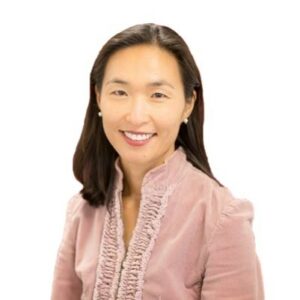 "Working in skin care is fun, it's exciting, but it also does have a higher purpose. That's what really gets me up in the morning. For me, it's the consumer first, and that's the opportunity: to be obsessed, to love our consumers, and to think about how to be the most desired, the most trusted, clinical, science-based brands. So many brands out there say they work, but we really stand for the science," she said.
Crown Laboratories, whose tagline is "skin science for life," is a privately held, global skin care company with a portfolio of aesthetic, premium, and therapeutic skin care products. The company, whose founder and CEO is Jeff Bedard, has been listed on Inc. Magazine's "5,000 Fastest Growing Privately Held Companies" for eight years and has expanded its distribution to over 38 countries. In the fall of 2021, Crown Laboratories acquired StriVectin, the 20-year-old brand that's sold in over 20 markets and has been holding steady in recent years with double-digit growth rates, June said.
"As a company, we strive to grow at above category growth rates, and the good news is that StriVectin is growing. It is one of the fastest growing brands within the prestige skin care space, and I am committed to continuing to accelerate that growth above prestige growth rates," said June, who will be focusing on Europe and Asia outside of North America.
A lasting legacy of the pandemic is "a return to trust and science and trying to sift through the clutter of 'Dr. Google' when it comes to searching for ingredients and skin care," according to June. The red thread of StriVectin's formulas is its NIA-114 technology, an optimized form of Niacin that helps to boost and strengthen the skin barrier and supercharge other ingredients.
June highlighted Crown Laboratories' Medical Affairs team comprised of scientific experts who provide access to product- and technology-related scientific information. "So many brands say they work, but we really stand for the science and the clinical. The integrity of StriVectin is that we do all our clinical testing in outside, independent labs with independent expert graders, and we have significant and robust sample sizes. That's why we stand behind our products so much, and so many of them have stood the test of time, like our Neck Cream, our Stretch-Mark Cream SD (from the Latin striae distensae meaning stretch marks)," she said.
"Another trend that's out there that needs education and a bit of curation is around ingredients. Sometimes, there is a perception that because something has a max percentage, it's translating into results. Again, we go back to the clinicals, to the expert grading, and ensure that the formulas we launch have the integrity behind them, that they have real proof and visible results."
Before joining Crown Laboratories, June worked at Galderma for six years, first as Vice President of Marketing, and quickly thereafter as General Manager. Together with her team, June achieved significant growth on sensitive skin care brand Cetaphil as well as Differin, which was a prescription brand for many years. "It's not often that you get to work on an RX-to-OTC switch brand," she said. Differin, whose active ingredient is vitamin A derivative adapalene, continues its successful trajectory.
Growing up as a first-generation American (June's Korean father worked as a diplomat, and her family moved to the U.S. when she was two years old), June always assumed she would also have a career in public service. Instead, her career took a turn to business after graduating from Princeton University with a bachelor's degree in Politics and Russian Studies, and Harvard with a Master's in Business and Government. "It's a long and windy road to selling skin care for a living," she said. "I started my business career in management consulting. It laid a super foundation for building the commercial, business, financial, and acumen skills that I still use today as a general manager running a skincare company."
Two of StriVectin's newest launches are Advanced Retinol Nightly Multi-Correct Serum and Super Shrink Pore Minimizing Serum. June described the brand's consumers as those seeking skin health and visible results. "There is a misperception that we are only an anti-aging brand. One of the products I have been using ever since I joined the company is our Super-C Serum which we launched relatively recently. It combines vitamin C and retinol. A lot of consumers don't necessarily know that these two ingredients can be combined for brightening," she said.
Sunless tanning brand Vita Liberata is also part of June's portfolio. Founded by Alyson Hogg from her home in Northern Ireland in 2003, the brand was acquired by Crown Laboratories in 2017. "Premium sunless tanning is a category I didn't have a lot of experience with, even just culturally as an Asian woman. It's not a category I grew up using personally, but the brand has such a loyal following and amazing technology," she said. Vita Liberata unveiled new packaging in May.
What can premium skin care add that isn't already on offer by mass brands, such as those that June worked on while at Galderma? "It is around education and compliance. What premium skin care and StriVectin do extremely well is beautiful aesthetics with the clinical, the proof, the visible results, and compliance, especially when it comes to the more therapeutic categories where you need to use products over time for them to work. That's where the premium category can contribute."