Kopari Beauty, best known for its coconut oil-based products, is tapping into a new star ingredient for its latest launch: CBD. The company, which secured $20 million in funding July 2019, will debut a three-SKU hemp-derived CBD-infused collection January 1, using full-spectrum CBD powder and 100 percent organic coconut.
"There's no question that the CBD market has exploded in recent years, but we didn't want to simply jump on the trending ingredient train unless it made sense for our brand and fit within our product portfolio," explained Jeremy Lowenstein, Chief Marketing Officer, Kopari. "We've always been curious about CBD so we conducted some internal product research, and found that because coconut oil has a high concentration of fatty acids, it serves as an incredible binding agent and delivery system for CBD. This makes it easier for CBD to absorb into skin, so we saw an opportunity to combine the two powerful ingredients."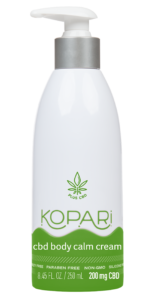 The lineup includes CBD Recovery Balm ($45), which features 250 mg of CBD and aims to soothe aches; CBD Deodorant Extra Strength ($18), which includes 15 mg of CBD, as well as sage oil and coconut water, designed to help combat odor and soothe underarm skin; and, CBD Body Calm Cream ($40) which contains 200 mg of CBD, along with chamomile essential oil, with the goal of hydrating and soothing skin.
To promote the line, the brand will run a comprehensive 360 campaign, encouraging consumers to become adopters of topical CBD beauty products by educating them on three key messages: "Product Benefits;" "How to Incorporate CBD into Their Self-Care & Wellness Routine;" and, "Sensorial Scents & Ingredients."
"We are using the messaging, 'Total Green Beauty Crush,' as a nod to the CBD and unique whole-plant powder used in our formulas, along with helping to educate that Kopari is clean beauty. It's playful, fun, and feminine," said Jeremy. "Additionally, as a digitally native brand, we will deploy a collection of best in class new assets across our social and digital platforms that will help to educate, inspire, and engage consumers. We are also engaging a suite of influencers to help us spread the word, educate, and drive trial. Finally, we will be including a packet of CBD Recovery Balm, along with product information, in our DTC in-box sampling program, which we've found to be a key tool to driving adoption."
Kopari's CBD collection will be available exclusively at Ulta.com and KopariBeauty.com January 1, and in Ulta Beauty stores nationwide beginning January 5. The collection will be featured across a variety of the retailer's marketing vehicles, including in-store window and POS signage, cash-wrap displays, email and direct mail catalog.
Although Jeremy acknowledges that CBD in skin care is a trend that is here to stay in 2020, there are no immediate plans for additional products. "We are open to potentially expanding the collection down-the-line but have no concrete plans for just yet," he said.