Korres is tapping into a largely overlooked segment of beauty consumers, post-menopausal women, with its White Pine Meno-Reverse Collection. By 2020, more than 50 million women in the U.S. will be over 51 years old, the average age at which a woman experiences menopause. With the rush of millennial-focused DTC startups, apparently there's white space for a range dedicated to this subset of women.
To that end, the brand is launching two new mid-priced skin care products — Volumizing Serum-In-Moisturizer ($58) and Deep Wrinkle Plumping + Age Spot Concentrate ($78), each of which use natural ingredients combined with scientific research and its proprietary Meno-Reverse technology. Clinically proven to reverse the signs of menopausal skin aging, the product duo features white pine bark, a patented ingredient exclusive to the brand. As for results, consumers can experience a significant reduction in the appearance of wrinkles related to estrogen loss in less than a month, the brand said.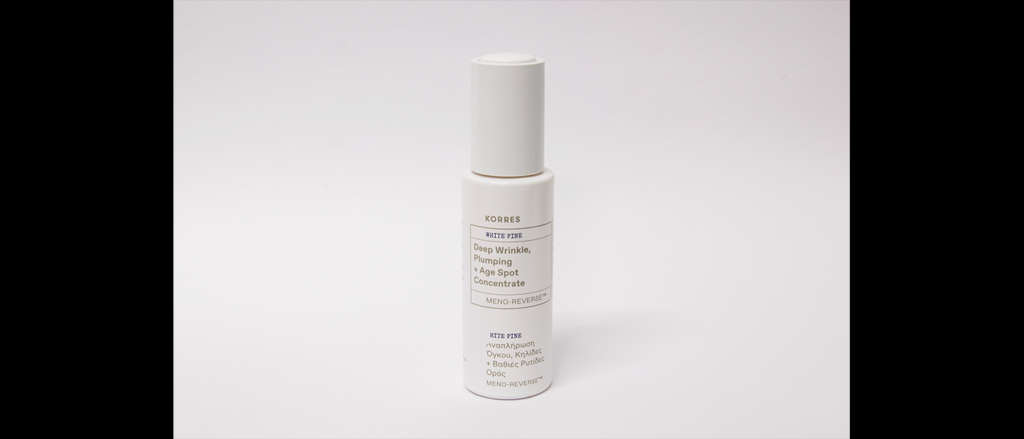 Sourced from a tree indigenous to the Pindos mountains in Greece and Albania, which thrive in high altitudes, this bark has adapted to extreme environmental conditions. In formulas, the bark works to detoxify cells and accelerate the production of new proteins to promote elasticity, shrink the appearance of pores and diminish wrinkles and dark spots. The white pine bark is sustainably sourced and obtained to ensure these trees continue to thrive for generations to come.
As for the products, the Volumizing Serum-In-Moisturizer aims to improve volume for firmer, plumper skin thanks to abyssinia oil, a newer, natural seed oil the skin care industry is embracing. Abyssinia oil is ultra-light, non-greasy and has a unique molecular structure not found in other naturally-occurring substances.
The Deep Wrinkle Plumping + Age Spot Concentrate boasts visible results in 30 minutes and is clinically proven to reduce age spots and deep wrinkles. It also helps reduce UV and pollution damage.
Both the serum-in-moisturizer and concentrate will debut on HSN exclusively in January 2020. The items will become available on KorresUSA.com and Sephora in March 2020.