The clean color cosmetics brand with a focus on skin-loving botanical formulas and highly-pigmented colors is chartering a rapid ascent in the crowded indie space.
"Kosas is makeup for skin care freaks," said Sheena Yaitanes of the clean color cosmetics brand that she founded in 2015, adding, "Taking care of your skin includes the makeup you put on it. All Kosas products offer performance-driven results and real skin care benefits. No marketing ingredients, no stock formulas. It's trading up, not down."
Kosas began with a collection of just four lipsticks. Today, in addition to highly-pigmented lipsticks that kickstarted the brand's rapid growth trajectory, the brand offers foundation, eyeshadows, blushes, lip balms and lip glosses, all formulated with non-toxic, botanically-rich ingredients.
"We saw a 409 percent increase in sales year-over-year after the Sephora rollout in 2018 to 2019," said Sheena. Kosas planned to add 100 new Sephora doors to its distribution list, complete with dedicated endcaps, in the first half of 2020. Those efforts were halted due to COVID-19.
The brand is also available at Neiman Marcus, Credo, The Detox Market, Violet Grey, GOOP and REVOLVE.
Having secured investment in 2018, the Los Angeles-based brand with a team of 22 people is focusing on expanding its footprint both domestically and internationally. While new launches rollout to stores prior to closures, in light of COVID-19 the brand will focus on e-commerce.
Sheena said that the brand's stand-out products include Tinted Face Oil that contains mineral pigments and six active botanical oils. ("It will change your mind about foundation," she said). Sheena also cited LipFuel and Wet Lip Oil Gloss as everyday staples. Gwyneth Paltrow even showcased the brand's pigmented red lipstick (Electra shade) in a day-to-night video for Vogue.
The name Kosas comes from the five interconnected layers, or 'Kosas' of the self. Sheena explained that these are "the physical layer, the vitalizing layer of energy, the sensory mental layer, the discerning intellectual layer, and the layer of truthful bliss. Beauty lives in each of these layers, not just in the physical".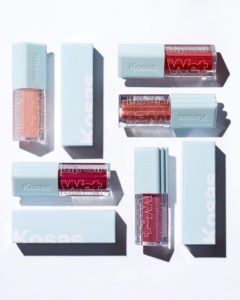 An artist who studied chemistry in college, Sheena has given a unique perspective on product formulation.
"My mother worked in the beauty industry so I grew up loving makeup and being fascinated with the science behind it. I later studied chemistry and fine art, and that's where I really learned the anatomy and complexity of color. I think each Kosas product reflects that knowledge and thoughtfully considers different skin tones and types," she said.
"I actually didn't set out to build a clean beauty brand, but as I was searching for the best ingredients, non-toxic/treatment formulas turned out to be the most effective. So that's how Kosas was born."
In addition to offering clean, high-performance formulations, the brand is also noted for its pigments and undertones that are flattering for all skin types.
"I wanted makeup I could apply on the go, with my fingers, with colors that flattered my olive complexion, and didn't take hours and a variety of tools and knowledge to apply, and most importantly, that was made with ingredients that work while they live on my skin."