Lady Gaga's Haus Laboratories is celebrating the 10th Anniversary milestone of the singer's Grammy-nominated Born This Way album with a month-long offering of two limited-edition product bundles: The Bad Kid Vault ($250) and the Be Kind. Be Brave. Be You. Bundle ($55). The brand plans to drive excitement for the bundles by integrating the iconic album's messaging, music, visuals, and choreography via social media and storytelling. The launch happens to coincide with Pride month, a forever celebration for the brand, as it was founded with the goal of providing self-expressive color cosmetics for all gender identities. When Born This Way was released in 2011, the song was embraced for its liberating message of acceptance, particularly striking a chord with the LGBTQ+ community.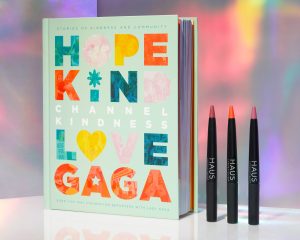 The Bad Kid Vault, which is named after a fan-favorite track from the album, features 16 curated Haus Labs products including its signature Punk black eyeliners, lip crayons, glosses, face duos and red sparkle lipstick. The Be Kind. Be Brave. Be You. Bundle includes three top-selling Le Monster Matte Lip Crayons (Exotica, Talk Dirty and Bella), as well as Lady Gaga's New York Times bestselling book, Channel Kindness, which features inspirational stories written by young people. The book, which also has a digital safe space counterpart, was funded by The Born This Way Foundation, a nonprofit co-founded by Lady Gaga and her mother Cynthia Germanotta in 2011 to provide mental health support for young people. Both bundles became available for sale on June 1 exclusively at HausLabs.com and will be offered while supplies last. A portion of every sale on the website is donated to the Foundation to support its high-impact programming.
"We will share these bundles with a tight, curated group of Lady Gaga fans and partners including MUAs, Artists, influencers, and of course Little Monsters; inviting all to create looks and be inspired by Born This Way (BTW)," said Kelly Coller, CMO of Haus Labs by Lady Gaga. "Fans are invited to recreate BTW video looks using Haus Labs products, showcase BTW dance moves, and share their personal BTW stories of bravery and love. We will go deeper in storytelling and makeup inspirations lead by Haus Labs Global Artistry Director Sarah Tanno, who will interview original Born This Way MUA Val Garland, explore the inspiration behind the iconic BTW looks and reinterpret them through tutorials and transformations. Of course, we will lean into BTW TikTok challenges which fans have already started."
Led by Haus Of Gaga, the brand will also host giveaways on social media tied to activations around the album. Haus Labs will also work closely with the Born This Way Foundation to share stories of bravery, embracing individualism, kindness and love.
"We want the message to go far and wide," said Kelly.