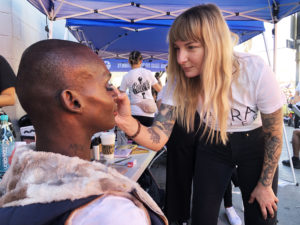 Laura Geller Beauty is giving back in a powerful way this holiday season in collaboration with Beauty 2 The Streetz, a non-profit that provides meals, showers and beauty treatments to Los Angeles' homeless. Debuting earlier this month, the #MakeupMeansSomething campaign featured the beauty transformations of seven transgender and cisgender women living on Skid Row. This marks the first brand partnership for Streetz and its founder, Shirley Raines, whose work touches the lives of hundreds of those less fortunate every weekend. For Laura and her team, this opportunity went beyond simply donating a percentage of sales; it was about showing up. Volumteers joined Shirley and her team on-site to help deliver beauty services, speak to people and get to know their stories.
Beauty News recently spoke with Laura and Brand Marketing Director Sara Mitzner about the origins of the campaign, its lasting effect on the women featured and what the future holds for #MakeupMeansSomething.
Beauty News: How did the campaign originate?
Sara Mitzner: I found Shirley through a friend in the industry who had donated products to her organization. She was telling me about her and her amazing Instagram. So when I started working at Laura Geller and we were thinking of what we wanted to do for holiday, it just felt right. Laura has a long history of philanthropy. I had recently found Shirley's organization, so I talked to Laura and the answer was yes right away, both from her and from the ownership team at Laura Geller. No one even hesitated. That actually shocked Shirley. Some brands are a little afraid to work with her; there's a fear surrounding homelessness. But we weren't just going to send product, we would physically show up.
BN: What was the main goal?
Laura Geller: We've never quite done anything like this before. As you know, I'm on the board of Cancer and Careers, which helps people manage the workplace from cancer diagnosis through to treatment and returning to work, and that's been my number one passion. The impetus behind this whole campaign for me as a brand founder is that we want to touch real women. My whole mantra has always been that makeup made feel good on the outside, which made me feel good on the inside. Particularly as a makeup artist, I knew what it did and how it empowered me. So we knew this collaboration would help people that so many view as vacant; to give them a voice and a face.
These women are trying to get back to the real world. They want to get out of the streets, out of the shelters. We all know that when you put your best face forward, you are taken more seriously; you're acknowledged and noticed. That's what I got from these women. We hope this will empower them to get back into the world if they can, and that was the whole objective.
So many people would rather put blinders on about homelessness. These women were not homeless once, and they may not be homeless again. Beauty 2 The Streetz is putting a voice to so many today, and I'm so proud as a beauty professional to have collaborated with them.
BN: How were the seven featured women chosen?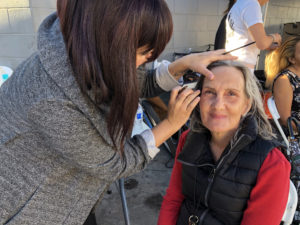 SM: It was based on the people who were there early. We got there before 7 a.m. and there was already a couple hundred people waiting on line. There is a line every weekend for Shirley and she typically serves between 800 to 1,500 homeless every weekend. Since the community is largely transient, it's difficult for her to stay in direct contact with the same people. That being said, she did have some particular individuals in mind for us to feature.
It was important for us to showcase the diversity of the homeless community, in particular age diversity. Laura's makeup line and customer base are very age inclusive; we have customers in their 20's who are cult fans of her highlighters and primers, to women who have been buying from her for 22 years. The population on Skid Row is also very age diverse; it's mostly African-American and Hispanic, but also Caucasian. So we wanted to show the makeup on a range of ages and ethnicities.
There's a larger issue of homelessness specifically within the transgender community. They don't necessarily have the support of family or friends, or have many opportunities, so a disproportionate amount end up being homeless at some point in their lives. [According to the National Center for Transgender Equality, one in five transgender people have experienced homelessness at some point due to family rejection, discrimination or violence.] So we wanted to make sure we included them as a reflection of the community that's out there. For transgender people, hair and makeup are a huge part of matching your outside with what you feel on the inside; to give them a sense of their true gender identity.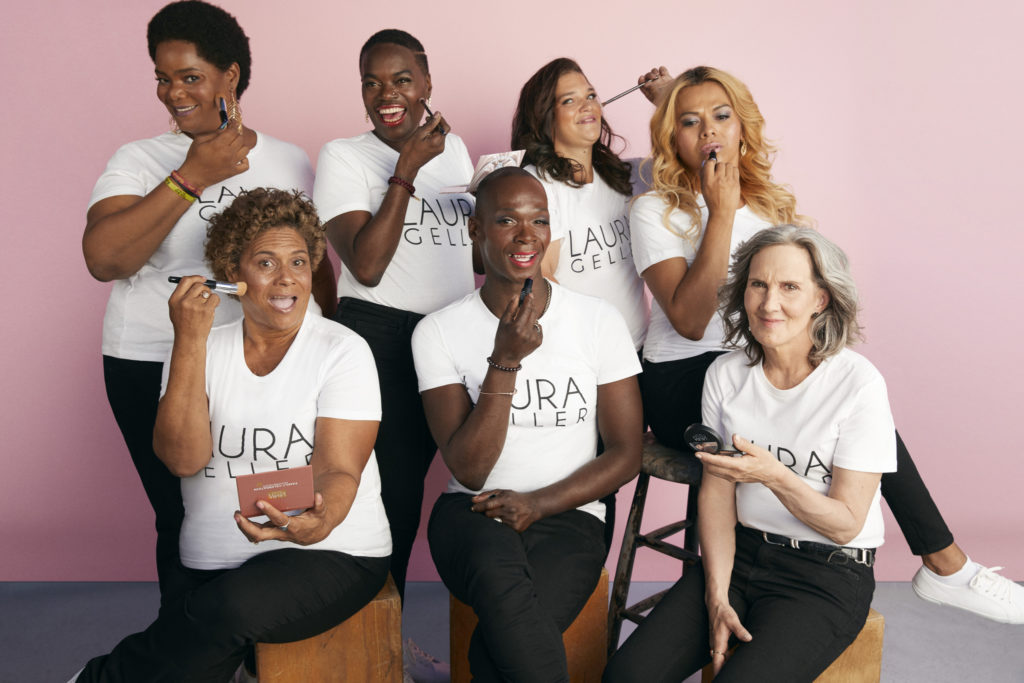 BN: Do you think this experience has made a difference in their lives?
SM: There is a transgender woman named Q who Shirley has been looking out for the past three years, and who we knew we wanted to include in the campaign. She features her a lot on social media. When we sent the campaign photos to Shirley, Q said, "I still feel the joy from that day." It just shows that though the makeup came off at the end of the day, the feeling it gave stayed with her.
This gives all the women a shared experience, and a certain sense of community in an environment that otherwise has a survivor mentality.
LG: It was palpable how they felt. There were tears and laughter. It was more than you could ever imagine.
BN: This campaign has been picked up by several media outlets, such as ABC News and Good Morning America. What about #makeupmeanssomething makes you the most proud?
LG: We're ecstatic about all the press this is getting. It's great. Our overarching end result is to bring awareness – how many people can we let know this organization exists. I've received so many DMs, texts and emails asking me how they can help or become a part of this in the future. The outreach has been amazing.
BN: How will your relationship with beauty 2 the streetz continue in the future?
SM: We made a big product donation and will continue to do so going forward. We're also currently selling a T-Shirt with 100% of the proceeds going to Shirley's organization. #MakeupMeansSomething will be an on-going campaign. We're not sure how exactly it will iterate in the future, but it definitely will continue in some capacity.