Beauty executives need look no further than Nathalie Gerschtein, President of L'Oréal's Consumer Products Division for North America, for advice on how to handle their ambition. The quick answer?
"Never play it safe."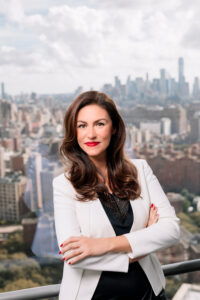 July 2022 marked Nathalie's 20th anniversary with the beauty powerhouse where she guides the largest division in the L'Oréal Group's North America Zone. She is the first woman to lead L'Oréal's Consumer Products Division (CPD) in North America.
Nathalie began her career through the company's management trainee program and over the years has led a variety of businesses within the L'Oréal Group across Europe, Asia, and North America.
She reminisced about her initial interview with a recruiter from L'Oréal where they talked about her joining the firm upon finishing business school. The recruiter had explained that the company doesn't fill positions, rather it recruits talent. "This philosophy holds true to this day, and I'm lucky to work with an incredibly talented team to create beauty that moves the world," Nathalie said.
In her role today, Nathalie is responsible for accelerating growth, innovation, and sustainable practices across its mass market portfolio of brands and product categories — from skin care and makeup to hair care and hair color — in the United States and Canada. The portfolio includes brands such as L'Oréal Paris, Maybelline New York, Garnier, and NYX Professional Makeup, in addition to Essie, Thayers Natural Remedies, Carol's Daughter and Softsheen-Carson.
In her most recent role as President of CPD USA, Nathalie spearheaded the acceleration of the division, driving continued outstanding momentum and gaining market share.
Earlier this year, Nathalie was honored as an Achiever Award honoree at the CEW Women's Leadership Awards where she shared some of her valuable career experiences.
One of her key takeaways was that there is no such thing as being too driven.  "Throughout my career, I've been told the same thing again and again, that I'm too ambitious. How many other women have heard the same?"
To the contrary, Nathalie said she's achieved her recognition as a strong female leader because she refused to apologize for ambition and drive—and never played it safe.
She pointed to a TED talk by Reshma Saujani, founder of Girls Who Code, that resonated with her. In the talk, Reshma says, "We're raising our girls to be perfect. And we're raising our boys to be brave."
That needs to change, said Nathalie. "We must disrupt that pattern and create a new path forward for the girls in our lives, and for ourselves. We need to start telling an entirely different story about what it means to fail," Nathalie said, while noting she has dedicated her Achiever Award to her . She hopes beauty industry leaders carry important messages to the girls and women in their lives, including:
STOP listening to the naysayers.
STOP trying to be perfect.
Be BOLD instead.
Be BRAVE.
Be AMBITIOUS.
Be UNSTOPPABLE.
To learn more about Nathalie Gerschtein and her leadership, follow her on LinkedIn.