Rouge Hermès is a collection of lipsticks from the storied French luxury house, and the brand's first foray into beauty. Already, the launch is being referred to as "the Birkin of lipsticks".
Hermès has launched a collection of 24 lipsticks, called Rouge Hermès, the luxury fashion house's first venture into cosmetics in its 183-year-old history.
Rouge Hermès, not to be confused with the fragrance classic of the same name, comes in two different finishes: an ultra-pigmented matte finish inspired by Hermès' fine-grained suede (with a pointed lipstick shape for precision and ease of application), and a satin finish reminiscent of the Kelly bag (with a rounded tip).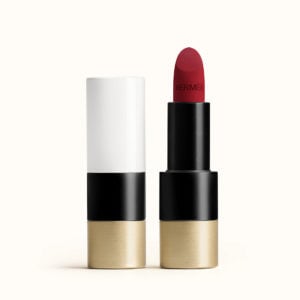 Lipstick shades feature evocative names in emblematic Hermès shades, including Rouge Casaque, Orange Boîte and Rouge H, and are drawn from its historic archives of 75,000 silk swatches and 900 leather shades.
In addition to these mainstay colors, which are available at Hermès boutiques in 35 countries, Hermès will also launch three limited-edition colors bi-annually. Violet Insensé, Rose Inouï and Corail Fou form the first such seasonal collection.
An Hermès Beauty executive said that Rouge Hermès lipsticks "took shape organically as a collaborative dialogue between the different métiers" driven primarily by Bali Barret, Artistic Director of the Women's Universe and Creative Director of Women's Silk; Pierre Hardy, Creative Director of Jewelry and Shoes, and Jérôme Touron, Creative Director of Hermès Beauty. "Their work on objects, materials, colors and gestures, as well as sensory textures, developed freely by way of shared affinities and sources of inspiration," the company added.
The collection is an entry point for those who are discovering Hermès for the first time, as well as a renewed invitation to share values for those already familiar with the brand, according to Hermès.
The luxury house describes its lipstick packaging as being poetic and functional, in addition to also being refillable and made-to-last. An architectural, graphic, modern feel contrasts with Hermès' ex libris engraved on the lipstick's cap. Sustainability was a key consideration. The tri-colored packaging features lacquered, brushed and polished metal casings – the same 'permabrass' hardware that is used on Hermès bags – with plastic only used for essential components, such as the interchangeable mechanism. The lipsticks are highly giftable as they come packaged in a miniature version of the coveted orange box.
Lipstick formulas feature safe and sustainable ingredients such as white mulberry extract and intense pigments to create the deep purples, brilliant reds and signature Hermès orange (Rouge Orange).
Rouge Hermès is also lightly scented thanks to an olfactive signature created by Hermès perfumer Christine Nagel. The fragrance is based on soft, natural and feminine notes featuring arnica, sandalwood and angelica.
Other items in the collection include a lip care balm, a lip ship, a universal lip pencil and a lip brush in lacquered wood.
There is also a line of small leather accessories created by the house's designers and artisans, said Hermès. These are beauty objects intended to elevate the everyday and transform gestures into a moment of beauty. They include a lipstick case with a mirror, and a moon-shaped mirror on a cord made of Madame Calfskin that doubles as a necklace pendant.
The company added that Hermès Beauty "is a lifestyle aesthetic that every woman will take pleasure in embracing."
As such, Hermès plans to launch additional cosmetics every six months, beginning in September including foundation, eye and cheek colors, and eventually skin care.