MAC Cosmetics has always been a beauty pioneer. In today's digital-obsessed world, that means the industry stalwart is one of the first to enter Internet 3.0, in this case the metaverse — with a unique art-meets-makeup metaverse play, while also continuing to deliver on its artistry point of view with products that are designed to achieve viral status in the social sphere.
"We are not one person; we have many lives," said Aïda Moudachirou-Rébois, SVP and Global Chief Marketing Officer, MAC Cosmetics, (who is also a CEW Beauty Creator Awards Ambassador).  "The way I live on social media — on TikTok, on Instagram — and in real life, it's all interconnected. It's still me. But I express myself differently on these platforms, and I think the consumer is doing the same. So, it's just about being consumer-centric, omnichannel [in our approach], and making sure that we offer the best and most personalized experience for the consumer… in and out of any world."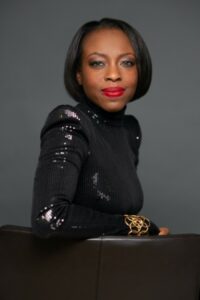 To that end, the brand has just launched its first-ever NFT collection in the metaverse. Featuring artwork from iconic artist Keith Haring, paired with MAC lipsticks in Haring-inspired primary shades, the limited-edition VIVA GLAM x Keith Haring NFT Collection builds on MAC equity, while helping the brand evolve into the places where the consumer is living, shopping, and playing.
"We've had our sights set on the metaverse for a while, but we were really looking for the right way of doing it," said Aïda. "We know the consumer is spending a lot of time in that space. This is our opportunity to test and learn what's going to resonate with our consumer in this universe."
For this futuristic launch, MAC is offering three digital art pieces, at different "rarity levels," priced at $25, $150, and $1,000. Each exclusive NFT includes an animated Keith Haring illustration, with covetable beauty extras such as a digital face chart tutorial, a 30-minute consultation with a MAC artist, and even physical product, depending on the level purchased. One hundred percent of all proceeds will go to the VIVA GLAM Fund to support people impacted by HIV/AIDS. To date, MAC has donated over $500 million through this global platform.
"We want to be remembered as pioneering, but most importantly, pioneering to transform society," said Aïda. "We're giving back through a cause like VIVA GLAM to bring the brand equity and serve our purpose to live in a space where people are looking for adventures."
Staying socially relevant has also meant launching products with virality in mind. Take the brand's recent MACStack Mascara, an "infinitely buildable" formula that quickly achieved digital cult status thanks to a TikTok campaign that showed users stacking layer after layer of the mascara to achieve customizable lash drama — without clumping. Paired with an original backtrack that counts out each layer to a crescendo-ing beat, and the challenge to stack as many coats as one dares, influencers and consumers clamored to TikTok to test drive the mascara. Even MACStack's artful tube and vibrant pink brush is perfectly designed for the social platform.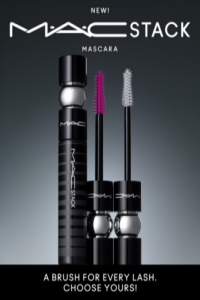 In the first week, the #MacStackMascara hashtag achieved over 45 million views. Views are still climbing, with more than 135 million (and counting) as of press time.
"It's been an overnight sensation," said Aïda, highlighting that the visual transformation achieved by the MACStack formula was an important engagement driver. "Our artists were so good at bringing this product to life. People come to the store and ask for the TikTok mascara."
With the number of screens and streaming services in a consumer's life, it's no wonder Aïda is extremely tapped into the power of "observer" culture. Surrounded by fast-changing social moments that translate to viral looks, Aïda says the need to create nimble beauty content that breaks down real-time trends — whether it's a fantastical Euphoria-inspired eye, or an ultra-violet lip spotted at the Grammy Awards — is always-on.
"What makes MAC so powerful is the fact that we have a large, broad and deep assortment," said Aïda. "If we see a trend coming, we are on it, or if we want to create a trend based on something we've seen coming, we can do it.  Relevance is really the speed of light."
With a robust MAC product arsenal (more than 7,000 skus) and a comprehensive makeup artist collective (made up of more than 13,000 artists around the world), the brand can easily provide the products and how-tos to create, well, anything.
"MAC is a line born by makeup artists to ensure all people have access to anything they need to create any look," said Aïda "Not only do we have an arsenal, but we also make sure we continue to listen to our artists [when creating new products]."
It is with this lens of leveraging brand heritage with the future that Aïda is also supporting the evolution of the in-store experience. To ensure IRL seamlessness with MAC's digital trajectory, the brand utilizes consumer testing via its lab center, called The MAC Innovation Lab: Queens Center, where innovative shopping strategies are rolled out and explored before being implemented. Among the lab's notable innovations is MACPass, a unique mobile shopping tool that allows a consumer to save and share their favorite MAC looks and products, access digital face charts, and discover local artists or locally trending products. Also born in the lab was the MAC Art Studio, an immersive beauty station — equipped with AR-powered virtual try-on mirrors — that empower consumers to co-create looks.
"It's a retail store, and more than a store, its actually an experience," said Aïda of the Innovation Lab. "It's built to be mobile-first so you can shop and browse the store from your phone if you want to. If you want to speak to a makeup artist, we have a team there that will be happy to help you, but if you don't want to speak to anybody and you just want to explore and connect the dots from the screen of your iPhone you can do that."
Looking forward, Aïda said she is focused on continuing to think about new and innovative ways to exist "everywhere" — whether it's the metaverse, the real-world, or a universe still not made.
"The future is really not what we think it is; the consumer and the technology decide what the future will be," said Aïda. "This is just the beginning — the sky is the limit."
To attend the various live events that are part of this year's Beauty Creators Awards, visit the CEW website to learn more.