Make Up For Ever is looking to reaffirm the brand's core pillars with a new campaign featuring a diverse cast of individuals who embody different representations of beauty and gender. The refresh kicked off with a video campaign of its new Rouge Artist lipstick collection.
"In recent years, we put a lot of emphasis on our product launches and communicated less about our brand. We're excited to reaffirm who we are with this creative refresh: We are a collective of makeup artists," said Sylvie Kilduff, General Manager – Americas, Make Up For Ever, who added that the brand's pillars are co-creation, artistic edge and education. "We have around 2,000 talented makeup artists all across the world – in our stores, academies, and laboratory – and we created the collective by selecting talented makeup artists with whom we co-create high performance, inclusive products and services that empower people to unleash their personal edge."
The video campaign is accompanied by the song "We Will Rock You", remastered by international music artist Bishop Briggs, who is also the face of Rouge Artist, and known for challenging feminine stereotypes. Also featured in the campaign is Precious Lee, the first Black plus-model to be featured in American Vogue.
"Precious Lee perfectly embodies Make Up For Ever core values of inclusivity and self-expression," said Sylvie. "She's bold, fearless, and we have profound respect and appreciation for all that she represents because those qualities are also at the heart of Make Up For Ever. As an activist and muse, she has spent her career empowering others to embrace their bodies and trust their instincts. Precious proudly counts herself as an advocate for diversity across race, size and gender in her field."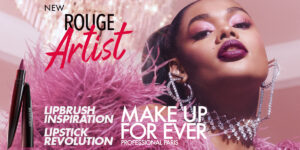 The brand is leveraging the campaign video across multiple touchpoints, both digitally and in-store. There is also a robust social media ad campaign, as well as billboards running in Times Square near Sephora, where Make Up For Ever products are sold. The brand is also tapping into influencer marketing efforts that showcase not only product performance, but the unique gesture of the packaging that replicates the precision of an artist's lip brush. Make Up For Ever's 2021 launches, which will include complexion and eye products, will continue to enforce the new look and feel.
When it comes to makeup usage, The NPD Group recently reported that over seven in 10 women have reported wearing makeup less often this year, predicting makeup will likely end 2020 about one-third smaller than it was in 2019. To keep up with consumers' evolving needs, Make Up For Ever has tapped into its collective to educate customers on how to easily optimize makeup for mask-wearing.
"The pandemic has certainly posed challenges for the color cosmetics industry, but we are excited and invigorated by our three recent launches which offer the smudge-proof 'magic' people are looking for when wearing masks: Aqua Resist, a range of highly-pigmented, waterproof shadow sticks and eyeliners; Matte Velvet Skin Concealer, a 24-hour waterproof concealer, and now, Rouge Artist lipstick, which has been designed to provide all-day color," said Sylvie. "Additionally, we have an opportunity to reach our clients in new and innovative ways, including virtual makeup consultations and shade matching via AI."