Spring 2022 beauty product launches are in full swing. And skin care is the order of the day with items on deck including a detox mask, an eye cream, a cleanser, a toner, and lots of sunscreen. Spring hair care products are on the docket as well—from a scalp serum to hair supplements to a new tech-forward hair dryer. Not to mention, an at-home LED mask that brings the aesthetician experience home. When it comes to marketing, beauty brands are increasing in-person events for media and influencers at a slow but steady pace, while also upping the number of consumer-focused pop-up experiences. With all that said, digital activations are still the primary focus of marketing efforts. Without further ado, the hottest launches for spring 2022.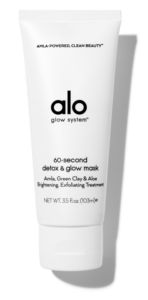 Alo 60-Second Detox & Glow Mask
Waitlist Worthy: The Detox & Glow Mask relies on superberry amla to deliver antioxidants and vitamin C to the skin for glowing results. In one minute, the gentle exfoliating formula offers a warming effect and is designed to leave skin plump, poreless and glowing. 

Marketing Plan: "We're very excited to share the launch of our new 60-Second Detox Mask with our community and just as the name implies, we will be showcasing how you can cleanse, exfoliate, hydrate, and balance all in under 60 seconds with our newest addition to the Alo Glow System line," said Vice President of Marketing, Angélic Vendette. "We also are obsessed with how the color changes as you massage our mask into your skin and foresee that being a fun visual way to showcase on social media and in our launch campaign, just how our clean mask works as product gets activated onto the skin."
Availability + Price: $38 at aloyoga.com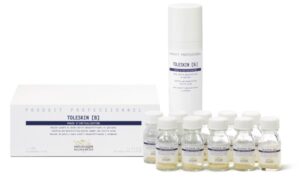 Biologique Recherche Toleskin Collection 
Waitlist Worthy: This range of skin care was developed to address highly sensitive, reactive, or intolerant skin. Featuring purified formulas free from preservatives, products are manufactured in a sterile environment and tested under dermatological control. Products are designed to help preserve the skin's integrity and microbiome, restore the skin barrier, and reduce redness and itching. The collection includes a supplement, a desensitizing powder booster, and a sterile serum and cream, as well as a mask to calm skin flare-ups. 
Marketing Plan: "We market new products through our spa partners and directly through our @biologique_recherche_usa Instagram account," said Nevena Rousseva, Marketing Communications Manager at Biologique Recherche. "We like to put forward our spa partners as much as our products on social media. Part of our strategy is sharing content created by our partners as a way to introduce new products. This way we promote our partners as well as our new products. It's a win-win." 
Availability + Price: $40-$150 at biologique-recherche.com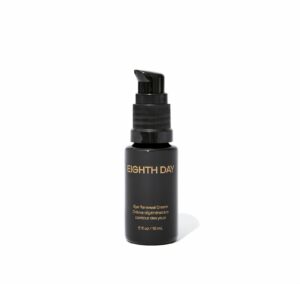 Eighth Day Eye Renewal Cream
Waitlist Worthy: This all-in-one multitasking formula targets dark circles, dehydration, fine lines, wrinkles and puffiness. It's infused with vitamins C and B3, niacinamide, goji berry extract, and Eighth Day's proprietary blend, Peptide-Rich Plasma. The formulation also contains snake venom peptide, which temporarily relaxes the muscles in the undereye area and visibly improves the appearance of fine lines, wrinkles, and crow's feet. 
Marketing Plan: "As a doctor-founded luxury skin care brand, building authority, delivering efficacy, and leveraging social proof are critical components of our marketing strategy in order to drive prospects through the consideration phase," said Sarah Skinner, a marketing executive with Eighth Day. "We've deemed the pillars of our marketing strategy 'the trifecta,' which are editorial, customer testimonials, and clinical results. We leverage those pillars across our content and marketing strategies by leaning on our exclusive partnership with Violet Grey, our expert influencer community via Shop My Shelf and by strengthening our relationship with the beauty editorial community."
Availability + Price: $225 at eighthdayskin.com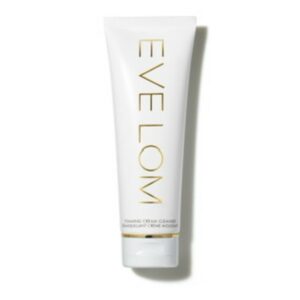 Eve Lom Hydrating Enzyme-Infused Foaming Clearing Cleanser
Waitlist Worthy: Eve Lom is known for itFls cleansers, having created a cult favorite balm cleanser decades ago. This foaming cream wash boasts soothing enzymes and nourishes the skin as it cleanses, revealing a radiant glow with each use. It's perfect as the first step in your cleansing routine or paired with any other Eve Lom cleanser as the second step in a double cleanse ritual.
Marketing Plan: "We worked hard to create an innovative enzyme-infused formula that leaves skin hydrated for up to 12 hours," said Eve Lom's Global Marketing, Tizania Alejandro. "We intentionally created this cleanser to be used on its own and to also work in harmony with our original balm formula for the perfect double cleanse. Our launch campaigns along with our global pop-ups & masterclasses in 2022 will be showcasing the cleanser being activated by water and always revealing that Eve Lom glow!"
Availability + Price: $55 at EveLom.com and SpaceNK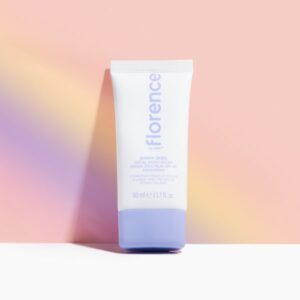 Florence by Mills Sunny Skies Facial Moisturizer Broad Spectrum SPF 30
Waitlist Worthy: This reef-safe, mineral SPF is designed to protect skin from UVA/UVB rays on sunny and cloudy days and is lightweight and non-greasy. It features vitamin E for conditioning benefits and dries to a smooth finish without that dreaded telltale white cast.
Marketing Plan: "To get ahead of the summer season in which SPF reigns supreme, we are gifting our loyal influencer community + friends of the brand a beach-themed essentials package, complete with a branded tote bag, face mist, towel + our new Sunny Skies Facial Moisturizer Broad Spectrum SPF 30," said Samantha Fiock, Marketing Director at Florence by Mills. "Additionally, we will be supporting the new launch with product education on our site, email + owned social channels."
Availability + Price: $24 at florencebymills.com and Ulta.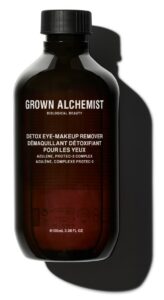 Grown Alchemist Detox Eye Makeup Remover
Waitlist Worthy: This highly effective 100 percent natural, dual-activated formulation dissolves and removes waterproof mascara and make-up without causing dryness. It also detoxes and noticeably protects sensitive facial skin around the eyes from premature aging.
Marketing Plan: "This launch will come to life through a digital-centric campaign featuring live activations on SuperGreat, sampling, influencer seeding, partnerships, and video demonstrations of product and how-to content on TikTok and Instagram driving to our DTC GrownAlchemist.com where it'll launch first," said Kelly McDonnell, SVP, Grown Alchemist Marketing, and Digital. 
Availability + Price: $33 at grownalchemist.com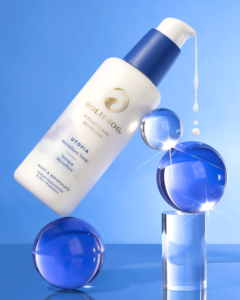 HoliFrog Utopia Microflora Toner
Waitlist Worthy: This toner is less about toning and more about delivering actives to the skin. It boasts apple cider vinegar, pre and probiotics, fermented black bee honey, and glycerin.  
Marketing Plan: "Utopia Microflora Toner marks a new category for HoliFrog: Toners," said Emily Parr, Holifrog Co-Founder.  "Given what I believe to be 'mass confusion' with the word 'toner' in and of itself coupled with the fact that HoliFrog now nearly has a true full skin care lineup, we are seizing this moment to begin offering 1:1 skin sessions with our customers. We want to educate the consumer about their skin's needs, which can change day by day. My co-founder, Majeed Hemmat, and I will be handling all consultations at the start. We are excited to meet our customers' needs in this very personal manner. This approach will be coupled with education via newsletter, SMS text message, and Instagram. We are ready to 'set the tone.'" 
Availability + Price: $44 at holifrog.com, Dermstore, Bloomingdales and SpaceNK.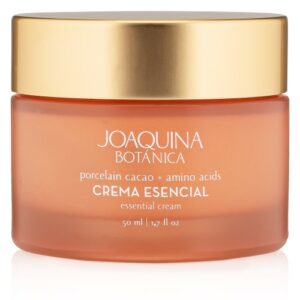 Joaquina Botánica Porcelain Cacao + Amino Acids Crema Esencial
Waitlist Worthy: This moisturizer provides replenishment to the skin and is designed to smooth the appearance of fine lines and awaken the skin's natural glow. Peptides and polyphenols from white porcelain cacao aim to help protect the skin's microbiome from pollution, while antioxidant-rich Colombian superfruits cacay, uchuva, and guava strengthen and reinforce the skin's defense against damage. 
Marketing Plan: "To build anticipation leading up to the launch, we led an e-mail and social media campaign for our community with previews of the new features and benefits that this new formula adds to our line," said Giovanna Campagna, Joaquina Botanica Founder. "One of the most exciting is Environmental Defense from Peruvian Porcelain Cacao. We continued our strategy of an organic gifting campaign to our closest "friends & family" of the brand – influencers, fellow founders in beauty and fashion, press, and more. We traveled to Miami and Palm Beach to introduce the new Crema Esencial; at Soho Beach House and LoveShackFancy in Miami, and with fashion brand La Ligne in Palm Beach." 
Availability + Price: $98 at joaquinabotanica.com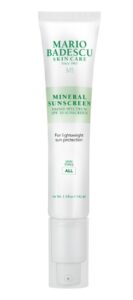 Mario Badescu Mineral Sunscreen SPF 30
Waitlist Worthy: This ultra-lightweight, non-greasy moisturizer offers broad spectrum SPF 30 while moisturizing and hydrating skin. It's formulated with hyaluronic acid and glycerin to plump and hydrate as it protects. 
Marketing Plan: "The first Mario Badescu sunscreen, Mineral Sunscreen SPF 30, is moisturizing, hydrating, and enriched with antioxidants for a silky-soft, smooth finish," said Joseph Cabasso, Executive Vice President. "It has launched on our social media channels, with major call outs to its vegan, cruelty-free formulation and will be continuing to spotlight it this summer where it will make an appearance during Miami Swimweek." 
Availability + Price: $28 at Ulta.com and mariobadescu.com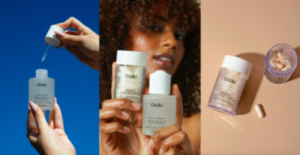 Ouai Scalp Serum and Thick & Full Supplements
Waitlist Worthy: The Scalp Serum works with the supplements to help balance and hydrate the scalp to create an ideal environment for thicker, fuller hair. This skin care-inspired serum features ingredients such as adaptogens, red clover flower extract, and peptides to soothe irritation from styling or excessive pulling from detangling, while stimulating a healthy barrier. 
Thick & Full Supplements are vegan, daily supplements designed to help reduce the appearance of shedding to promote fuller, stronger hair and improve hair health from the inside out. Each capsule is packed with super beauty-boosting ingredients like biotin, pea sprout extract and a multivitamin complex that helps to restore hair vitality and fortify the scalp for optimal hair health. 
Marketing Plan: "We're sharing news through press and media outlets and giving our Sephora community an exclusive first-access, followed by the launch on theOuai.com. Shoppers on theouai.com will receive an extra surprise in their basket when shopping OUAI Scalp Serum and Supplements," said James Tuffin, Director of Communication at OUAI.  "We're engaging with creators on Instagram and TikTok, to show their hair health journeys and inviting our larger Community to discover and learn more about hair and scalp health with interactive content and programming."
Availability + Price: Scalp Serum, $52; Thick & Full Supplements, $42 at theouai.com and sephora.com.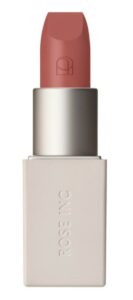 Rose Inc Satin Lip Color Rich Refillable Lipstick
Waitlist Worthy: This refillable lipstick provides lasting, weightless color while visibly plumping lips. Made with Swertia chirata extract, it visibly blurs the appearance of vertical lip lines in as little as seven days. It's formulated with oil-dispersed sodium hyaluronate, which visibly plumps the lips, and organic mustard sprouts which helps deliver a firmer, fuller look to the lips.  
Marketing Plan: "We launched our latest innovation – Rose Inc Satin Lip Color Rich Refillable Lipstick – with a four-day immersive experience in Soho, New York this past weekend (Thursday-Sunday). To kick off, we hosted intimate preview sessions to unveil the collection and pop-up to media and influencers, generating a storm of earned social buzz. To build intrigue and provide a glimpse of the brand at start, guests entered the doors to a bright LED platform that lit up with the words 'I Feel' and revealed the shade names as you walked over. Guests were then greeted and encouraged to use QR codes throughout the space to order beverages, book makeup services and try our new AR filter on Instagram, which was a unique and playful virtual shade try on. Given the excitement around the products post-makeup service, we closed the experience with a check-out counter to allow for guests to walk away with their favorite Rose Inc products that day, in addition to pop up specific promotions. The beauty of the décor details and experience led to an unbelievable weekend for 1K+ guests, that are still buzzing about it on social media," said Caroline Hadfield, Rose Inc CEO. 
 Availability + Price: $28 at roseinc.com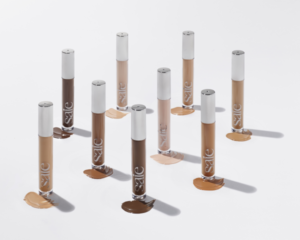 Saie Hydrabeam Concealer from the Future
Waitlist Worthy: Saie's latest innovation is a whipped-gel hydrating concealer available in nine flexible shades. Packed with skin care ingredients, it brightens, blurs, and smooths skin and boasts ingredients that offer immediate and long-term brightening, firming, and hydrating benefits. It's designed to keep skin dewy and fresh without creasing or settling into fine lines.
Marketing Plan: "We are taking a special approach to the launch of our highly innovative product, Hydrabeam because it is completely different from anything else we've released. We seeded Hydrabeam to our social community weeks ahead of launch so that they were able to test, try, share and build the buzz on how incredible this formula is," said Laney Crowell, CEO and Founder of Saie. "We knew that we were risking having the social awareness die down ahead of launch, but we strategically phased out and continued to pulse our marketing efforts in waves for sustained conversation. The good news is the hype is real." 
Availability + Price: $26 at saiehello.com, sephora.com and Sephora US and Canada stores.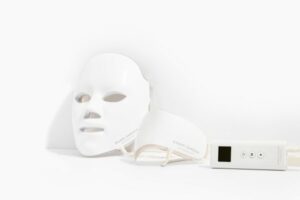 Shani Darden by Déesse Pro LED Light Therapy Mask
Waitlist Worthy: The LED Light Therapy Mask has 237 high output LED lights designed to target fine lines and wrinkles, uneven skin tone and texture, and moderate acne in as little as six weeks of use. It delivers light therapy at clinically proven wavelengths and doses via a combination of red, blue, and near-infrared wavelengths in 10-minute intervals. The mask boasts a custom neck attachment and integrated medical-grade silicone eye inserts. 
Marketing Plan: "Since the launch of this LED Light Mask is so special and unique (and one of my own personal favorite treatments available), I wanted to ensure we were generating a similar sense of excitement leading up to launch," said Shani Darden. "We began pre-seeding the mask to a select group of VIP clients and editor friends for a first look. I wanted to offer them the same VIP service at the studio in their own home with advanced access. Additionally, I conducted one-on-one appointments with several editors to provide a first-hand educational and practical review of the mask, as well as demonstrate how to properly use the mask. For consumers, we made the mask available for early access via a waitlist link being promoted on our social channels and website." 
Availability + Price: $1,900, Available on shanidarden.com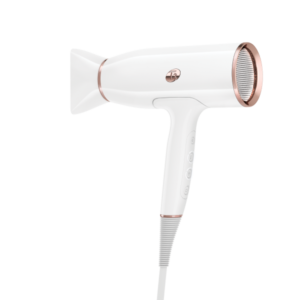 T3 AireLuxe Dryer 
Waitlist Worthy: The T3 AireLuxe features RapidAire IQ+ technology—the brand's reimagined air stream that's 128 percent wider and preserves 60 percent more of hair's natural hydration for faster drying and less damage. This new design provides advanced drying power with less weight. The dryer sets heat at an accurate temperature to reduce damage and boasts five heat and three-speed settings. There's also a custom-designed fan and power motor that transforms chaotic air into a wide, organized airstream. 
Marketing Plan: "Our integrated launch campaign will focus on digital, social, and influencer channels, bringing this break-frame technology narrative to life through dynamic video, cinemagraph content and UGC stories," said Jade Simmons, Senior Director, Brand and Product Marketing at T3. "We'll take consumers deep into the T3 development lab, showcasing our behind-the-scenes design considerations, as well as partner with the T3 Stylist Network to deliver best-in-class education, inspiration, and styling tips."
Availability + Price: $200 at T3micro.com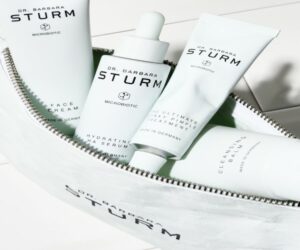 Barbara Sturm Microbiotic Collection
Waitlist Worthy: This collection was designed to bring a healthier balance to younger skin. The teenage and young adult years can be an especially stressful period as this demographic navigates hormonal changes. Hormones which can lead to inflammation of the skin barrier and perioral dermatitis, eczema, psoriasis, and particularly in younger skin, blemishes, blackheads, and pimples. The new collection includes four new products, as well as an on-the-go kit in reusable, sustainable craft paper packaging with all four products included in their full size. 
Marketing Plan: "We already had an existing Gen-Z audience either via their parents, who had
introduced them to the products and educated them on the importance of a skincare routine or via Instagram, where we started to see huge growth in both younger and older followers during the pandemic," said Founder Barbara Sturm. "This, coupled with my own concerns about this generation and the isolating effects of the pandemic, inspired me to look into how I could help create a community for the younger generation. Skin School, an education initiative focused on bringing clear, unbiased knowledge of skin and the right skin care ingredients to students affected by the pandemic through a sense of community is an initiative I launched at the outbreak of the pandemic in 2020 and since, I have had guests such as Hailey Bieber, Emma Roberts, Ashley Graham, and Miss Fame as well as experts such as Dr. Frank Lipman and Matthew Walker co-host with me. We also launched our TikTok channel during the pandemic and have focused on education and hosted a couple of TikTok lives, one most notably with Tiwa Savage. But there is nothing like word-of-mouth for expanding your brand message: the College Ambassador community facilitates authentic peer-to-peer recommendations as well as enables students to get a step-up in education and content creation." 
Availability + Price: $45-$190 at drsturm.com