AI-powered search engine, Mira, has launched a dedicated space for Black-owned indie beauty brands to gain visibility from potential customers so that they are easier to discover.
"While you've seen multiple Black-owned brands and products lists online and in the press, we wanted to truly be actionable," said a Mira representative. "Our first response was to make a donation to ColorOfChange.org and BlackLivesMatter, and acknowledge the pain and hurt of the community. As a result, we halted regular communications and dedicated our Twitter channel to support protesters and provide donation and petition links, as well as resources for the movement. We are taking a stance as a brand."
Previously the platform, which launched in October 2019, obtained product listings from large retailers and social media, but due to a lack of content volume from these sources, Black-owned brands lacked visibility on the platform. A solution, the company said, was to manually source brands through online lists, invite users to add brands not featured, and source recommendations from Black content creators.
"We used social listening tools to capture information from lists circulating on social media. Additionally, our team had candid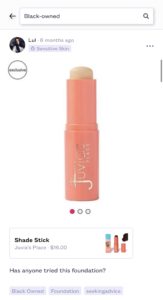 conversations with Black creators, which has been so valuable, and we're grateful for their time and wisdom," continued the Mira representative.
As of this week, Mira lists more than 400 Black-owned brands, which can be found by the "Blackowned" tag or by searching "blacked owned" or #blackowned from the website's search bar. Once on the portal, consumers can find top indie brands, top-ranked products, most-mentioned products, product reviews and a directory of brands. On each product page, users can surface influencer content and UGC matching their skin tone or skin type, based on what's available on the web. "This feature is universal to Mira itself, as Mira was designed to help members with deeper skin tones find product and shade recommendations from people who share similar traits," said the rep.
With community as its primary source of insights, Mira will continue to use its crowd-sourced model to expand this catalog of Black-owned brands with the ultimate goal of blending it with other categories, such as vegan, cruelty-free and sustainable. "For this specific launch, the focus is telling people this marketplace exists, these products are available, and we can all contribute to it and make it even larger."