Never has it been as important to be a purpose-driven company as it is right now. From ingredient transparency, to growing concerns over racial inequities, and carbon footprints, consumers want to know where brands stand on today's most pressing issues, and more specifically what they stand for. In fact, 62 percent of consumers want companies to take a stand on issues they are care about, according to a 2018 Accenture study, and 52 percent would choose to purchase from a brand that stood for more than just its products and services. In this more socially conscious environment, a brand like Rare Beauty is uniquely positioned.
Launched by pop superstar Selena Gomez, Rare Beauty is on a mission to destigmatize mental illness in a big way through the establishment of its Rare Impact Fund. The Fund aims to raise an ambitious $100 million over a 10-year period through product sales and strategic partnerships all in an effort to democratize access to mental health services, particularly in underserved communities. CEO Scott Friedman elaborates on the brand's core ethos: "Rare Beauty's mission, stemming from Selena's early vision for the brand, is to help everyone celebrate their individuality by redefining what beautiful means. We strive to promote self-acceptance and give people the tools they need to feel less alone in the world. Too many people feel trapped by unrealistic expectations of beauty that are impossible to achieve. Rare Beauty is about celebrating who you are and what makes you different. We want makeup to shape positive conversations around beauty, self-acceptance, and mental health. From our products to our purpose, inclusivity, self-acceptance, and accessibility is at the core of who we are."
At the helm of these efforts is Elyse Cohen, VP of Social Impact, who brings a breadth of expertise and understanding as to where business, health and social impact intersect. Formerly Senior Director at the U.S. Chamber of Commerce Foundation and Deputy Director of Michelle Obama's Let's Move! initiative, Beauty News spoke with Elyse on why she thinks beauty brands should speak up about mental health, how the $100 million goal was set, and how the Rare Beauty Mental Health Council will help guide the Fund's initiatives going forward.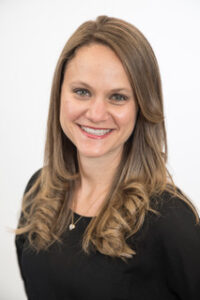 CEW Beauty News: What drove you to take the VP of Social Impact position with Rare Beauty?
Elyse Cohen: I remember thinking this feels like a dream job description that I would write for myself, because I've spent my career building social impact programs and partnerships on some of the world's most pressing issues for brands, for non-profits and for government. It also combines my personal passion and expertise around mental health, which is what I spent that last few years helping brands build, both internally and externally. It also leverages a brand and celebrity platform that's authentic and purpose-driven, which is something else that's familiar to me. Having worked for Michelle Obama during the Obama administration, I know first-hand the power and influence that an authentic, celebrity brand can bring to an issue, and the power of storytelling, especially around mental health. I think it's one of the most powerful ways we can reduce the stigma associated with it, and Selena has the unique ability to do just that as she's been vocal about her own struggles with mental health. So we have the brand, the celebrity, and the reach that all aligns to really make an impact. I felt this from her the first time we ever met.
BN: Why do you think it's important for beauty businesses to talk about mental health?
EC: It's incredibly prevalent, and certainly the pandemic has exposed and really catapulted society to talk about mental health, and to have it make headlines that quite honestly it should have years ago. Just statistically when we think about, one in five adults in America experience a mental illness. As recently as 2018 suicide was the leading cause of death among individuals between 10 and 34. There are a ton of statistics, and I think specifically for beauty brands, there's a real alignment. Selena has talked about the "beauty myth," this obsession with physical perfection that traps so many in a cycle of hopelessness, and self-consciousness; this impossible standard of beauty, and that pressure can really impact a person's self-esteem and mental health. I think Rare Beauty and the beauty industry overall are uniquely positioned to challenge those norms and to promote self-acceptance, and shape real positive conversations that can make an impact around mental health. As more people are struggling as a result of the pandemic it's now more important to create a space where we can have conversations and bridge access to mental health services.
BN: How was the $100 million over 10-year goal set?
EC: I mean, the field of mental health has been deeply under-resourced for many years, and even more so in underserved communities. Selena really wanted to commit to something that was authentic to her, the industry and could really make an impact around mental health, chronic loneliness and self-acceptance. The way to do that was through a really bold commitment. We know this is an ambitious goal, and so starting with Rare Beauty's very first sale one percent of our annual sales will go directly to the Rare Impact Fund. But we're transparent in that we are committed to raising funds with numerous philanthropic partners and our community to reach this goal. In turn the Fund will help support the local, national and global organizations that have a direct impact on Rare Beauty's community.
BN: How will you determine the right partners to work with? Will it be a global effort?
EC: Simply put the right partners will have a mission that aligns with ours. That is to reduce stigma associated with mental health, address the epidemic of chronic loneliness, and truly help give people access to the resources they need to support their mental well-being. It is through that lens that we'll pursue the right partners. It will be a global effort. We have not yet determined exactly where our funding will expand to; it's certainly something that as our brand grows and as our knowledge of the global mental health space and needs grow, we'll determine more global organizations to support and work with.
BN: Is the Rare Impact Fund solely targeting under-privileged communities?
EC: We have a focus to support underserved communities, but not all of our support will go to underserved communities. We know there are disparities in access in particular populations, but we also know there's a need for change across all populations as it relates to improving mental health. When we think about underserved populations, we also think within the Rare Beauty community, so including but not limited to Gen Z, young Milennials, and women and young girls of color, the LGBTQ+ community. Again, it will be a large focus but not only.
BN: How do you plan on leveraging the Rare Beauty Mental Health Council to reach your goal?
EC: The diversity of the council really represents the need of this space. We know that there's not just one stakeholder or expert that can help us do everything we want to do, and so that's why we pulled together folks from medical and mental health fields, entertainment, media, beauty, and they will all play a different role. They'll help with elements like thought leadership, messaging, partnership development; they'll serve as ambassadors to help us amplify our work as well. We will certainly expand the council as we grow and shift as needed; we're always welcoming new folks in.
BN: What's one thing you want the CEW community to know about the Rare Impact Fund?
EC: We want folks to know that we are much more than a beauty brand. We launched the Rare Impact Fund before we launched our products; that's how committed we are to this issue and to the Fund. We're looking to do this together, so we really want to lead this effort with partners.