Laughter is the best cosmetic. Benefit Cosmetics' goals of making people laugh and painting the world pink are never more prominent than on their YouTube account. Each video posted oozes innovative entertainment and works as a compliment to the brand's very unique and dazzling identity. Here, MOSS Studio + Magazine examines Benefit's creative evolution over the past few years, and how in particular the brand has leveraged influencer collaborations to grow their online following.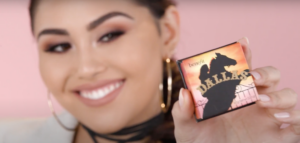 How-to's, Influencer Style
Benefit's long-standing partnership with YouTuber, influencer, and now musical artist Patrick Starr goes dates back to 2017. Patrick's brand identity, like Benefit's, is bold, disruptive, and confident, so he fits well in the beauty company's campaigns. The Get Your Brows in Shape series features Patrick in a play-on-words, three-part vignette where everything screams 80's workout video. The outfits, colors, music, and editing literally sparkle, with Patrick stealing every second of the show as he walks viewers through the workout routine – for his brows. The pieces are how-to's at the core, but the feeling a viewer is left with by the end is anything but generic.
In early 2018, Benefit ran another series of tutorials, this time with six different influencers each bringing their own style, identity, and vibe to their video. These pieces are calmer and much more how-to traditional in format and narrative, but while they're all focused on cheeks, Benefit still manages to give off a different personality (largely thanks to each influencer's charisma) with each video. Whether it's Ryan B Potter, Ourfa Zinali or Roxette Ariza walking a viewer through their routine, the Tutorial With series is a great example of how Benefit emulates their brand characteristics of fun, inclusive, and diverse by featuring a group of very different individuals.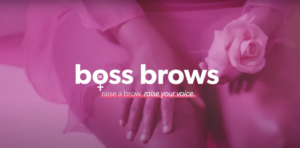 Storytelling-centered Campaigns
Emotive, human storytelling has become increasingly important for beauty brands across the board over the past few years, and Benefit Cosmetics is no exception. In 2018 and 2019, the brand launched two different series that captured the personal, intimate, and real-life aesthetic so typical of storytelling-style creative. The reality TV-formatted Benefit Brow Search is full of human moments in all three episodes, and the audience is placed front row to witness the emotion and drama of the contest. Four of Benefit's most famous influencer partners also contribute to the series, adding to the real, almost behind-the-scenes feel, particularly in the first episode where each contestant introduces themselves.
Boss Brows is a substantially more elevated campaign than the Benefit Brow Search competition, but the individual, intimate messaging remains the same. Here, we are brought in close to each featured talent, as they tell a personal story of what it means to be themselves – and how their brows serve as a complimentary statement to that identity. The campaign's tagline is 'Raise a brow. Raise your voice,' which further strengthens the activist spirit. Visually, everything's linked back to Benefit with a pink filter, pink wardrobe, and pink backdrop that makes the talent pop.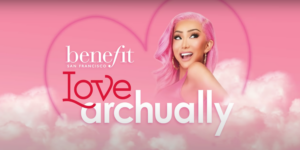 Wide-reaching influencer collaborations
Benefit Cosmetics have used influencer collaborations as part of their video strategy for years, and in 2019 and 2020, they ran two big-production series featuring Filipino influencer Bretman Rock and US YouTuber Nikita Dragun, which saw this approach taken another level up. Precisely, My Brow – which garnered 3.5 million views with its most-viewed piece – is a makeover campaign that oozes everything Benefit is about: fun, vibrant, colorful, and just a hint of whimsical. As the before and after lead has her brows remade, Rock plays the sexy, confident host, ready to take the call of anyone stuck in a brow rut.
The same goes for Love Archually from February last year, with Nikita Dragun as the lead in a pink rom-com of finding love, confidence, and brow recovery. From the script to the edits – from the costumes to the color palette, this is a culmination of Benefit's identity in all its glory. It touches on every cornerstone of what makes this beauty brand unique, and is a spot-on example of how to communicate core values through entertaining video productions.
To see more creative work from the beauty and luxury space, go to MOSS Studio.