With hundreds of new brands emerging each year, the beauty industry is a saturated market in which consumers are consistently spoiled for choice. In 2021, having a show-stopping product is no longer a strong enough incentive to guarantee sales. The core values of a brand, the way in which a brand is marketed, as well as the consumer's previous interactions with a brand are all factors which increasingly determine whether or not a purchase will be made.
In order to stand out from the crowd and encourage loyalty with future purchases, companies need to be creative with their marketing strategies and the ways in which they can encourage consumers to create emotional connections with their brand. Video production is one of the most powerful ways in which a brand can foster this emotional connection.
In this piece, MOSS Studio + Magazine examines the creative evolution of Estée Lauder, with a focus on the emotive narrative that products made by the brand are designed to enhance inner beauty.
Telephone, Telegraph, Tell a Woman
Estée Lauder was founded in 1946 in New York City by Estée and her husband, Joseph Lauder. Decades before the age of social media and mainstream video advertisement, Estée soft-launched her brand by visiting various beauty salons and relying on other women to promote her products through word-of-mouth campaigns. Her mantra, Telephone, Telegraph, Tell a Woman reflected her belief that women would spread the word about her products because of their high-quality. This quote emphasizes how storytelling has always been at the core of Estée Lauder's marketing strategy.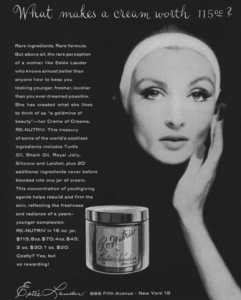 Although the world is a significantly different place to what it was in 1946, the core values founded by Estée Lauder have been successfully maintained by the brand for over seventy years, specifically the emphasis that all women deserve to feel beautiful and confident in their own skin.
Enhancing Natural Beauty
With almost 87,000 subscribers to their Youtube channel, Estée Lauder maintains an active audience who are eager to keep up with their brand. The channel hosts a variety of different videos which appeal to a wide market of consumers, such as advertisements with stylized product placements, how-to's filmed by popular influencers, and storytelling-centered campaigns. The majority of these campaigns revolve around the narrative that beauty is something that comes from within. Often, these videos are accompanied by motivational messages, such as Behind Your Beauty is Confidence.
Behind Your Beauty is Confidence was produced as part of Estée Lauder's Wear Confidence campaign in 2020. This visual campaign aimed to advertise the brand's Double Wear foundation as a beauty enhancer, rather than an imperfection disguiser. The campaign embodied the Estée Lauder ethos that women from all ages and backgrounds can feel represented and supported by the brand at any given time, facilitating the opportunity for consumers to form emotional connections with the products being advertised.
Resilience in Challenging Times
In 2020, the entirety of the beauty industry was affected by the inception of the global pandemic. In such turbulent times, there was a shift in priorities for both brands and consumers alike. Similarly to many other brands in the industry, such as Aveda and Elemis, there was a considerable shift in the content being produced by Estée Lauder during this time. In their video production, We are in it with You, Estée Lauder emphasized their institutional values through a compilation of emotive content that reflected the disrupted societal state.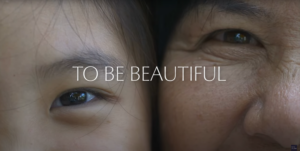 Between snippets of doctors in their hospital gowns and parents with their children, emotive nouns such as 'resilience', 'courage', and 'passion' are highlighted throughout the video. Each of these nouns are accompanied by the word 'beautiful'. Resilience is beautiful, courage is beautiful, passion is beautiful. Although the video isn't advertising anything in particular, it truly emphasizes the brand's institutional values that have enabled consumers to form strong emotional connections with the products for over seventy years. Estée Lauder strives to enhance inner beauty and provide a strong sense of support for their consumers. With their products now stocked in over 150 countries, it's safe to say that Estée Lauder continues to be considered a staple brand by thousands of women across the globe.
To read more creative pieces on brand aesthetic, video production, and the marketing strategies incorporated in luxury advertisement, head to MOSS Studio.