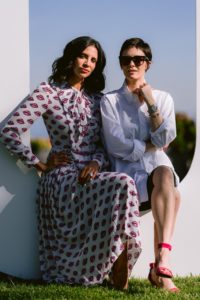 Hope Smith knew she was onto something when friends started beseeching her for the body oil she was whipping up in her kitchen to help stop stretch marks in their tracks.
"I started sending it to friends, who would come back and ask for it for their friends. That's when I thought I might be onto something," Hope said.
Fast forward a few years, and Hope – a former aesthetician – celebrated her new brand, MUTHA, with an elaborate lunch at her Malibu estate in late October. While she officially launched the two-item line in mid-September, MUTHA debuted on October 27 on luxe e-commerce beauty site, Violet Grey, and in Violet Grey's Los Angeles flagship store.
"It's the ultimate stamp of approval when you're selected to be part of Violet Grey and its Beauty Edit," Hope told her guests, who were gathered under a white tent on the lawn of her ocean-front home.
"I just smelled money," laughed Cassandra Grey, founder of Violet Grey. "I wanted it on Violet Grey without knowing if the committee would approve it. If at least 70 percent of our testers don't deem it the best in class, we don't launch it. But it came back unanimous. Everyone loved it and wanted more.
Hope said that she was motivated to create the products – a rich body cream and a silky oil – after struggling with stretch marks of her own, which she's had since she was a teenager.

"This started in my kitchen when I was pregnant with my first baby, who is now five years old. I'd had stretch marks from puberty. I didn't want any more."
Hope refined her aesthetician training and set about "spending 10,000 hours researching products and looking at where I wanted to buy ingredients," she said. She bought five-gallon buckets of raw ingredients, and started experimenting.
"I'm a firm believer that you have to do something better if you're going to do it at all," she said. "When I decided I needed this product, I looked at every drug store, but also at Bergdorf Goodman and Neiman Marcus, looking for an all-natural product that has all the good stuff but is also thick. And it had to have a chic modernity to it."
The products, housed in bold purple containers, started with a body oil, priced at $104; the main ingredient is rosehip oil, combined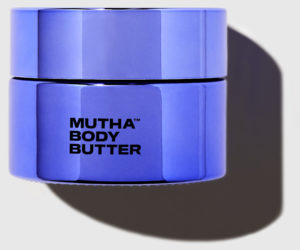 with other organic oils from apricot kernel, jojoba seed, sweet almond and orange and grapefruit peel. Hope said she designed the oil to help with hyperpigmentation, elasticity and firming. The body butter, at $95, is made from a mix of ingredients including shea butter, coconut oil, mango and cocoa seed and aloe leaf, and can help to fade existing marks on the skin.
"It started as a way to prevent stretch marks, but somehow our following uses it way past pregnancy," Hope said. "Men use it. I use it on my kids because it's so clean."