After a two-year absence, Natural Products Expo West 2022 returns to Anaheim, California, with most exhibitors, especially those in the clean beauty space, celebrating the reunion.
The event, which ran from March 8 to March 12 at the Anaheim Convention Center in Anaheim, California, drew 57,000 attendees and more than 2,700 exhibitors across categories such as natural foods and beverages, clean beauty, and supplements. About 625 of those exhibitors were making their event debut. The natural products industry is valued at approximately $274 billion.
Numbers were down from the 2019 show, which drew in 86,000 visitors walking the show floor in multiple buildings to learn about some 3,600 brands.
Despite the diminished numbers, the ambiance was spirited with some booths put on happy hour gatherings, others hosting speakers and blaring lively dance music. Sampling of food and beauty products – a key part of the show – was as generous as ever. Keynotes, including one about childhood nutrition with actress Jennifer Garner, drew long lines and continued to be a staple.
"Gathering the community again for Expo West is an important milestone as we move forward to shape the future of health and wellness together," said Carlotta Mast, Senior Vice President and Market Leader at Informa Markets' New Hope Network, which organizes the show. "Being in the same space (as prior years) allows for the important conversations and meaningful connections that are catalysts for increasing inclusivity and igniting the joy and passion that has fueled this industry into what it is today," she said.
Excited to Reconnect, Brands Network and Pitch Newness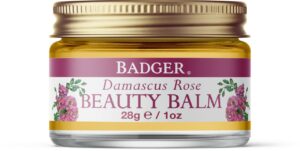 For exhibitors in the clean beauty space, the mood was almost celebratory.
"It's lovely to be back," said Rebecca Hamilton, co-CEO of Badger, the family-owned brand out of rural New Hampshire. "It's good to reconnect with people. It feels as if nothing has changed in a lot of ways. We're busy, people are excited to be here, there's really good energy."  The one change Rebecca did notice was that while reps from the major retailers were out in force, smaller independent buyers stayed home.
Still, she said that she and her team took the past two years to think about how to present themselves to the world in a new way.
"We really looked at our communications and started a journey of rebranding as a whole company," she said. "The two years gave us an opportunity to make those internal changes." Among them, a modern new logo featuring a streamlined badger that is an updated version of the cuddly critter used since the brand was founded in 1995. At the Expo, the company showcased its new sun care products, including an SPF 50 Athletic Sport mineral sunscreen with clear zinc.
Taking time to rebrand or reformulate seemed a common theme, as was refocusing on products that would appeal to a world more concerned than ever with hygiene. The mood was buoyant at the Alaffia booth, the Olympia, Washington-based maker of hair, body, and skin care products. Founder Olowo-n-djo Tchala, a native of Togo, was on hand wearing colorful clothing created in his country.
"It's been great, very busy, people are excited to be back," said Katie Stinson, Director of Marketing & Brand Strategy at the brand. She said buyers were scouting for healthy, nourishing personal hygiene products.
Pandemic-Fueled Wellness Trends
"Since the pandemic, everyone is still wanting to make sure they are washing their hands and staying healthy and it was a perfect opportunity for new innovations in hand soap," she said. At Expo, the brand was bowing its new iterations of its Good Soap Hand Soap, in Lavender, Crushed Sage and Lemon and Leaf. Alaffia products use unrefined shea butter from West Africa as their base. Later this year, the brand will debut bath soaks made from West African virgin coconut oil.
Austin, Texas-based The Seaweed Bath Co also refocused on presenting all new packaging, in addition to new SPF 40 and SPF 60 lotions.
"Sun care is our most requested product line," said co-founder Allison Grossman.  "People want maximum protection that provides full coverage and is long-lasting without the white residue," she said. New packaging – white bottles with silver accents – now houses the brand's Body Wash products, and will be expanded to other categories.
"It was a time for a refresh," said Allison, mirroring the mood of the week.  "We wanted to capture the magic of the sea. It was time to do something new and fresh."