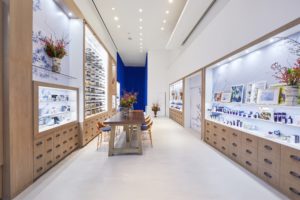 Naturopathica, one of the first clean, holistic skin care brands founded by Barbara Close more than 25 years ago, is opening its third health center.
The new space is located at 667 Madison Avenue on the Upper East Side. The first location opened in 1995 in East Hampton, with their second space operating in Chelsea since December 2015.
The Madison Avenue space, which measures about 2,000-square-feet, has been designed so visitors can independently browse the brand's skin care and ingestibles, and create customized programs at the Wellness Concierge. The 1,000-square-foot ground floor features 25-foot walls, showcasing herbs that are used in the brand's formulas, ingestible tinctures and elixirs. Skin care products are organized by practice: Clear, Nourish, Defy and Chill. Naturopathica's downstairs space is enveloped in sound-tested drapery, and features a central waiting area and three treatment rooms. Here, treatments including massages, facials, IV drips and energy consultation are on offer.
Tim Simmons, SVP of Creative Services at Naturopathica, oversaw the design and aesthetic of the new space. Emma Froelich-Shea, President of Naturopathica, joined the company in February. Formerly of Mana Products, work on the Madison Avenue flagship kicked off shorty after Emma joined the company.
Naturopathica sold a majority equity stake to GF Capital Private Equity in May 2018. Founder Barbara remains a shareholder and is involved in product innovation and education at the company.
All three centers aim to be an expression of the community in which they reside, not just a store on a block. For example, Naturopathica Madison Avenue offers the brand's most robust wellness experiences and devotes more space to community programming than other locations. Amenities have been designed to accommodate families, with a morning movement session for toddlers, a children's meditation class and IV Infusion therapy.
In addition to its centers, Naturopathica products are available at more than 350 resorts and spas across North America.