Arcade Beauty, a leader in product sampling, is looking to Abeo, its strategic, turnkey digital sampling innovation, to drive product purchase and post-trial engagement in today's online and social distancing environment.
In the post-pandemic era, sampling is projected to be more important than ever, an essential tool for reaching consumers, launching products, growing brands and cultivating loyalty in an ever-changing world. According to a recent COVID-19 Consumer Sentiment Pulse Survey by NPD, 82 percent of respondents said they were apprehensive about trying a beauty product in-store, while 48 percent believe that disposable testers are essential.
Digital sampling is forecasted to be a critical tool for brand success in the post-COVID era, and Abeo is developing strategies for the biggest names in beauty including Estée Lauder Companies, L'Oréal, LVMH and more.
"As we saw our own business shift dramatically over the past few years, it made sense for us to connect sampling innovation with audience activation. Historically we've always produced samples that go in magazines and catalogs. It was a natural progression to distribute samples online as consumers move from offline to online. The platform is turnkey. We really manage everything end to end for our brand partners versus them having to go to multiple partners. Particularly in a post-COVID space where we know that consumers are trying more products at home, it's really important that this solution reach consumers wherever they may be," said Allie Sorensen, Vice President of Digital Sales and Marketing, Abeo.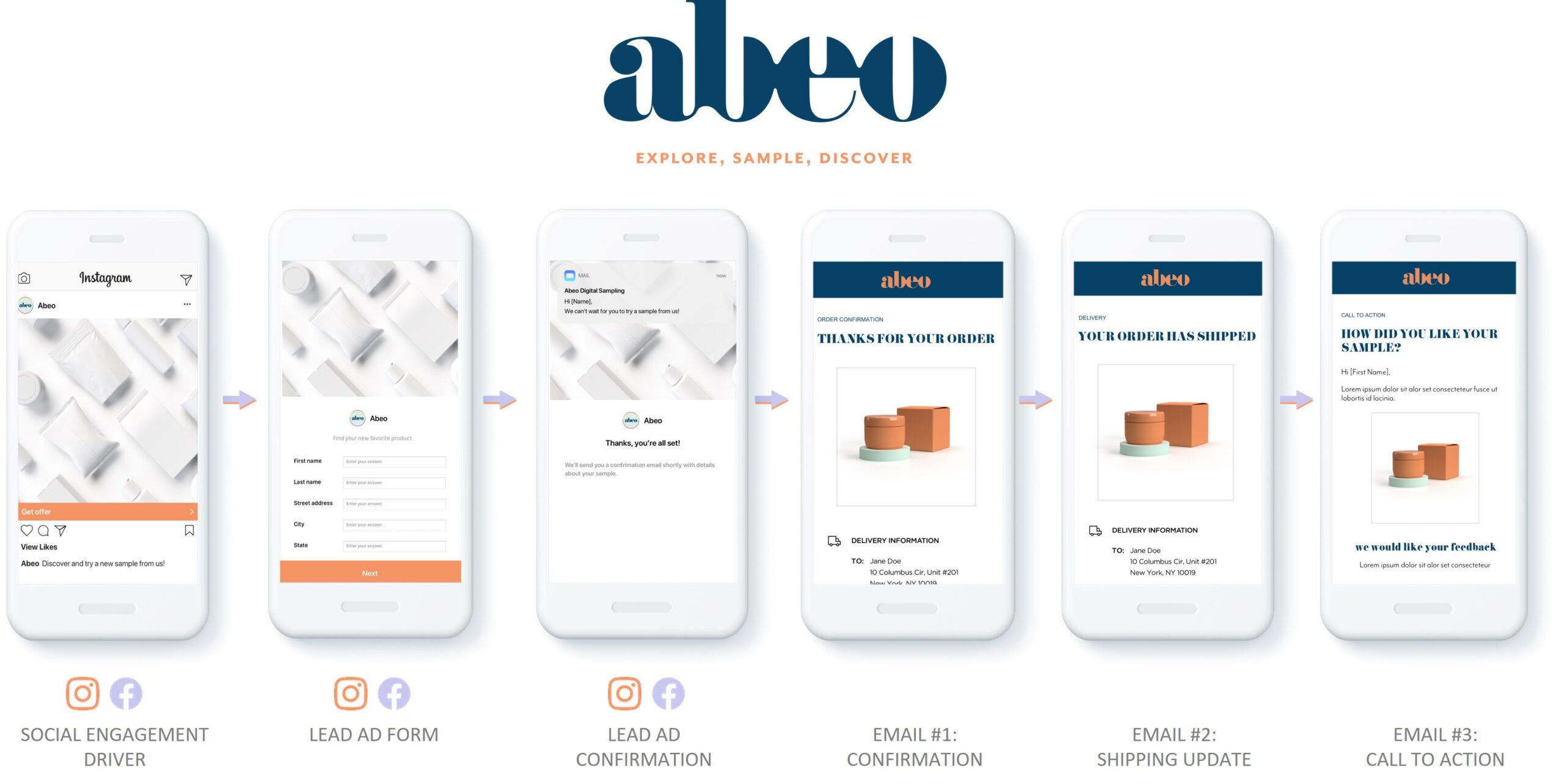 Abeo was designed to help make sure brands are developing and delivering interesting social campaigns, specifically around sampling, as e-commerce continues to grow, and as more consumers discover products online. The technology can live on social platforms, such as Facebook and Instagram, within a sponsored post that targets consumers with the highest propensity to purchase. After a consumer engages with a post, Abeo then delivers a sample directly to the consumer's home, and continues to engage and communicate with them to drive purchase intent, ratings and reviews, and conversion.
"We create a forum for two-way communication between a brand and the consumer by providing a call to action that may include rating and reviews, drive to full size purchase, user generated content and consumer insights," said Allie.
From a data perspective, Abeo is also capturing data in terms of open rates, click throughs to share with brand partners.
"What makes us different is that we are fully turnkey and customizable. We have the ability to install pick-up options, so when retail opens we have the ability to target consumers online and drive them into the store to pick up a sample. We're all about customer acquisition and optimizing campaigns based on data," Allie said.