An impending plateau in prestige skin care sales in the next two years, as forecasted by The NPD Group, could mean opportunity for the mass market, particularly the No7 brand.
The Walgreens Boots Alliance-owned [WBA] line is doubling down on innovation to attract consumers who want quality skin care at a lower price point. Formulas also appeal to consumers not ready for injectables but are concerned with aging.
Last week, No7 revealed four new items and a repackage of one of its top sellers. Rolling out online and in stores now are No7 Laboratories Firming Booster Serum, No7 Laboratories Dark Circle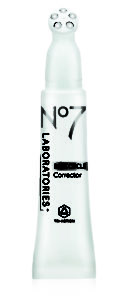 Corrector, No7 Protect and Perfect Advanced All in One Foundation with SPF 50 and a waterproof version of The Full 360 mascara. The existing Lash Serum, a growth formula, is being repackaged for relaunch in June. The new skin products are available at Walgreens stores and walgreens.com. The mascara, serum and foundation are sold at Walgreens and Target.
Skin care is one of the brightest categories in an otherwise flat mass market beauty landscape. Skin care sales for the first 12 weeks of 2020, according to IRI, are up a healthy 6.6 percent. Products from mass brands, such as No7, are impressing even professionals who are recommending them for daily use.
"I'm just a huge fan of drug store cosmetics," said Dr. Shari Marchbein, a New York City dermatologist, who demonstrated several of the new products at an event for press and influencers last week. Although she performs pricey procedures and sells upscale skin care in her practice, she's cognizant that not everyone can get to a professional to buy products. "I like to empower everyone and let them know you can get great products over the counter. You just have to find the ones with the proper ingredients."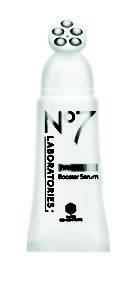 The Firming Booster Serum, Shari said, can be used on the entire face, but also the eye area and neck, the latter gaining more attention since it shows signs of aging that are exacerbated by everyone "looking down at phones" causing tech neck. Also, products for eyes are among the first serious skin care products shoppers seek, she said. No7 products include Matrixyl 3000 Plus an anti-wrinkle peptide technology that targets skin elasticity. The formulas in No7, Shari said, are traditionally found in the professional or prestige market.
The new No7 Protect and Perfect Advanced All in One Foundation with SPF 50 is mass's answer to more premium hybrid makeup and skin care brands, such as First Aid Beauty and IT Cosmetics. No7 looks to do the same for the mass market, where foundation sales are suffering and down 6 percent for the first three months of the year, according to IRI. Women, it seems, are turning to more natural looks versus heavy contouring and highlighting techniques that became popular over the past two years. Subsequently, No7 formulas are now buildable with a natural finish to fit into the no makeup look.
No7 has been the top performer of the WBA-owned brands, building a larger following in the U.S. than the rest of the portfolio, which includes Soap & Glory, Botanics and SleekMakeUp. The lineup lends credence to the theory that women will dig deeper into their wallets in a mass environment for what they perceive as department-store quality skin care; the boosting serum carries a price tag of $41.99. To spotlight the offerings, Walgreens has put a focus on No7 in its stores, including an illuminated fixture.
That's a savvy move, suggests research presented by Genevieve Lee Aronson, Vice President of Communications at Nielsen. She showed sales trends suggesting that mass market skin care growth will come with higher prices and more products. "There were 3.100 mass market skin care launches last year," she said.
No7 is also playing into a budding trend at mass—exclusives and proprietary brands. According to trade association PLMA, health and beauty store brands are worth about $16 billion representing an 18 percent share of sales. And that's a number on the rise, doubling since 2017, according to Euromonitor. Store brands, according to Dane Twining, Director of Public Relations for the PLMA, are a competitive edge to stand out in a mass market where brands sell the same beauty items.