Global beauty brand No7 is aiming to get women back to work in 2021.
Today, the Walgreens Boots Alliance-owned brand is launching Unstoppable Together. The initiative addresses what the Institute for Women's Policy Research (IWPR) terms the SHEcession—an economic downturn where job and income losses are disproportionably affecting women.
Through its initiative, No7 hopes to help transform SHEcession to SHEcovery.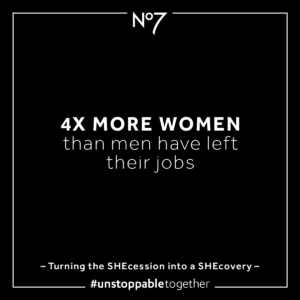 This is the kickoff to a global, multi-year campaign with the brand partnering with organizations and individuals focused on helping support women defy stereotypes.
The timing is crucial. The most recent jobs report showed that women ended 2020 with 5.4 million fewer than they had pre-pandemic last February.
"According to the Department of Labor, women are exiting the labor market at four times the rate of men," said Dr. C. Nicole Mason, President and Chief Executive of IWPR. "No matter how resilient or strong, women – and particularly women of color – are feeling the brunt of this recession due to systemic inequalities and stereotypes such as a women's role in society as the homemaker or the caregiver."
Working with women's advocacy organizations and thought leaders, No7 has a multi-prong plan loaded with actionable solutions to help women get back into the workforce.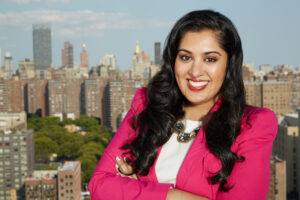 "The unequal impact of this recession jeopardizes the progress towards a more equitable society that women, and No7, have strived towards for decades," said Anisha Raghavan, Chief Marketing Officer, Global Brands Americas at Walgreens Boots Alliance.
Anisha outlined No7's course of action that starts today with an original female-produced brand film, No7 Unstoppable Together, created by Berlin Cameron and VMLYR, aims to capture the feeling and magnitude of the SHEcession's impact.
"We want everyone to feel the emotion behind the SHEcession," said Anisha. "Our goal is to raise awareness of the issue and rally people around this cause and get them to join the movement."
The film highlights sobering statistics such as the fact that women are three times more likely than men to sacrifice their careers for family and that 2020 alone could widen the female pay gap by 5 percent.
A compelling cover of Marvin Gaye's "What's Going On," by artist Ruby Amanfu, serves as a soundtrack as real world challenges women face are chronicled on the screen.
There is a call-to-action for how everyone can learn more about the SHEcession, support each other in these challenging times and get access to helpful resources that will hopefully assist the SHEcovery, Anisha explained.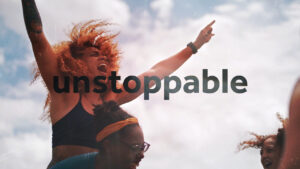 On February 24 (from 4 p.m. to 8 p.m. EST), in partnership with Fortune, Reese Witherspoon's Hello Sunshine and women's advocacy group, The Female Quotient, No7 will host its Unstoppable Together Job Summit.
The free virtual event will feature a diverse lineup of empowering female mentors and thought leaders, including Arianna Huffington, Maria Shriver, Tamron Hall and Kate Walsh. "This is open to anyone—whether you are out of job, on the brink of losing or leaving a job or even if you have a job and need tips on things like managing stress and working from home," Anisha said.
Additionally, small group coaching sessions valued at $100,000 will be offered by No7 and curated by The Female Quotient. Topics range from interview skills, dealing with burnout, networking in the new normal and self-care.
"We are also creating an online hub where people can go to hear more Unstoppable Together stories, view them share the video on social media and sign up for a free place at the summit the summit," Anisha said.
No7 will bring the campaign to life in its stores, harnessing the expertise of its 3500 beauty advisors. "We met with them and trained them about the Unstoppable Together Movement so they can also create awareness and ignite participation. There was an incredible outpouring of excitement," she said.
Beauty consultants were also gifted two unstoppable necklaces—one for them and another that they're being encouraged to give to someone they deem unstoppable. In tandem with its retail partner Walgreens, No7 will also recognize beauty consultants who embody the Unstoppable Together spirit.
This is the first major activation of the brand's mission in the U.S., but it is not the first for the 85-year-old company that is known for its altruistic efforts abroad, including makeovers for cancer patients. "This is an extension of our longtime brand purpose history," Anisha said. "You will see a lot more from us in 2021 and beyond as we partner with individuals and organizations that support women and enable them to live on their own terms."