Every month various beauty industry analysts from The NPD Group write about the latest trends being seen in beauty, based on the firm's market information and insights. Through a partnership, Beauty News will publish NPD's blog the day it's posted to keep you in-the-know. December's post is by NPD's Natallia Bambiza and focuses on social media's impact on makeup sales.
Many can vividly recall a time without social media to learn about makeup trends and application techniques – when consumers instead observed family and friends and gathered bits of information from magazines and television. Then came YouTube, with its tips, tricks, and product demos that took makeup skills to the next level. Instagram followed shortly after, and it became the ultimate platform for the makeup industry to connect with consumers – a birthplace of new trends driven by brands and bloggers alike. Eventually, however, the abundance of polished-to-perfection makeup content led to category fatigue, and makeup found itself in a period of stagnation.
The revival of consumer interest in makeup came as an unexpected result of COVID-19. While the pandemic had a negative effect on makeup usage in terms of frequency and the number of products used, it contributed to the emergence of new (or old but forgotten) tricks and hacks that aroused makeup trends. One of the factors leading to this situation was the additional time consumers spent on social media — consuming, sharing, and creating content. This time around, TikTok became the platform of choice.
Unlike Instagram's polished pictures with impeccable makeup techniques, TikTok provides users with raw — and sometimes borderline bizarre — content. Scrunched-up tissue eye look? Overlined lips? Dots around your eyes? You got it! The latter has been trending on TikTok lately as an unconventional way to draw attention to one's eyes. "Apparently, if you put four dots around your eyes, people are more attracted to you," according to this Glamour UK article.
Less peculiar, but no less intriguing, underpainting is another technique that has been gaining popularity on social media. As the name suggests, underpainting is a makeup application technique that involves applying color underneath your base; more specifically, applying blush (and a lot of it) before foundation and concealer. Consequently, NPD point-of-sale data shows that blush sales in the U.S. have experienced a revival, with dollar sales increasing by 39 percent for the year-to-date. Cream and stick forms of blush, the texture that works best for underpainting, more than doubled last year's dollar volume and grew versus 2019.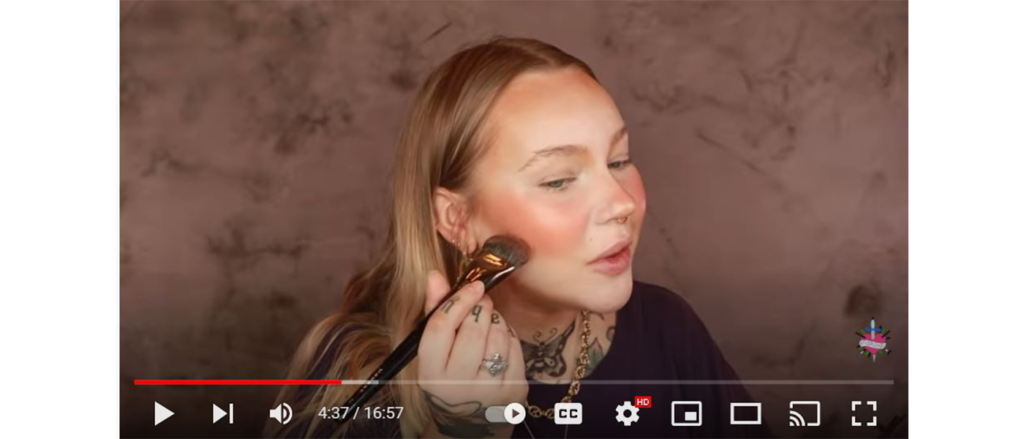 The NPD Makeup Consumer Report reveals that about a quarter of U.S. makeup users today rely on social media to decide what makeup products to buy. This number is significantly higher for Gen Z and Millennials. With this strong level of influence, social media once again is rising as a promising driver of makeup trends, which leads to more experimentation within the category. More consumers will begin taking out their makeup brushes, ready to give in to makeup artistry once again.