Makeup brand Nudestix is launching into a new category – skin care. On October 10, the brand will debut a five-sku collection, Nudeskin, which was developed in partnership with celebrity dermatologist, Dr. Jason Emer. Two years in the making, the line follows the brand's ethos of 'less is more' with products that aim to perform well enough to instill consumers with makeup-free confidence, which is especially timely as consumers have pivoted towards skin care during the pandemic.
Founded by Jenny Frankel and her daughters, Ally and Taylor, Nudestix has achieved approximately $30 million in sales to date, and is looking at Nudeskin to become 50 percent of the brand's total business by year-end 2022.
The science-backed skin care collection is designed to be a four-step regimen that addresses cleansing, exfoliating, toning and moisturizing. There are three cleansers. One is Citrus Clean Balm & Make-Up Melt, featuring apple extract as a natural alpha-hydroxy acid [AHA] meant to exfoliate the skin. Another is Gentle Hydra-Gel Face Cleanser, a nonfoaming wash made with hyaluronic acid that aims to plump the skin, while bergamot acts as a natural antiseptic. The third cleansing option, Vegan Bamboo Cleansing Cloths (which will not be available at launch), is designed with mild AHAs and poly-hydroxy acids [PHAs] for gentle exfoliation as well as cucumber, aloe and chamomile for their calming properties. For the DIY facial crowd looking to replicate spa treatments at home, there's a Lemon-Aid Detox & Glow Micro-Peel, featuring natural AHAs, malic acids, lemon peel oil, niacinamide, vitamin C, and fruit extracts. The final two products are a 5% Citrus Fruit & Glycolic Glow Toner, made with a glycolic and fruit acid complex that aim accelerate the skin's cell renewal process, and Citrus-C Mask & Daily Moisturizer, featuring yuzu and turmeric, which can be used as a makeup base or overnight sleeping mask. Prices range from $18 to $40.
Here, CEW Beauty News spoke with Jenny and Taylor about the new launch, marketing plans, and the future of the company.

Beauty News: With so many skin care lines on the market, what is Nudeskin's point of difference?
Jenny Frankel: We developed the skin care line thinking about what the Nudestix community is looking for in our makeup. They want products to be simple, efficacious and affordable. They also want it to be on the go, travel friendly, and in sustainable packaging. So, that's what we've done with Nudeskin. I want to stress we're not just launching a few new skin care sku's underneath Nudestix, the makeup brand. This is Nudeskin by Nudestix. We are looking at launching numerous products with a lot of R&D that's specific to skin care laboratories. We've partnered with Dr. Jason Emer, a Beverly Hills, CA-based dermatologist, because we wanted our products to be credible. He actually has his own line for his medical practice, however, his products are expensive and they're very concentrated. He wanted to participate in developing a brand that people can use in smaller, efficacious doses. We're proud that we have created a brand that you don't typically find with dermatology-based brands, which is sustainable packaging, vegan, gluten-free synthetic/fragrance-free, clean formulas.  Also, all of our packaging is under 100-ml so you can travel with it  when we can travel again.
BN: What trends did you take into consideration when designing the line?
TF: We wanted our products suitable for all skin types, whether you have mature, acne prone, oily, dry or combination skin. Between me, my mom and my sister, we all have very different skin types and wanted to ensure that this would work for everyone.
JF: The reason why we actually started with three cleansers right off the bat is because Taylor, Ally, Jason and I truly believe that if you get cleansing wrong, everything else is so much tougher. We have wipes if you're on the go, a melt if you need a boost to dissolve makeup, and then a gel.  Additionally, we kept the environment in mind. For example, our Vegan Bamboo Cleansing Cloths are made of bamboo fibers so they're 100 percent biodegradable. That was really important as some stores, such as Selfridges in the U.K., has completely banned makeup wipes that are not biodegradable. Furthermore, as self-care is a huge trend, people are focusing on their skin more so that they can wear 'no makeup' makeup – or less makeup. So, at-home medi-spa treatments like our mask, exfoliator, and the toner will really help them get medi-spa efficacy.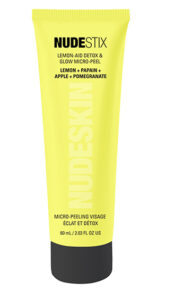 BN: Who are your target consumers?
TF: I would say that our target Nudestix customer, even if we just look at analytics via social and email at a retail level, are the millennial 18- to 35-year-old customer. She's on the go and wants products that are not overly complicated and that really simplify her life. We really believe that really transcends into skin care as well. I do think that skin care can reach even more customers, and its great having Dr. Emer as one of the faces of Nudeskin to showcase and speak to a male audience while normalizing skin care for men without it feeling overly complicated or overly feminine either.
BN: How will you be raising awareness?
JF: We created so much content to show how easy the products are to use on their own and as a four-step regimen. We have nine different models of different ages, sexes, skin tones and skin types to really make the products feel accessible and relatable to everyone. I'm actually one of the models— I'm in my late 40s. We have another model, Liz, who's in her early 60s.
TF: Dr. Emer will be hosting a Nudeskin series live once a week on the Nudeskin Instagram page, and I'll be joining from the Nudestix page. We'll be doing a 'Get Ready with Me segment, or speaking to specific ingredients or specific concerns and questions that our community and customers may have. We will be promoting this every week before we go live to ensure that everyone's aware that it's happening. We'll also be creating content for all of our social platforms. Every single live that we create will exist on YouTube as well, which will be a way for people to just go back and watch the content, and also have links to shop the products right then and there as well. Something else that we're doing from a marketing perspective is that we're working with skin care influencers and ambassadors to speak to the products and bring it to life. So we've already reached out to a variety of influencers, both in the makeup and skin care world. That will be very exciting.
As we build the separate Nudeskin Instagram account, which we've already been doing by teasing it out over the past few months, we'll be doing even more teasers to raise awareness for that platform, by hosting consumer giveaways and cross promoting on the Nudestix page, which has garnered over 500,000 over the past six years. We also have plans for paid digital ads.
BN: Where will the brand be sold?
JF: This fall season, we're launching on Nudestix.com and Ulta Beauty, exclusively online. And then going into January, we're actually going to be launching across all of our retailers online globally, with a minimal in-store presence with a trial kit. But it will be an online launch. We will also have sampling.
BN: What will be the next step for this brand?
JF:  We're working with innovation labs and Dr. Emer all the time to find novel ingredients that we're going to be playing with next year that are super efficacious with clinicals. We're going to be launching tools as well.
BN: How was Nudestix brand been impacted by COVID?
JF: Nudestix is still performing fairly well in the makeup category, because we've always been about 'no makeup' makeup. I think with or without COVID that's what consumers are looking for. We definitely have been impacted like every other brand. We are a global brand with 50 percent of our business in North America and 50 percent outside of North America. In January, we got our first indications of what was happening because of our Asia business, then moved over to Europe and then North America. We've been pivoting. At one time we had 850 stores closed and it impacted some of our sales team, unfortunately. It also impacted our forecasts, budgets and even our marketing strategy.
We created hand sanitizers in March in markets like Canada, where we sell in-store and online and that has accounted for 25 percent of our Canadian retail business. So COVID definitely has impacted our brand, because we have so many stores globally, there are still restrictions on stores, and there are still community closures based on government restrictions. So, we just have to pivot, be flexible. We have to find new ways to be successful in this new COVID era.