Olaplex has cracked the code when it comes to hair-raising social media growth. With more than 2.2 million Instagram followers and almost 800 million hashtag views on TikTok — up drastically from 24 million just two years ago — the professional hair brand has seen an engagement explosion on its channels. Accounting for 19 percent of Olaplex's net revenue, Tribe Dynamics reveals the brand's $121 million in earned media value is up more than $27 million from the year before. "Everything has really scaled tremendously," said Olaplex CEO and CEW Beauty Award Ambassador, JuE Wong, adding that overall sales for the brand are up by 112 percent percent year over year. "You can see the velocity and trajectory."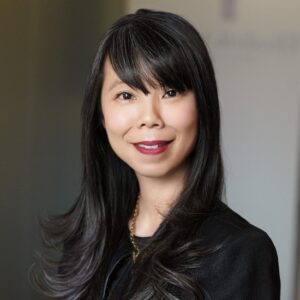 As the number-one hair brand ranked by Tribe Dynamics since the agency started tracking the luxury hair category in 2015, Olaplex has long had a knack for social engagement. With a product offering centered on transformative bond repair, the brand's social platforms are replete with thumb-stopping visuals that showcase a diverse array of healthy-looking hair styles including dramatic before and afters, where silky strands shine for the camera in an appeal to customers seeking social inspiration.
JuE is a content creator in her own right, and she often shares her TikTok videos on the brand's channel showing her humor, hairstyles, and get-ready routines. For the #olaplex9feelingfine challenge, which asked community members to share videos of themselves feeling their most fabulous, JuE uploaded a TikTok with upbeat dancing and an incredible before-and-after, echoing one element of the brand's edge on social — the highly visual nature of the product.
"Hair is a very visible category," said JuE. "You have the loyalty and longevity of skin care, the equity of color cosmetics, and the visible transformation that's instantaneous."
Take the #OlaplexBun challenge, which asked TikTokers to create videos of their unique interpretations of twisted updos, and share the Olaplex products they used to not only style, but also treat their hair.
The hashtag drew more than 16 million views in the first four hours.
"We really wanted people to tell us what they were doing with our product and people went to town with it," said JuE, adding that peppering out paid media to drive awareness is also a key to the brand's social strategy. "People will represent you if they are being paid, but what is more authentic is if they want to be part of your tribe."
JuE also cites the fact that unlike digital-native brands, Olaplex's community was not created online, but rather in the salon largely thanks to stylist recommendations — still the number one driver for a consumer's haircare purchase — as another reason for its resonance.
"Social media was an enabler, it was not the end all be all, and that has lent a lot of authenticity to the brand," said JuE. "When the source of truth and authority comes from the hair stylist, that allows us to be relevant and consistent with a lot of staying power."
Today's Olaplex audience is a nuanced one. Comprised of hair care professionals, consumers, brand employees, and retail partners alike, JuE said authentically reaching the Olaplex community is all about tailoring strategies per channel. To that end, JuE shares the breakdown: Facebook is where the brand educates close to 400,000 hair stylists, which also includes 130,000 Spanish speaking hairstylists in the U.S. and Latin America, and additional hair enthusiasts with the help of community moderators and speaker series events. Instagram drives followers to retailer partners and to olaplex.com via shoppable content, while TikTok provided the opportunity for people to truly express themselves. Between January 2022 to March 2022 alone, the brand has received over 777,616 likes on TikTok.
"I think our success has a lot to do with how we treat the ecosystem of what we define as community," she said. "When we built our community we are not building it for us to sell to them. We build a community so we can serve them."
Part of keeping close to that community means being honest and forthright, especially when questions arise. This past March, Olaplex was questioned about one of its ingredients — butylphenyl methylpropional, also known as lilial.
Despite data revealing that the ingredient was being used safely within Olaplex No. 3 Hair Perfector, as a precautionary measure, the brand proactively reformulated its No. 3 Hair Perfector, and utilized a straightforward approach to communication, including posting a video in which the brand's Chief Scientist directly addressed consumer questions. "The world of social media is a double-edged sword," said JuE. "When something happens, first and foremost, we want to be prompt in our response, we want to be authentic, and we want to be transparent."
Looking to the future, JuE wants to continue the brand's social growth trajectory with innovative campaigns that focus on keeping the Olaplex audience engaged over time. This means taking a holistic approach to campaigns, that consider the full consumer journey. "We don't look at activation by activation or media buy by media buy, we look at building for the long term so that we have longevity," she said.
In terms of product, consumers can expect to continue seeing "science-led, tech-driven" offerings that utilize skin care ingredients to treat and nourish hair. Take Olaplex's newest offering, No. 9 Bond Protector Nourishing Hair Serum, which is infused with red algae extract to combat free radicals, sodium hyaluronate and panthenol to hydrate, and a flexible polymer that creates a shield to protect hair against pollutants and heat styling. "Your skin is alive; it actually can rejuvenate itself," said JuE. "But, your hair shaft is dead. So, you really need to protect it."
Another focus for this forward-thinking executive is to continue leading the way when it comes to sustainability. Having skipped out on secondary packaging since the brand's inception, JuE reported that Olaplex has become carbon-neutral in its packaging footprint; eliminating 17 million pounds of greenhouse gas from being emitted into the environment, saving 27 million gallons of water, and protecting 21,000 trees from being deforested. To further their environmental responsibility efforts, Olaplex has partnered with EcoVadis to bring environmental stewardship and human rights to the forefront of vendor selection and supply chain processes, and to help monitor impact the company has on the planet and people.
"You don't even have to pledge that far forward to make a difference," said JuE. "If everyone chose one item in their lineup to not box, think of the immediate impact we can have. As a leader, if I can leave a legacy of a better tomorrow, I will do it all day long."
To enter products into this year's CEW Beauty Creators Awards—an annual program honoring outstanding product innovation and the teams that create them—please visit cew.org to get instructions on how to do so. The last day to enter products into the Beauty Creators Awards is April 20. You can't win if you don't enter.