Dr. Robb Akridge, best-known as the co-founder of Clarisonic, has been working at pioneering custom skin care with Opulus Beauty Labs, a company he launched in April 2020. The brand's patent-pending Opulus Activator is a skin care blender appliance that creates high potency, fresh-made skin care products at the push of a button. This month Opulus Beauty Labs is launching its latest item, Retinol+ Starter System, online at Saks Fifth Avenue and Neiman Marcus. (Opulus is otherwise sold on its own site.) Here, Dr. Robb tells CEW Beauty News about the peak potency that comes from freshly activated skin care.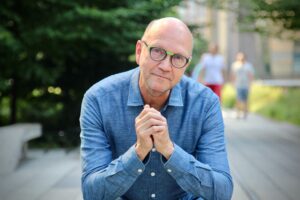 Founded by Dr. Robb Akridge in 2021, who is best known for having pioneered the beauty device category nearly 18 years ago with Clarisonic, Opulus Beauty Labs consists of the patent-pending Opulus Activator (a first-of-its-kind beauty appliance), and an Opoule, an individually dosed formulation. Together, they aim to create high-potency, fresh-made cosmetics at the push of a button. Or as Dr. Robb describes it, "freshly activated beauty."
"The Opulus Activator is your own personal skin lab," said Dr. Robb. "It maintains skin care potency as it is freshly activated for single-use."
Indeed, the treatment system was selected by Time magazine as a "Best Invention of 2021." The magazine described it as "skin care on-demand" and "a Nespresso machine for skin care – minus the plastic waste."
The Opulus Beauty Labs Retinol+ Starter System and Ramp-Up Night Cream Regimens 1, 2, and 3, feature increasing concentrations of retinol and sell for $395 and $165 respectively.
The inspiration for Opulus Beauty Labs came to Dr. Robb during a visit to a chocolate shop in Paris. "I thought, 'Why can't cosmetics be like this chocolate truffle? Why can't it be a single dose every time?' Every time your skin is changing, you come up with a different 'truffle' that you pull out of your little box, and you can use it for your skin for that day, for that moment," he said.
Just like a chocolate truffle, the Opoule consists of two parts: an outer coating and an inner core, both of which are made entirely from skin care ingredients.
"We have ingredients on the outside of the truffle, or Opoule, that are all cosmetic ingredients. Inside there is the cream, like there would be in a truffle and, again, it's cosmetics as well. Once we figured out how to make an Opoule, which is like an ampoule because it is just one dose, we are able to change the chemistry of the outer coat or the inner core to create an array of products. The only thing that limits us is our imagination! It allows us to mix serums, lotions, creams, face masks, hair care products just by changing the ingredients. We can also put ingredients in the coat and core that give us combinations that don't [currently] exist in traditional chemistry. For example, we can put vitamin C in retinol. It's like having an automatic layering effect without worrying about it," said Dr. Robb.
Dr. Robb added that ingredients can be used beyond the commonly used percentage in traditional formulations, by increasing that percentage, melting the ingredients, and solidifying them in the outer coat so that when the "truffle" blends, it results in a more potent product.
Of note, the retinol Opoules are anhydrous, eliminating the amount of water used.
Dr. Robb pointed out that the Opulus Activator is more like an appliance than a device (because it is not used directly on the skin). Once the lid is unscrewed, the Opoule is placed inside the bowl and the lid is reattached. In just 100 seconds, the outer coat of the Opoule melts and blends with the core thanks to a small blade inside the appliance. The product that is created is warm, which Dr. Robb said makes it absorb better into the skin. (107 degrees delivers optimal skin absorption, he added).
Moreover, instead of having a cosmetic jar that lasts for three months and is then discarded, which additionally restricts people to that formulation during that time-frame, the Activator (which is wireless) creates single-dose creams that are at peak potency during the moment of use. "Think of it as your forever cosmetic jar," he said. "Every time you open the Activator, it's like a magician's hat. You reach inside and it's a surprise! Plus, there's the visual transformation that is a delight, as is the sensorial feeling on the skin. What we have created [with Opulus Beauty Labs] has such potential. The Activator has the ability to change the way people view cosmetics".
Dr. Robb launched a retinol product first because it is a gold standard skin care ingredient that benefits from a customized regime of varying concentrations to avoid redness and flakiness, a process that he referred to as "retinization."
Opulus Beauty Labs was funded by angel investors. The brand is a vertically integrated business with in-house R&D, cosmetic manufacturing, and product assembly. Dr. Robb reported that there are many opportunities for Opulus Beauty Labs in the professional arena. "We know that the professional market is there for us. Dermatologists and estheticians want us in their spas, in their offices, so we are going to capitalize on that, very similar to Clarisonic where we were in doctor's offices, spas, retail, and dot com," he said.
International expansion also beckons. "We have several patents and have already implemented that globally. We are already covered in Australia and Canada," he added.
Next up, Opulus Beauty Labs is poised to enter other beauty categories. Because the Opulus Activator is actually more Keurig than Nespresso (Keurig aligns with a plethora of brands to produce their pods and, as such, can accommodate an infinite number of brewing options), the potential for Opulus Beauty Labs to partner with different brands and license its technology is huge.
There is one constant in this open space of beauty possibility: everything will continue to be plant-based. "I love plant ingredients," said Dr. Robb, who has a master's degree in botany. Even the brand's name, Opulus, comes from the plant world.
"I'm looking for solutions in other industries that we can adapt and bring into this industry," he said. "Real innovation is where you take people on a journey where they get to the very edge and they say, 'I can't believe I'm seeing this!'"