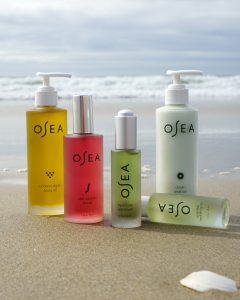 Clean skin care brand, Osea, has announced Cavu Venture Partners as a minority investor, marking the brand's first investment since it launched 25 years ago. The brand, which has grown 115 percent this past year, will use funds to increase marketing efforts and accelerate product innovation. The investment will also help power Osea's first brand campaign which will involve working with activists and celebrities who embody Osea's core values and connection to the elements of Ocean, Sun, Earth, Atmosphere (which make up the brand's name). Terms of the deal were not disclosed.
The brand was founded in 1996 by Jenefer Palmer and is now led by her daughter Melissa Palmer who took on the role of CEO six years ago. Under Melissa's leadership, Osea evolved from an exclusive spa brand to having a presence in major retailers including Ulta Beauty, Nordstrom, Blue Mercury, Neiman Marcus, Credo, and Detox Market. A majority of the business is direct-to-consumer, which generates more than 40 percent of repeat purchases.
"Over the last year we definitely found it challenging to keep up with demand since supply chains were effected by COVID and online ordering skyrocketed. However, our business was already majority DTC pre-pandemic therefore we were lucky to already have that marketing channel completely activated," said Melissa. "Social also helps and we love using it to connect with our consumers. Over the past six months we've been using our newest social media platform, TikTok, and have grown from zero to nearly 20,000 followers. It's been a completely new and fun way to engage with consumers in a more casual style and helps us reach a younger demographic."
The brand credits its thriving business to its solutions-focused skin care innovations and clean and sustainable ethos.
"The Osea brand has a 25-year track record of proven success and results. It's a truly great product and has maintained the same core values since the beginning. More and more, consumers are seeking authenticity and integrity and turn to Osea because we've had consistent standards and brand authenticity since day one. Also, consumers have become increasingly eco-conscious and look for sustainable brands. We're proud to be a Climate Neutral Certified brand."
In addition to the new funding, Osea has added two beauty industry veterans to its team. Erin Cotter, most recently GM of Beauty and Wellness at Goop, Inc., has joined as Chief Marketing Officer, and Melissa Mao, who most recently served as Vice President of Sales at Coola, has joined as Chief Sales Officer to lead wholesale growth.