Paintbox, the experiential nail salon and polish brand, finally reopened its two NYC studios in early July after nearly four months of closure. Unlike the average nail salon, Paintbox was buoyed through the lockdown by their emerging e-commerce business. Launched in 2019, their DTC polish line, Power Couples, saw a 500 percent spike in growth this spring as consumers sought to self-soothe through DIY beauty treatments. But as close contact beauty services start to return, what do these businesses look like now, and how can they still deliver value? CEW recently spoke with Paintbox CEO, Jane Hong, about pivoting to e-commerce, the consequences of not doubling-down, and how such a high-touch business operates post-lockdown.
Beauty News: What have been the greatest challenges in reopening the studios?
Jane Hong: We closed March 16 to be exact, and reopened July 6. Our challenges could go on and on, especially since we are such an experiential service. Paintbox is a place where you can escape from work, home, all the duties of life, and really focus on self-care. It's been challenging for all of us in quarantine; we've taken on a lot, and the need for physical experiences and self-care has risen without outlets. Plus, the loss of employment has resulted in a loss of morale.
A silver lining in all this is that we launched e-commerce last summer with our Power Couples polishes. We took what we've been doing so well in the studio, and brought our artists' talents to people digitally. We essentially transitioned from color theory into color therapy. There's been a colorway, or a Power Couple if you will, for every mood of the season and every sentiment that we've been going through this year; especially with the protests this spring where we featured a lot of red. But this whole period has forced us to rethink the way we look at our own business model.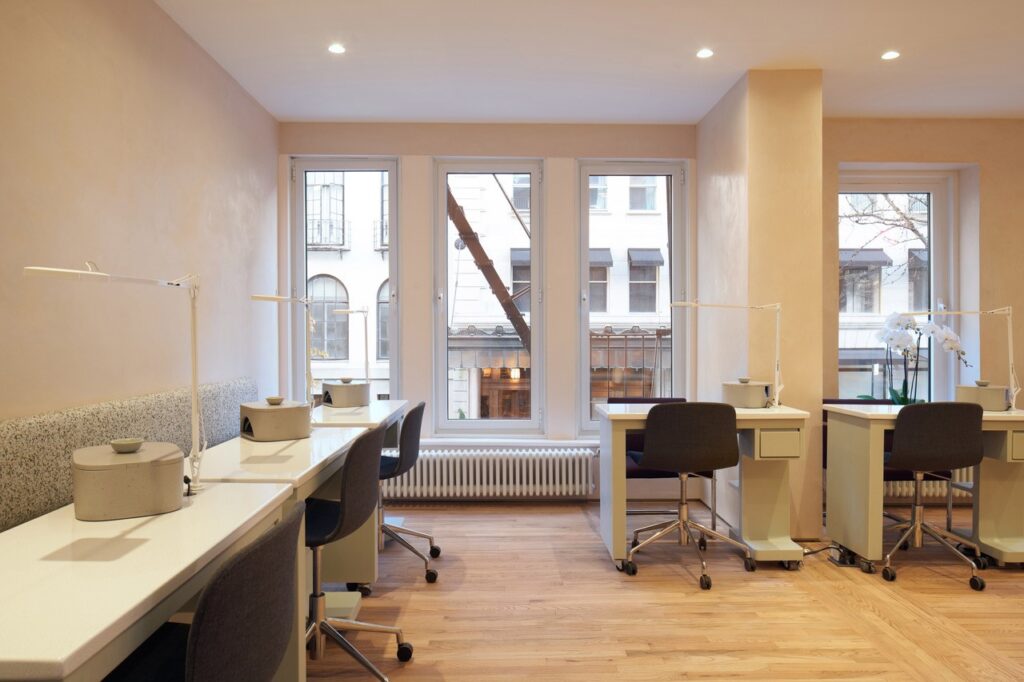 BN: What was it like to pivot to e-commerce with Power Couples?
JH: I think we learned so much this time around that we'd be better prepared the next time, if that happens. We didn't have this grand focused digital marketing campaign with Power Couples. Our staff was dwindling down in the spring, and I was advised by counsel that my first priority was to preserve the company so there was something to come back to. We don't have a CFO now; I'm essentially both CEO and CFO so my fiscal responsibility to the company and the outside investors was first and foremost. I was very stringent on everything because I needed to be.
Having gone through that, if this were to happen again, the way I would have thought about my spend would change because I'm going to have to cut back again. But how I would cut back would change. During the lockdown we saw our sales and engagement grow so much organically, so what we should have done was double-down on that. I think we just rested on the fact that we had grown so well organically. Meanwhile, brands that did double-down on their digital ad spend have compounding returns now. I think from that angle, that was a bit of missed opportunity for us.
BN: Your 2018 gross sales were quoted as $2 million by founder and CCO of Paintbox, Eleanor Langston. Can you share numbers for 2019 and beyond?
JH: I can say that last year's sales exceeded prior year sales. We had been growing significantly and considerably each year. When we launched the Upper East Side studio in 2019, it really took off and we were so excited about the capacity it brought to the company. What this year has brought us is approximately 500 percent e-commerce growth, which was completely organic. Like I said before, if we had double-downed it could have been even greater. Going forward we want to continue to push our digital content around that, and partner with more brands. We did a custom collaboration with DTC shoe brand Sarah Flint during the pandemic for their best-selling sandal, which gave us exposure to a new crop of customers. We're also open to finding retail partners for Power Couples but we're moving slowly on that. It needs to be the right partner who will really buttress the brand.
BN: What do the studios look like now? What safety measures have you put in place?
JH: Our protocols at Paintbox are second-to-none; I feel very confident that the corner salon is probably not doing what we're doing. While the guidelines may be a hassle for businesses, they're important and they're required.
We're only allowed 50 percent capacity in the studios now. On the Upper East Side we have 11 stations; we max out at six appointments. At the downtown studio we have 18 stations; we max out at nine appointments. We're appointment only, as we require clients to fill out an online health survey prior to arriving at the studios. We have a sanitization station right at entry, so as soon as you walk through the door you're requested to sanitize yourself. At the removals bar, at reception and at each station we have plastic partitions or acrylic shields. Our artists wear gloves during the entire service. They sanitize the stations and shields between appointments; we have both physical buffers between stations and time buffers between appointments for sanitization. No one is allowed to touch our retail displays and we max out reception at two people, so they're adequately spaced apart.
Our restrooms are exclusively for employees now, plus our beverage service has also been suspended since everyone has to wear masks. We will deny you entry if you refuse to wear a mask. All our staff is temperature-checked upon arriving to their shift, and all employees have to be COVID-19 tested at least three days prior to reporting for their first day back. Then every 14 days they need to be retested.
BN: How many clients can you service now compared to pre-COVID?
JH: We're doing about a third of the business we did prior to COVID-19. The safety requirements necessary between appointments are now vast, and we also have fewer staff. A lot of artists don't want to come back to not be fully booked, so they are waiting to see how this next month goes. Summer is historically slower for us. We usually see a pick-up in August from tourism, but that's obviously not happening this year. That makes this even harder. The second quarter is our biggest season, second to holiday, and we were closed all throughout that time. All our events have been cancelled as well; you can't book out our studio anymore. We're a high-touch business, so any high point of contact has been transformed now into nothing.
BN: Are loyal customers returning? Are new customers discovering you?
JH: So far it's mostly returning customers who have come through. I think we've had a few new clients but discovery is not happening in the same way. We normally have so many people and tourists walk through our space or stumble upon us, and that's much less the case now. But that was just the first week and we booked up rather quickly. I don't know how the rest of the summer is going to pan out, but I'm sure we'll find people willing to pay the premium because they feel safer. I'm hoping it's an acquisition moment for us.
BN: What happened with staff during the lockdown?
JH: We have a number of artists on salary in management positions that we kept working on creative content and social throughout the lockdown. The majority of our staff is part-time, working 20 to 30 hours a week, and that was just unsustainable. Anyone who was full-time and on benefits was furloughed. We needed to plan our reopening, and continue to push our e-commerce business, so our corporate team is still here but we're down to a skeleton crew.
For the month July and August we're doing an upcharge of $10 per appointment. Half of that goes to the artists since their cash flow has been so strained these past few months; the other half goes to operational costs to help the studio. The day you open your doors, you're paying full rent, yet you don't necessarily have the cash flow you did when you first negotiated.
BN: What would another potential shutdown mean for Paintbox?
JH: I thought it was going to be a two week closure at the beginning of all this, and I think what that taught me was that we can't plan for anything this year. I can't be naïve about things either. Denial is dangerous, so I'm in full commitment mode to what's going on. The blessing and the curse of Paintbox is that we do it to the nines, and we don't cut corners ever. Slap-sticking things together just isn't in our DNA. We always think of ourselves as a brand first; then products and services second. When you patch things together it can be degrading to your brand equity. Hopefully we have gassed it as much as we can during this process, and we're positioned in the fall/winter to have things that are still in line with our brand, and that leave us prepared to expand our e-commerce line.