On a rainy Tuesday in March, celebrity makeup artist and brand founder, Patrick Ta, hosted a lavish champagne brunch at his Burbank, California headquarters to formally launch his new Major Brow Shaping Wax. At the entrance, a tray of face masks and hand sanitizer was set out for guests, a foreshadowing of what was to come.
Within a few days, the stay-at-home mandate for Los Angeles went into effect, and nobody was thinking about brow wax. The launch was predictably pushed back, but is now taking place on Friday, April 17 through sephora.com and patrickta.com. (The brand is otherwise exclusively available at Sephora doors in brick-and-mortar retail.)
"We're dealing with a few delays, but for the most part we've been able to push through," said Rima Minasyan, Co-founder of the Patrick Ta brand. "We're lucky that our fulfillment center is still able to fulfill orders. We have safety protocols for all employees and have been able to find a system that works for us."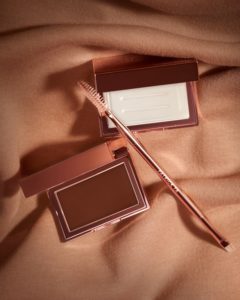 The Major Brow Shaping Wax, which is available in clear and tinted shades, is the latest from Patrick's year-old beauty brand. Makeup artist to the Kardashian and Hadid sisters, Arianna Grande and Chrissy Teigen, Patrick has long been known for his monochromatic, dewy aesthetic – and the new brow products are an extension of that, he said. Major Brow is housed like his other products in gleaming rose gold containers, and is a wax designed to replicate the laminated brow effect that is all over social media, created to leave the brows full, hairs all in a singular direction, and conveying a subtle sheen. The $22 product needs to be activated with setting spray or water, and then applied using a special spoolie, also made by the brand, priced at $18. Containing growth peptides to help promote brow growth, it also has glycerine and olive oil to keep brows nourished and to moisturize the skin around them. Patrick said he designed them "for the girl who doesn't want to look like she's wearing any makeup.
"I wanted to create a first step to having that fluffy perfect brow," said Patrick, the son of Vietnamese immigrants who operate of a nail salon in his native San Diego. "It gives you that ability to really shape and push the brows in any direction you want," he said.
Rima said that while a major product launch at this time is challenging, Patrick's extensive social media reach (1.8 million followers on Instagram) will help get the message out – as is the fact that consumers today are a bit of a captive audience.
"It's definitely been tough with Sephora stores being closed," she said. "However, with everyone constantly on their phones, we've made it our priority for our community to know we're here for them. We've been using our social platforms as a way to unite and remain connected with each other."
Patrick is also concerned about his parents, whose salon remains closed due to COVID-19. His extended family owns a total of seven salons; they are all shut.
"The current crisis has tremendously affected my mom's business," he said. "Because of the stay-in-place orders in California, she is not able to physically be in her salon and is no longer working. She is really worried about her business."
In the meantime, though, Patrick and Rima are pushing on with plans to develop more products later this year.
"We're still on track," said Rima. "We've been focusing on our future launches. Our team has been great with connecting via Zoom, conference calls and emails to keep everything moving. We're all working very hard and strategizing for when we can all pull through this crisis."