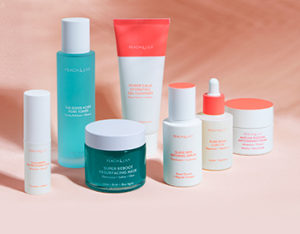 Peach & Lily has received a minority investment from strategic growth investment firm Sandbridge Capital. Funds will look to support global expansion of the K-Beauty firm's proprietary brands, as well as consumer engagement efforts, according to Alicia Yoon, founder and CEO of Peach & Lily. The company, based in New York, ended 2018 with $30 million in sales, and estimates sales will reach $100 million in the next two to three years.
Peach & Lily was founded in 2012 and currently sells a curated mix of third-party K-Beauty brands, as well as two of its own brands, Peach & Lily and Peach Slices. Peach & Lily has a prestige positioning and is sold on peachandlily.com and at Ulta Beauty. Peach Slices is for the mass market and is sold at CVS and Target.
Alicia first met with Sandbridge executives several years ago. While she said her company is profitable and self-sustained, what led her to pull the trigger in securing a strategic partner "was more so that we see the business growing so rapidly and if we want to keep up that momentum it is great to have a partner on board."
Sales of the company's third-party business has been doing very well, Alicia said, and sales of Peach & Lily and Peach Slices have been "more than doubling year over year, so it just felt like the right time."
Ken Suslow, Sandbridge Founding Managing Partner, added, "Alicia is already well on her way to building an incredibly authentic premium brand, artfully blending natural ingredients and efficacy with a refreshingly innovative and modern approach to K-beauty. We see an ideal opportunity with the Peach & Lily brand to strategically leverage Sandbridge's global brand building capabilities in support of the company's trusted beauty platform and exceptional pipeline of new product innovation."
Alicia is looking forward to establishing an omnichannel strategy internationally.
"We have shipped internationally from our ecommerce site, but as far as an omnichannel strategy we are only really doing that in the U.S. You never want to do something not really well and so for the U.S. market we are still growing very quickly and we don't want to spread ourselves too thin."
In 2020 she is also looking to offer new products, more content and educational experiential offerings to bring products to life.
"Our community of customers are very loyal, over 65 percent of our sales in 2019 came from repeat purchases. We want to engage with them even more."