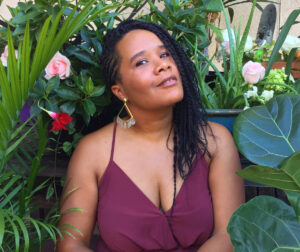 Pholk Beauty, the New Jersey-based brand that bills itself as "Soul Food for The Skin," was named the winner of the second annual Clean Beauty Summer School Award.
Founded by Georgia native Niambi Cacchioli, Pholk is predicated on clean skin care for women of color. As the winner, Pholk will receive more than $50,000 winnings in cash grants, public relations, legal and retail sales support.
"I was really surprised," said Niambi of the honor. "I'm a sociologist and a gardener, and those are really my pathways into beauty, and I think of myself as now coming into my identity as a beauty founder."
Pholk, which was established in June 2018, is a 10-sku line that uses ingredients that have been staples of African, Caribbean, and Southern Black wellness culture for centuries. Niambi incorporates moringa, collards, hemp and okra seed into her line of face washes and oils. Prices are in the $15 to $30 range.
With the increased visibility and opportunities afforded by the award, Niambi said she plans to continue "understanding how to connect the dots between how I approach caring for melanin-rich skin with the way I source directly with Black-owned supplies and farmers.
"And it's also important to share that story of intergenerational wellness traditions with a mainstream beauty market," she said.
Niambi said that one of the biggest takeaways from being part of the program was an opportunity to be mentored by other founders, including Amy Liu, founder of Tower 28 Beauty, who launched Clean Beauty Summer School.
"When fellow founders are teaching about challenges like cash flow and paid marketing the advice just hits different," she said. "The BIPOC environment was also affirming. Rather than an inclusivity project, it really felt like a step towards a new culture of beauty."
Niambi, who will also receive opportunities to pitch her brand to major beauty retail chains, said she would like to focus on elements such as sustainable packaging for her products and building authentic relationships. Before the pandemic, Pholk had been involved in experiential initiatives such as Afropunk and Essence Beauty Carnival, and Niambi said she is looking at ways to have similar interactions digitally.
"We are an extremely customer-centered brand, so translating our human touch to e-commerce felt like such a barrier early into the pandemic," she said. However, through IG Lives, DMs and virtual consults via her website's chatbox, she is hoping to retain those "intimate and personalized conversations." Moving forward, Niambi is also hoping to focus more on guiding her online customers with product selections.
"Recently we began to poll customers through our social channels and email to ask what kind of skin care and product education they would like to see from our platform. The response has been pretty eye opening and is helping us better shift throwing content at them to see what sticks to actually building a platform that reflects them."
She anticipates maintaining her close friendships with the other finalists in the group.
"After my name was announced, everyone had their video cameras on and I saw nodding heads in sync with my journey," she said. "It didn't feel at all like an industry moment. It felt like a community moment."