POPbeauty is expanding into skin care with the launch of POPbeauty Skin, a collection of 19 products consisting of cleansers, moisturizers, masks, eye creams, serums and mists. The company, which originally launched in 2002 with color cosmetics, says skin care was a natural next step for their millennial following who are looking for quality skin essentials that are socially conscious and accessible.
The new line is priced from $6 to $14, and includes a range of vitamin-packed shots that are meant to provide an instant skin-boost; antioxidant-rich moisturizers that aims to deliver hydration; potent problem solvers to address skin issues, and masks designed for for an instant complexion pick-me-up. The formulas are all made in Korea and developed with high quality clean ingredients including cica, squalane, niacinamide and kombucha.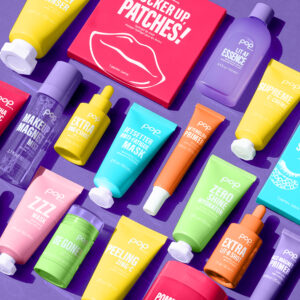 As part of the launch, POP will be debuting a new look designed to spark a playful visual dialogue for easy shop-ability with bright, bold colors meant to stand out, entice and grab attention. The products also feature lively names such as "Be Gone! Clarifying Cica Stick" ($12) and "Lit AF Essence" ($12).
Noting that millennials are also seeking out products that align with their values, POP will be leaning into consumers' diversified lifestyle interests.
"POP has always been about high performing and effective cruelty-free products that are fun, colourful and easy to use," said Sara Strand, POPbeauty Creative Director. "We're doubling down on effortless, accessible beauty with the launch of our new skin care collection which features clean, simple, yet potent formulas that are not only 100 percent vegan, but also show a commitment and dedication to sustainability with recyclable packaging. Our POPettes are playful non-conformers who seek to shop responsibly, feel that clean and sustainable are the new norm, and want products that don't compromise on performance. We're showing that skincare can be uncomplicated and with POP, you can expect high quality products that deliver."
The products will be available on popbeauty.com on July 21.