June marks Pride Month and with that comes a focus on Queer-owned businesses, particularly within the world of beauty and aesthetics.  Here, Beauty News presents a selection of Queer-owned brands making major moves in the world of beauty as they give back to their communities.
Beekman 1802
Founders: Dr. Brent Ridge, Josh Kilmer-Purcell
Behind the Brand: Brent and Josh bought the Beekman 1802 Farm in 2007 with zero intentions of using the farm to create a lifestyle brand. What was originally a weekend getaway spot turned into a lifeline when they both lost their jobs within one month of each during the recession of 2008. Faced with the possibility of foreclosure, they decided to save their farm by making it profitable with their very own skin care products. After taking in a neighboring farmer and his dairy goat herd, the two began producing their own soaps and skin care products.
Pumped up for Pride Month: Jennifer Graybeal, Director of Public Relations, said, "To celebrate Pride this year, we are donating 100 percent of profits from our limited-edition Pride Bloom Cream ($54) to the Ali Forney Center to support LGBTQ+ youth. As a LGBTQ+ founded company, Pride is more than just a month for us, it's part of who we are. And we're honored to partner with the Ali Forney Center for the second year in a row to help spread our mission of Kindness to at-risk LGBTQ+ youth." Beekman 1802 has also worked with other organizations including The Trevor Project, GLAAD, and The Human Rights Campaign.
Jecca Blac
Founder: Jecca Blacker
Behind the Brand: With a background in make-up artistry in film and television, Jecca started using her skill set in one-on-one sessions to help those starting their makeup journey later in life. Through her work, Jecca noticed how exclusionary the beauty industry was by way of products that were available to transfeminine makeup wearers. One of the first products Jecca Blac launched was the Correct & Conceal Palette, a concealer and color corrector duo, which was specifically developed to help those looking for effective beard coverage.
Pumped up for Pride Month: For Pride Month, 15 percent of all online sales will be going to Not A Phase, a charitable organization supporting the lives of Trans+ adults across the UK.
Noto Botanics
Founder: Gloria Noto
Behind the Brand: Prior to launching Noto Botanics back in 2016, Gloria was a renowned makeup artist who was already making beauty products for her celebrity clients. After seeing a void in the clean beauty sphere when it came to representation for the LGBTQAI+ community, Gloria was inspired to launch her own brand of skin care and color cosmetics.
Pumped up For Pride Month: Noto Botanics will be launching a set consisting of a branded tote bag in collaboration with glob.land, a sustainable bag company that uses a recyclable polyester material derived from plastic bottles, and the company's own Oil, a gender free hair and body oil. Ten percent of the set's profits will go towards sageusa.org, an organization dedicated to LGBTQIA+ elders and their caregivers. The campaign for the set features LGBTQIA+ musical artists Soko and Angel Haze as the faces of the promotion. Noto Botanics has also previously donated to organizations including the Los Angeles LGBT Center and the Okra Project, an organization which provides healthy home-cooked meals to the Black trans community.
JVN Hair
Founder: Jonathan Van Ness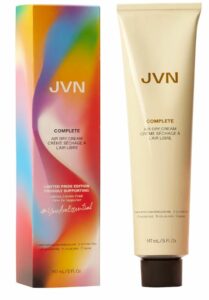 Behind the Brand: After 12 years as a hairdresser and testing out an endless array of products, Jonathan saw white space for clean, affordable hair care formulas. After working with skin care brand Biossance for several years, Jonathan collaborated with Amyris, Biossance's parent company, to create a sustainably focused and inclusive hair care brand.
Pumped up for Pride Month: JVN Hair has launched a limited Pride edition of one of their best-selling products, Air Dry Cream, which retails for $24. In partnership with #YouAreEssential, a national crisis relief organization, packaging was designed by queer, Chinese-born artist/illustrator Zipeng Zhu. Jonathan said of the collaboration, "Pride is a special time of year for us to honor the legacies of all the LGBTQIA+ folks who have bravely fought for us to be here today while also coming together to prioritize plans to make LGBTQIA+ liberation the priority now and in the future."
Boy Smells
Founders: Matthew Herman, David Kien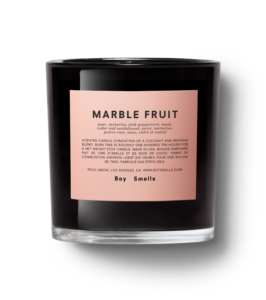 Behind the Brand: Partners in all senses of the word, David and Matthew started in luxury fashion before creating their own brand. While the two had a love for the home and lifestyle space, they felt that products offered in these areas were overly marketed towards a strict gender binary. The idea to name the brand Boy Smells and place products in pink packaging came from wanting to poke fun at overly-gendered marketing. The two coined the term "genderful" to step away from the concept of "genderless" and to give permission to embrace all genders. "It has never been about genderless nor gender-neutral perfume. Why be less, why be neutral when you've always been meant to be more? Fine Fragrance are modern fragrances for self-expression built on the fact not one of us in the world is strictly masculine or feminine. Your own foundation is built on a spectrum containing both. Our fragrances are designed the same way."
Pumped up for Pride Month: Boy Smells created a Marble Fruit candle for Pride Month, an extension of their existing Marble Fruit Genderful Fine Fragrance which was released for 2021's Pride month. Throughout June and July, 15 percent of the sales from the Marble Fruit candle and Genderful Fine Fragrance will be donated to the Gay, Lesbian & Straight Education Network (GLSEN), with a minimum donation of $50,000.