Hair care brand Rahua has recently entered the facial skin care category, as well grown its popular Enchanted Rainforest brand. CEW Beauty News talked with Rahua founders—husband-and-wife duo Fabian Lliguin and Anna Ayers—on the company's latest product launches, environmental activism, and work with the Pink Flamingo Project.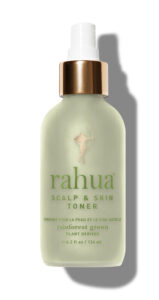 After almost 15 years in the hair care and body care realm, Rahua is dipping into the world of facial skin care with the launch of its new Scalp and Skin Toner on August 8. The toner is suitable for all hair types and offers ingredients that benefit the scalp and skin, including organic aloe vera, cucumber, guayusa, and chlorophyll. Designed to rebalance the scalp and skin's microbiome and pH levels, the toner aims to reduce excessive oil production, and instantly soothe and refresh skin. The product retails for $34 and will be available via retailers, including rahua.com, Goop.com, and ssense.com.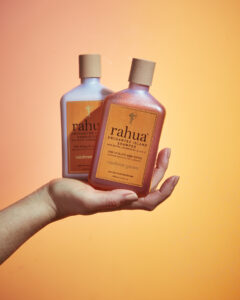 The Enchanted Island brand first launched in 2017 with a body spray, inspired by the beauty of the Galapagos Islands. A new shampoo and conditioner joined the brand in June, created to add vitality and shine to all hair types. Both are made with a blend of oils (rahua, morete, and sacha inchi), organic guava and coconut, plant-based biotin, and vitamins B6, A, C, and E. The hair care duo marks the debut of the brand's new post-consumer recycled (PCR) sand-colored caps, a signal of Rahua's next step in its long-term sustainability commitment to creating eco-friendly packaging solutions. The shampoo ($36) and conditioner ($38) are available via rahua.com, Goop.com, and ssense.com.
Ten percent of proceeds from the sale of each product in the Enchanted Collection will go to the Pink Flamingo Project, a fieldwork and coastline cleanup project working to secure protection for the long-term preservation of the Galapagos endemic species, including flamingos, sea turtles, and more.
"By eliminating and removing plastic debris from the world's oceans, we head off threats to our sea life and natural habitats. Rahua's brand mission embodies mindful, sustained actions to protect the living land that natures and provides so much to us," Anna said.
In addition to the work done with the Pink Flamingo Project, Rahua also announced The Commitment, a vow to continue the brand's long-standing environmental and activist work in the Amazon Rainforest and surrounding communities. The Commitment's goals include defending the Galapagos endemic species, water conservation, carbon-neutral and beyond preservation, and creating packaging that is recyclable, reusable, and refillable.
Rahua, alongside the Amazonian natives, works for the complete protection and preservation of more than 150,000 acres of pristine rainforest. These forests sequester five tons of CO2 per acre per year and over 750,00 tons of CO2 annually, making Rahua a beyond carbon neutral company.
Since Fabian and Anna discovered rahua oil and its hair nourishing properties from the women of the Quechua-Shuar tribe in 2008, the oil went from being produced by 15 individual indigenous women to approximately 500 families across the Quechua-Shuar, Achuar, and neighboring tribes.