The future of retail will be around leveraging personalization through digital solutions, according to Revieve's CEO & Co-Founder, Sampo Parkkinen. Revieve provides "selfie" analysis and virtual try-on technology to brand and retail partners looking to personalize search and shopping experiences from online and in-app to in-store screens and social platforms. The company has grown 3x year over year since it's 2016 launch.
"A lot of our partners are preparing for a world for after COVID-19," said Sampo. "The role that technology plays in the overall customer service experience in beauty is being accelerated. Beauty consultants, who have traditionally provided in-store interactions are being augmented by technology. While they are not going away, their role is evolving to being assisted by tech to provide an even better experience for customers. Additionally, many of our brand partners are looking at if consumers would be comfortable touching a common digital screen or, would they rather scan a QR code and have a customized experience within the store, but with their own device. It's an exciting time as technology is going to reshape what the overall customer experience looks and feels like in an in-store environment."
Since March, the platform, which counts Shiseido and Ulta Beauty among its clients, has seen consumer engagement increase 400-500 percent.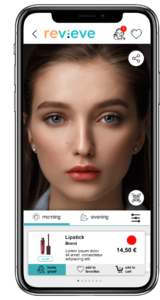 "One of the things we have seen during the pandemic is that a number of people were engaging with our technology for the first time across digital channels, because they couldn't shop in stores. Notably, while there has been a trend for young people to adapt this type of tech, more mature demographics are getting accustomed to the digital personalized customer experience when it comes to skin care and color cosmetics," he said.
The company has seen a 72 percent increase in users receiving product recommendations, with an 84 percent increase in users adding at least one product to their cart and a 78 percent increase in those clicking on "add all recommended products to the cart." There was also a 75 percent increase in users over the past month who clicked on a product page for more info and a 57 percent increase in those who uploaded a selfie for skin analysis.
"One of the key benefits we offer is we allow brands and retailers to understand the needs and concerns of the consumer across a number of different touchpoints. They can see a customer's goals, concerns and preferences to form a holistic picture of that person across all of the different verticals they may offer from makeup to skin care to nutrition," Sampo explained. "Additionally, our aggregate data is helping our partners recognize the trends that are going on across the globe in different regions so they can make important business decisions. For example, the top indicated skin concerns for April were crow's feet and eyebags, up 117% and 101%, respectively from a month ago. It's not just what are their consumers today concerned about, but also what's going on in the market because that leads to an even deeper conversation we can have with them which is around what are the types of product lines they may wish to develop in the long-term."