RéVive, the luxury skin care brand that utilizes technology based on a Nobel Prize-winning, bio-engineered molecule called Epidermal Growth Factor (EGF), continues to evolve its luxury department store positioning to being more high-profile and globally appealing. Here, CEO Elana Drell-Szyfer talks to CEW Beauty News about Révive's accelerated launch schedule post-COVID, the brand's potential in China, and how it has evolved over the past 25 years and under its parent, Tengram Capital Partners, which acquired it in 2017.
Beauty News: What is new at RéVive?
Elana Drell-Szyfer: We have had a very accelerated launch calendar this year. We held off launching anything last fall because we felt that what we had was too good to launch in an uncertain environment. So right now we are launching the Sensitif Collection, a new range for sensitive skin that features Révive's bio-renewal technology, which is our proprietary peptide or Epidermal Growth Factor, that also contains prebiotics. In that collection, we have a Sensitif Eye Cream SPF 30 Broad Spectrum that contains a mineral sunscreen system. There are not a lot of eye creams with SPF, and certainly not a lot with mineral sunscreen. We added a little bit of color to the product before initial blending, so it brings brightness to the eye area. It is for all skin types and tones, with an emphasis on people who have sensitivities. The product also has a zamac applicator, so you also get a cooling effect around the eye. Plus, you don't have to touch the product if you are sensitive to any kind of dust or dirt. The product is an exclusive with Blue Mercury in September, and Space NK in the UK, and will be in all stores in October.
BN: How many items are in the Sensitif collection?
EDS: There is a night cream (Sensitif Night Cream) and an eye cream (Sensitif Eye Cream). We have a day cream already (Sensitif Day Cream SPF 30), which is a heritage product in the line.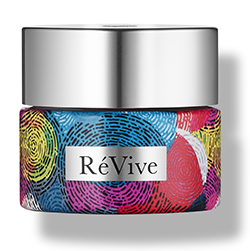 BN: Any other launches?
EDS: Yes. Our founder, Dr. Gregory Bays Brown, is an art collector with a history of incorporating art into the brand. In the past, Dr. Brown has done something called ArtBox, inspired by a painting purchase or an artist that he liked a lot. Dr. Brown would either purchase the painting or collaborate with an artist, maybe license the work. Then we'd created a box with a replica of the painting on the top, with a collection of products inside. Last year, we brought ArtBox back for the first time in many years except instead of doing a box, we did an ArtJar. Next month, we are launching a limited-edition collaboration, ArtJar 2021 Moisturizing Renewal Cream, with artist Mike Perry. He is a New York-based artist and illustrator who does a lot work for animation and TV, including Broad City. The art is featured on our hero core product.
The third launch is linked to a product Dr. Brown created 15 years ago called Peau Magnifique. It's a very high-priced product, $1,500 for four individual vials, and is a four-week cure to jumpstart the skin. Something you could do to prolong the need for surgery. We have never launched anything in the franchise because it's the most technologically advanced. At the time, Peau Magnifique was made with an ingredient called telomerase that was a million dollars an ounce, which is why the price was so high. The ingredient was so difficult to source that it was replaced over time to something that is equally performing, but easier to source, and not quite as expensive. Peau Magnifique Serum, a nightly renewal serum launches now at Bergdorf and will roll out everywhere else in October. It is also costly, $750, but it's a maintenance product in-between a bi-annual or annual cure.
BN: What has been the most surprising thing you have learned about RéVive in the four years you been CEO?
EDS: When people think about Révive, they think it's a brand that's been around for a while, and that it's a very traditional, luxury department store brand. Actually, that's not our profile anymore. We are very international. When Tengram Capital Partners bought the business [from Shiseido], we were doing about less than 20 percent of our business internationally. Now it's over 45 percent. We opened a business in China in April 2019, and it is very, very successful. It's the second largest market outside of the U.S., and that's with cross-border e-commerce only. We are also doing over 50 percent of our business through online channels.
BN: You experienced that spike in online growth during 2020?
EDS: Yes, but some of it is China e-commerce. When we bought the business, there were no e-commerce store plays at all. We have launched at Net-à-Porter, Skinstore, Look Fantastic, and B-Glowing, amongst others, and are launching at Dermstore.
BN: What was your plan in 2020? How did you grow the brand?
EDS: At the beginning of 2020, the big focus was international markets. Pre-COVID, we launched in Russia, Ukraine, Spain, and Italy. We were getting ready to launch in Australia. A lot of work had been done in 2019 to prep for big international expansion. When we came back from Russia, COVID hit. So, first we halted launches. Stores were closed, and we made as many cash saving opportunities as possible. And we pivoted everything to be as digital as possible. We started doing in-store events online. With Dr. Brown, we can do $50,000 in a day. We accelerated our move from international to pure players. That's when we forged our relationship with Skinstore and Look Fantastic. We started moving activity to digital masterclasses with the pure players. In the U.K., Space NK has taken a very digital-first approach, and our business has not only remained full, but ahead. That has continued into 2021.
BN: What were the products that were selling best? What were consumers looking for?
EDS: Lower priced items. We saw a lot of cleansers, a lot of masks. Then, coming out of COVID in the spring, we had several launches. One of them was a hyaluronic acid serum, with a big hydration focus, that has been a global success. In China, throughout COVID, very expensive items continued to be top sellers. We have a serum in the line that's for volume. Dr. Brown, who is a plastic surgeon, thinks in 3D, and he created this serum a long time ago to combat nasolabial folds and marionette lines. The serum is $600, but they cannot keep it in stock.
BN: What's next?
EDS: Next year, 2022, we will turn 25. There are many new corporate initiatives that will come with that, but I will save those for next fall.
BN: Have there been any internal changes?
EDS: Yes. On September 27, we are welcoming Amanda Kahn, our new head of marketing and e-commerce. Amanda was my management intern… I won't tell you how many years ago at Estee Lauder. She has also worked at Coty, Laura Geller, Space Brands, and PÜR. Now we are reuniting.